The winter season always rings a bell in our years! Christmas is knocking at our doors and all we can think of is pleasant weather, good food and a lot of shopping! It is the peak holiday season again, and eCommerce stores should gear up for the holiday shipping plans.
Holiday shipping can be one hectic experience! Over 50 million packages get shipped per day between Thanksgiving and Christmas. That's one HUGE number, don't you think? But then, eCommerce stores can't miss out on affecting customers' post-purchase experience at any cost. Post-purchase experience is one of the key drivers of customer retention.
What you need is a holiday shipping calendar in place. A proper shipping plan will help you ace holiday shipping like a pro. Here are some preparation tips for holiday shipping 2021 and 2022.
Let's get started.
An overview of eCommerce holiday shipping 2021
The year 202 witnessed groundbreaking responses in global eCommerce sales. Likely, this year's peak holiday season will also be super-profitable for the eCommerce stores across the globe.
The results of 2020 clearly show that people are very much drawn to eCommerce shopping. In fact, only 4 out of 10 shoppers plan to visit to brick-and-mortar stores this year. This means greater opportunity for eCommerce stores to boost their profits.
However, eCommerce stores should also focus on the shipping aspects. Due to the peak holiday season, ports across the globe are preoccupied. Evidently, shipping carriers will charge higher shipping fees during this time. Also, if you don't plan your peak shipping, you may experience frequent delays from the courier companies.
To make the most of the holiday season, eCommerce stores should plan the shipping activities and communicate their plans to the courier companies to get the products delivered in time.
4 Steps to plan your holiday shipping strategy
Want to stay one step ahead of your competitors in this peak shipping season? Follow these easy steps:
1. Keep track of the unexpected demand
The best way to ace holiday shipping is to plan in advance. By advance, we mean that you can start your shipping plans from September to make the most of the holiday season starting from November. Your plan should start by evaluating the expected demand.
Also, you must track last year's holiday performance to monitor key KPIs like total revenue, total shipping costs, top-selling product, worst-selling product, top sales channel etc. That way, you'll have an in-depth understanding of what to expect this holiday season, which products to stock up, which sales channel to target and so on.
2. Begin the stock-up process
Running out of stock means losing on sales. So, once you've successfully forecasted demand, it is best to focus on the stocking up process. Here are the two aspects you should consider:
Stock your inventories in advance. Keep in mind the demand forecast and align your inventory stock-up strategy accordingly. Keep a procurement objective ready and communicate it with your suppliers for quick actions.
Stocking up your shipping essentials like boxes, tapes, ribbons, packing materials etc. is also a good idea. You don't want to miss out on any of these essentials during the shipping process.
3. Your sales and shipping strategies should go hand in hand
Shipping is a part of the post-purchase experience. A well-planned shipping strategy can easily contribute to your overall sales. Here are a few tips for aligning your shipping strategy with the sales strategy:
Keep your shipping options flexible. Don't charge on shipping every time a customer places an order. Cut them some slack. Especially during the holiday season when sales are already upward, it is best to go for the "free shipping" mode. This can make the customers happier than you think.
Ensure that there are no additional or surprise charges on your international shipping activities. Keep the shipping costs transparent to build credibility. This will improve customers' trust in your brand.
Getting an address verification system can also help your overall shipping strategy. Such systems can ensure that the shipments are going to the correct address and reduce the delay possibilities.
4. Go for shipping automation
Newbie eCommerce stores should automate their shipping operations from the very first day to avoid any inconsistencies. A platform that we recommend here is called – ShippingChimp. Here's how it can help you:
Automating live tracking of the shipment packages to provide the customers with 100% visibility. It could also save your support team's time to increase WISMO queries.
Sending personalized delivery notifications to the customers. Create an outstanding delivery experience with timed deliveries and increased customer loyalty. 
An efficient return center that can convert returns into repurchases by displaying personalized product recommendations to each customer.
A frictionless delivery experience with an organized delivery dispute portal that transforms customer experience effectively.
3 Tips to prepare for the peak holiday shipping season
Here are three most effective tips to prepare for the holiday season of late 2021 and early 2022:
1. Over communication with customers
Communication is the key to any business activity, and shipping is no exception. Make sure that you're keeping the customers informed about the shipping schedule in advance. Be it emails, texts, push messages or all three communication modes, keeping the customers informed will always save your back.
2. Keep the shipping process visible
Keep it transparent. When it is the holiday season, customers are surely looking forward to receiving their ordered shipments. So, it is always a good idea to provide them with complete visibility and keep them informed about the latest status of your shipment package.
With delivery tracking, it is a matter of just one click to inform the customers about the current status of their ordered shipment and the expected delivery date. With ShippingChimp, you can provide the customers with real-time tracking on a branded tracking page for prompt updates on the shipment's status.
3. Keep an eye on the holiday schedules of the shipping carriers
Different shipping carriers have different holiday schedules. It is best to know in advance about FedEx holiday schedule, UPS holiday schedule, USPS holiday schedule, etc. This will help you get an idea of when these carriers are taking off, what their freight charges are like, and how you can craft your shipping plan accordingly.
3 Common peak holiday season challenges that could affect your eCommerce store
Since you're planning to ace the peak shipping season this year, here are some challenges that you must know of:
1. The pandemic, ofcourse!
The intensity of Covid-19 pandemic may be reduced a little, but it is still there. The pandemic has indeed been a key driver behind shifting the customers toward online stores. But it is also true that the pandemic could become deadly again, causing shipping delays and customer dissatisfaction.
Did you know that popular shipping carrier USPS has observed an increase of 4 days in their in-transit time due to the pandemic? It is always a wise option to take the pandemic into account before planning your peak shipping season tasks.
2. The suppliers can be on holiday leaves
It is Christmas we're talking about here! Many of your suppliers will be on leave. The smart option here is to partner with multiple suppliers to reduce the risk of inventory shortage during the peak holiday season.
It is best to order inventories in advance if you can forecast the demands in advance and expect a stockout sometime soon. In that case, even though some suppliers are on leave, there will be no unexpected stockouts.
3. The Black Friday chaos!
Black Friday is a significant event for eCommerce stores. However, sometimes it can create more chaos than good. Remember that the holiday season doesn't end with Black Friday. In fact it is just the beginning!
Newbie eCommerce stores are often overwhelmed by the Black Friday season, and they end up missing out on the rest of the opportunities like Christmas and New year. That's not recommended! So, try to balance your shipping plan and make it more inclusive.
Final Words
So, how are you planning to target the peak holiday season this year? Do you have a shipping plan in place yet? We hope this blog helps you with all the tried and tested strategies to create a unique holiday shipping plan.
Happy holidays!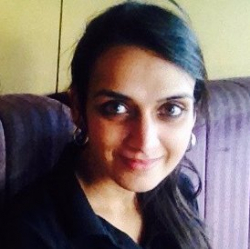 Latest posts by Revathi Karthik
(see all)