Canada Post is the go-to shipping service for Canadians, as evidenced by the fact that they delivered around 361 million parcels in 2021. However, we know that you have questions when it comes to Canada Post, and it's not just about shipping rates.
In this blog post, I will answer all the Top 25 Commonly Asked Questions about Canada Post that might crop up in the minds of eCommerce brand owners fiddling with the idea of choosing Canada Post or in the brains of people who are just trying to switch carriers.
But before we start, we asked people on LinkedIn why they like Canada Post and here's what we found.
Accessibility to use is a favourite here.
Here, people have favoured the fact that Canada Post is trustworthy. Followed by the fact that they cover most postal codes in Canada.
There is no doubt that trust and ease of usage are their main USPs (If you read it as USPS, you truly are in logistics). Keeping these factors in mind, let's dive deeper into the top 25 commonly asked questions about Canada Post.
Brace yourselves, here we go.
General
1. How to send a letter using Canada Post?
Sending letters using Canada Post requires measuring the weight and size of the mail, the place where you are sending the letter, and what kind of delivery you want for that. Then you can calculate how much you have to pay for postage. Buy the postage online or from a Post Office. If you are sending in within Canada, and your letter has enough postage you can drop it in the Red Canada Post mailboxes. Outside Canada, you are required to fill out a customs form. Here's an ultimate guide to shipping with Canada Post.
2. How long do Canada Post parcels take to deliver?
It takes around two business days for local mail, three business days within the province and four days for national mail. Mail to the USA takes around four to six business days and other international mail takes around four to seven business days.
3. What if I do not have a mailing address in Canada?
You got three options here –
Ask for a general delivery service.
Rent a mailbox at the post office.
Ask if you can use the address of a relative or friend.
4. Have Canada Post prices increased?
Yes, they have. Here are the current rates.
5. Is flat rate Canada Post package considered priority mail in the US?
Most Flat Rate boxes are considered Priority Mail in the US.
Label gen & Delivery
6. Can Canada Post print shipping labels?
Yes, you can print shipping labels on the Canada Post site itself or, you can use label gen software to make things even smoother. For further reading on Canada Post shipping labels, click here.
7. Can you print labels at Canada Post?
Yes, you can print labels at the Post Office.
8. What are Canada Post's domestic shipping options?
Canada Post's Domestic Shipping options include – Regular, Expedited, Xpresspost and Priority.
9. What are Canada Post USA shipping options?
Canada Post's USA shipping options include Small Packet International, Tracked Packet International, International Parcel, Xpresspost International and Priority Worldwide.
10. Does Canada Post deliver to door?
In most cases, Canada Post delivers to the door. You can also select other places of delivery using delivery preferences. The first step will be to sign up for Notifications, Then the Track Tool or Mobile App will prompt you if the package is eligible for you to select a delivery preference.
11. When does Canada Post deliver?
Canada Post residence delivery timing for mail is Monday to Friday from 9:00 AM to 8:00 PM For business, Monday to Friday from 9:00 AM until 5:00 PM.
12. What time does Canada Post close?
Canada Post doesn't deliver past 8 PM.
13. Are any Canada Post offices open on Saturday or Sunday?
Canada Post offices are closed on weekends. But here's the twist – some people have received mail on those days. This is because Canada Post has authorized a lot of private post offices that work as a subsidiary of the official postal services and they might work on weekends.
14. What are Canada Post Christmas delivery hours?
Canada Post does not deliver on Christmas Day.
15. Does Canada Post deliver on weekends?
Canada Post does not deliver on weekends.
16. How late does Canada Post deliver?
As said before, they don't deliver past 8 PM for residential addresses and 5 PM for businesses.
17. How many stamps do I need for Canada Post?
It depends on how much postage you might need.
18. Where to buy Canada Post stamps?
You can get stamps at their website and the post office.
19. Is Canada Post open on family day?
Yes, Canada Post is open on Family Day.
20. Can I buy stamps in batches?
Yes, you can also buy stamps in different volumes such as booklets and rolls.
Tracking
21. Does Canada Post small packet international have tracking?
No. Unfortunately, small packet international does not have a tracking feature.
22. Does Canada Post regular parcels have tracking?
You can track regular parcels easily using its Tracking feature.
23. Does Canada Post small packet USA Air have tracking?
All the tracking information would be visible once you enter the tracking number on the Canada Post website.
24. What do Canada Post tracking numbers start with?
For Canada Post regular parcels, Tracking numbers usually begin with 2 capital letters and end with CA. For domestic parcels, the tracking number is 16 digits long and for international parcels, it is 13 digits long.
25. Where can I find my Canada Post tracking number?
If you are shopper looking for it on the website – Check this. On the receipt, you can find the tracking number just below the barcode. Here's an example of how it looks. Can you find it?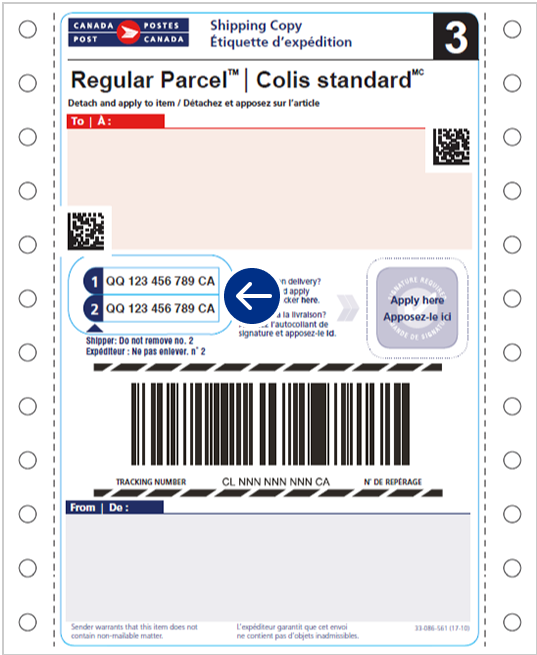 As AI takes the wheel and guides us towards a more informed future, we must value the delivery experience as much as we value technology. Canada Post enjoys a great reputation in Canada and I am proud to say that ShippingChimp is an excellent alternative to Canada Post. So, if you are a small business owner who has stumbled upon this page, I would suggest you glance through our pricing page and get a step closer to having an impeccable delivery experience. Start here.