Canada Post is trusted by thousands of Canadian small business owners. However, most Canadians would agree that it is not the cheapest carrier out there. When it comes to affordable shipping, Canadians usually drift towards regional carriers and rightly so. Regional carriers cost 1/3rd in shipping and for a country like Canada, which has rough terrain, regional carriers are the best pick. Here, the options are endless. However, if you compare all the factors, there is a clear winner. In this blog post, we dig deeper into why ShippingChimp is the best alternative to Canada Post.
Five factors that make ShippingChimp a better alternative for small businesses –
1. Shipping Rates
When choosing a shipping carrier, the most important part is the costs. A national carrier does not provide the cheapest rates because of a host of reasons – their contracts are complicated, the cost workings are tiered, there are a lot of surcharges added at the end. In the case of Canada Post, it is way more complicated. Canada Post has to deliver to every business and residential address and they also do not have the advanced tech of today's shipping software. Therefore, their obligations and old technology lead them towards higher prices. But for a small business having operations in only, say Montreal, and occasional deliveries in rural areas, it is not possible to pay higher shipping costs and lose all their profits. This is why they need to choose a carrier that covers their geography and charges way less.
ShippingChimp Shipping rates vs Canada Post Shipping rates
At ShippingChimp, our rates all across Canada are affordable. We have warehouses across Toronto, Montreal, Calgary and Vancouver and this lets us compete with national carriers like Canada Post. We also have state-of-the-art software that aids in faster operations that in turn helps managers to focus only on delivery and giving a seamless end-to-end delivery experience.
ShippingChimp rates
Canada Post, like FedEx and UPS, have high shipping costs. They have also increased their rates recently.
Canada Post Rates (Ontario to Vancouver)
2. Shipping Timeline
Amazon has changed the game with Free Delivery and every retailer in the world is now expected to follow it. Shipping timelines matter more than retailers like to admit. The only edge you have over big brands as a small business is providing faster delivery. But with faster delivery comes impossible charges that small businesses cannot afford. The only way out is to invest in a carrier that understands your volume, and your locations and does not overcharge you.
ShippingChimp shipping timeline vs Canada Post shipping timeline
Within Canada:
ShippingChimp specializes in delivering parcels across Canada. One can expect delivery in 1-4 business days.
Canada Post:
Two business days for local mail
Three business days within the province
Four days for national mail
Canada to USA:
ShippingChimp – From Canada to the US it takes 2-5 days.
Canada Post:
It takes four to six business days for regular mail sent from Canada to the U.S.A. From Canada to another country (except the U.S.A.) it takes four to seven business days.
3. Tracking
Tracking is a non-negotiable feature for small, medium and enterprise businesses. A shipping carrier that does not offer tracking services or charges extra for it, would not be the perfect pick for a booming business. Also, the tracking link must work till you receive your order.
ShippingChimp tracking updates vs Canada Post tracking updates
ShippingChimp lets you track your orders in real time. The best part is, with our Tracking Tool we show every little change in the transit so that you stay on top of your orders. You can also choose to share the tracking link on your eCommerce website for your customers to see. With our Branded Tracking Page, you can create excellent brand recall and provide an opportunity for upselling and cross-selling. For proactive sellers, our Delivery Notifications are a perfect choice. This lets your customers know where their orders are without them having to ask you '. 'Where is my order'. This reduces WISMO calls. We offer Tracking on all of our services.
Canada Post provides tracking, yes but it is not a popular feature.
They let you integrate tracking into your eCommerce website. You can also share the link with your customers over email which will lead them directly to the Canada Post website. However, their Small Packet International service does not have a tracking feature.
4. Small Business
Most shipping carriers these days have a programme for small businesses. However, if you are hunting for a good shipping carrier, do not make having features specifically for Small Businesses a priority. This is because while regional carriers may not have a specific programme for SMBs, they will have discounted prices that make a better deal.
ShippingChimp for Small Business vs Canada Post for Small Business
At ShippingChimp, we prioritise small businesses. This is why we have NO tiered pricing and have Zero volume commitments. These two features let customers choose us without having to worry about reaching a tier or a specific volume.
Other perks include –
One-Click Connect – It takes only one click to connect your online store on Shopify, WooCommerce, Magento and more with ShippingChimp.
Free Pickups – We offer free pickups within Canada.
Free Insurance – Avail up to $100 CAD of Free Insurance.
Canada Post
Canada Post has a programme called The Canada Post Solutions for Small Business. In this, if you are a member and are shipping lightweight packages, you can get up to 15% off.
Other perks include –
Snap Ship – A shipping tool that lets members compare services and prices, print multiple labels at once and book a pickup. Snap Ship is designed for small business owners who send fewer than 50 packages each day.
Pickups – Canada Post picks up your shipments from your business for a flat fee of $3.50 or for free if you've selected PriorityTM shipping.
5. Delivery Experience
Small businesses have to make sure that they are providing the best delivery experience possible. This translates to having a carrier that understands your priorities and works towards them.
ShippingChimp Delivery Experience vs Canada Post
At ShippingChimp, we are constantly trying to up your game by understanding your needs. Here, our top priority has always been a great delivery experience. In case of a mishap, our Customer Support team is easily accessible and solves the issues in a timely manner.
Canadians have not been thrilled by Canada Post's delivery experience.
Regional carriers like ShippingChimp are replacing national carriers and contributing immensely towards the growth of small businesses in Canada.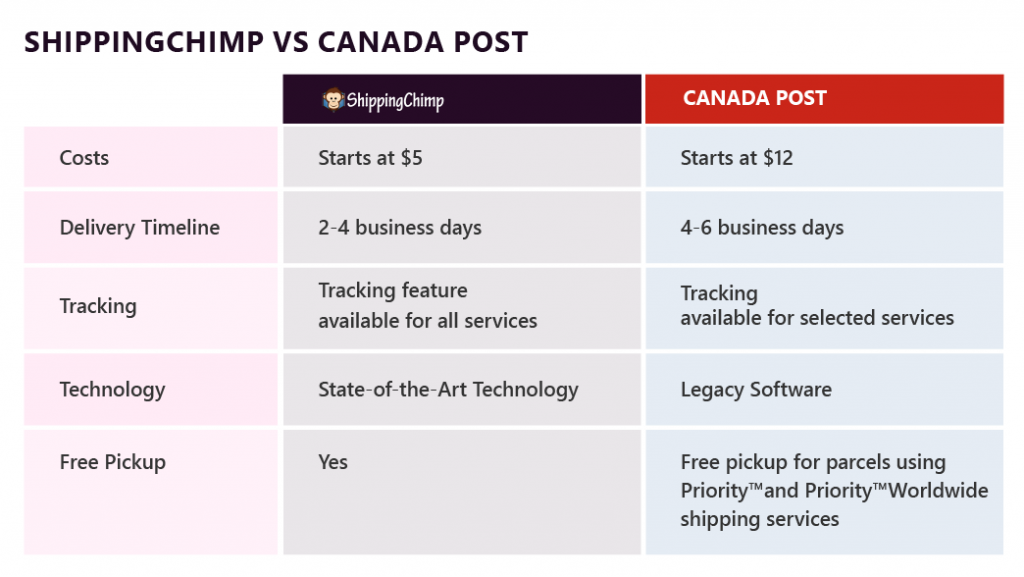 ShippingChimp helps small businesses grow in a more holistic way. Get your Free Trial here.