Canada Post is the first choice shipping partner for any eCommerce Canadian business. The reason behind the unanimous choice is that in addition to offering a wide range of services, Canada Post is considered reliable and efficient. According to Statista, Canada post is the leading parcel shipping provider in Canada delivering 389 million parcels in the year 2020 alone.
In this article we will walk you through
Different shipping services to use while shipping your package through Canada post
How to print labels using Canada Post
Various packaging options while shipping with Canada Post
Tracking your package with Canada Post
Information on returns and insurance
eCommerce shipping can be tricky since you have to consider factors such as shipping distance, package weight and dimension and delivery speed. In this guide we will address all the possible challenges you will face while shipping with Canada Post.
Choose the right shipping service
One of the biggest advantages of using Canada Post is that it offers a wide array of services. Depending on the delivery speed and shipping budget, you may choose the most convenient shipping option.
Let us take a quick look at the services that Canada Post offers:
Regular parcels –  This is the cheapest shipping option if delivery speed does not matter.  It usually takes 3-7 days. It costs $9.67 for parcels that weigh up to 750 grams as of 2023. Moreover this is the best option if you are shipping large parcels. The downside is that there is no on-time guaranteed delivery.
XpressPost – The postage rates start at $10.61. The delivery is completed either Next day or in 2 days depending on the location. 
Flat rate box – As the name suggests, there is a standard rate of small, medium and large boxes -: $17.99 for a small box, $22.99 for a medium box and $29.99 for a large box. This option comes with an on-time delivery guarantee. An interesting point to note is that this is one of the few services that are carbon-neutral delivered.
Priority – Priority is the fastest and the most expensive shipping option. Usually the delivery is the next day. The rates range from $27.43 regionally and $44.03 nationally.
Additionally, Canada Post has a special pricing and delivery service for small businesses. This allows businesses to avail a small discount on shipping. However, without a minimum volume commitment there is a slim possibility of getting any significant discount. ShippingChimp helps small businesses access up to 53% discount with zero volume commitment.
Check out how ShippingChimp compares against Canada Post.
Here's a snapshot of our pricing when shipping from Ontario:

You may check out the complete pricing details here.
How to pack Canada post parcels?
Now that you have zeroed in on the shipping services let's get you started on packaging. Packaging is very important to get your orders in a secure manner to your shoppers.
Find a box that is sturdy and of superior quality. Make sure to include additional layers of wrapping to safeguard fragile items. You may also pick up cardboard from Canada Post.
Remember to securely seal the package to avoid tampering and damages.
Add cushioning items such as bubble wrap at the top, bottom and sides to keep the package intact.
Finally glue in the clearly filled out Canada post label
Sustainable packaging has gained a lot of popularity in recent years. This includes packaging using 100% recycled material or reusing cardboard boxes. You could explore options such as eco-mailer boxes, custom pouch bag options or bio poly mailers.
How to print your Canada Post label?
Now that your order is packed and ready to be shipped, let's take a look at printing a label.
Printing your Canada Post label online using Snap ship can save a lot of time. Snap ship is a charge-free service offered by Canada Post.
You need a Canada Post online account to get started with Snap ship.
Once you set up your account, you need a few details to be filled out to complete creation of the label.
You need to provide 
Return and delivery addresses
Choose a shipping service
Add package details such as dimensions etc
Complete payment
4. You are now ready to print your Canada Post label. The standard size for Canada Post labels is 4 X 6 inches. Make sure you are printing using a laser printer or an inkjet printer that prints at least 600 dots-per-inch (DPI).
5. Now place the label on your package and schedule a pick up on Snap ship.You may also choose to drop off your package.
For more information on creating Canada Post shipping labels, check out this blog post Understanding Canada Post Shipping Labels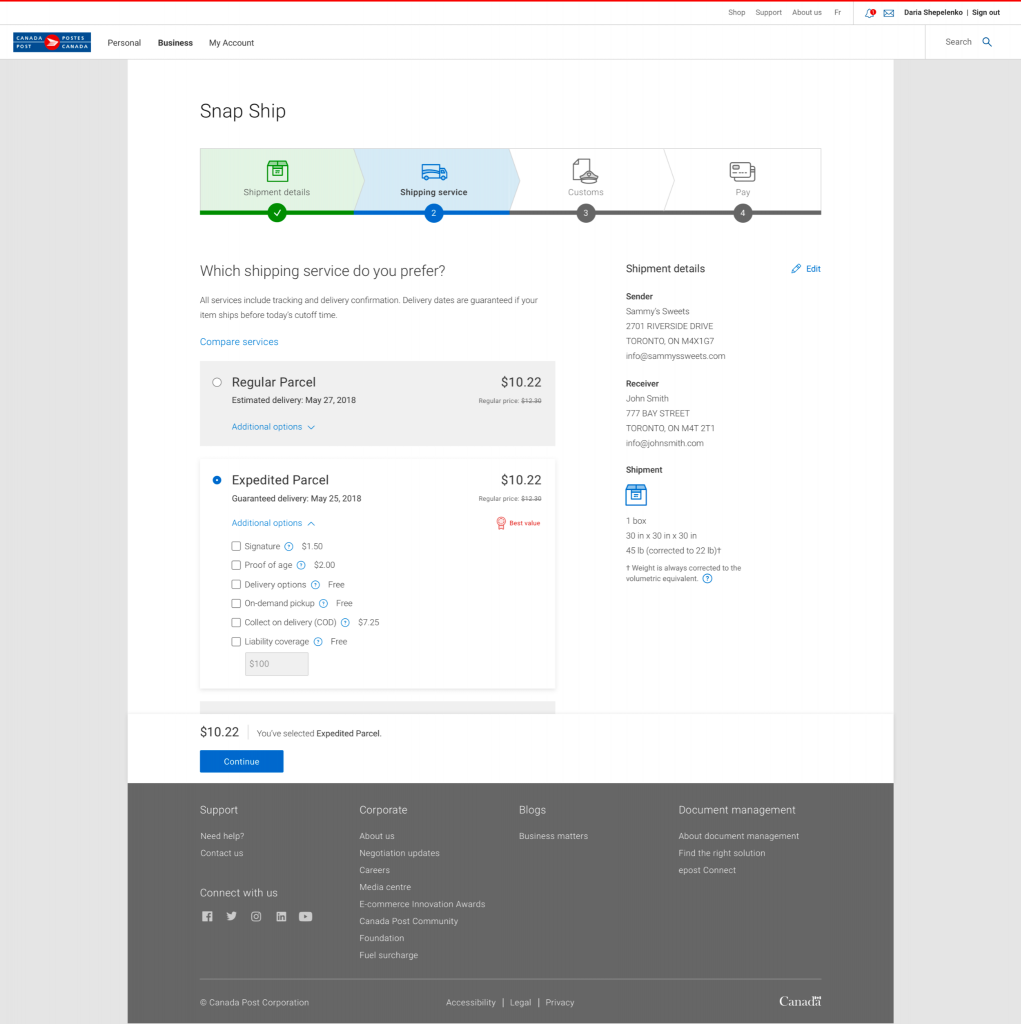 Tracking you Canada Post package
Almost all services offered by Canada post come with a tracking number tagged to the package. So orders can be tracked in your Canada Post portal. However the accuracy of tracking is questionable. Here are a few twitter rants on Canada Post's tracking and delivery standards.


On the other hand, ShippingChimp offers discounted shipping with real-time tracking. In addition ShippingChimp also facilitates sharing order status alerts with shoppers. This gives your business a chance to compete with Amazon in terms of delivery experience.
Returns and insurance
Canada Post offers easy and affordable return options for most shipping services. Familiarise with the return options so as not to lose money in shipping returns. In case of damaged or lost packages, Canada post does offer insurance up to a certain value. But it is advisable to purchase additional insurance depending on the fragility of the item.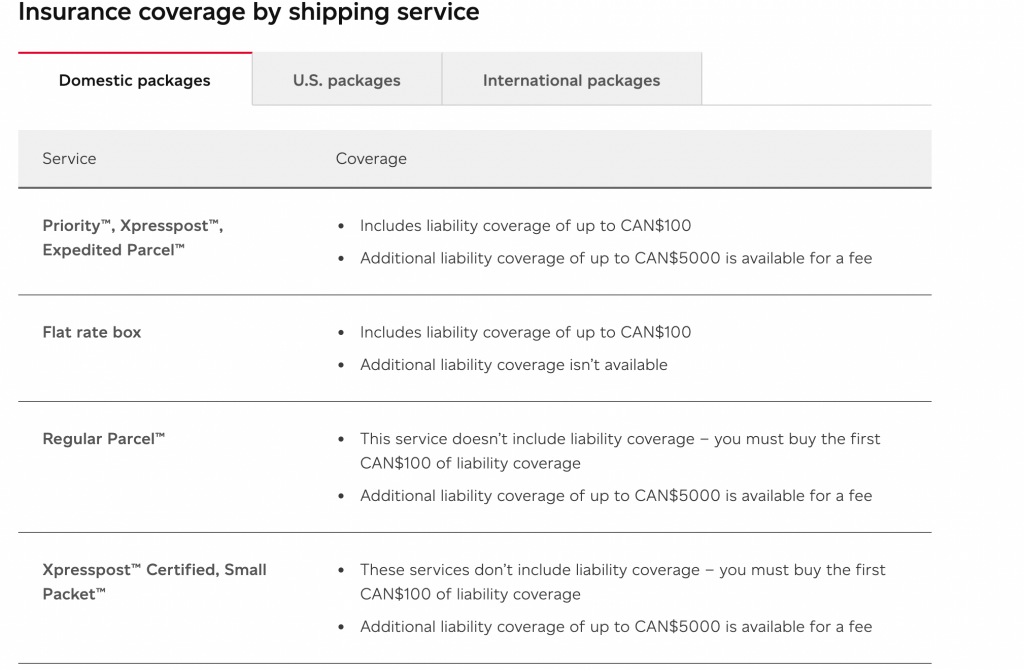 Conclusion:
78% of customers agree that free shipping nudges them to complete their purchase. But offering free shipping comes at a huge cost for eCommerce businesses. However, finding ways to keep your shipping costs down is imperative to check out more profits from your business. It all comes down to choosing the right mix of shipping services, delivery speed and shipping cost that works for your shipping profile.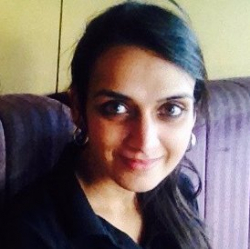 Latest posts by Revathi Karthik
(see all)