ChatGPT is the technological breakthrough that is set to revolutionize every industry that it touches. Setting aside the fear of ChatGPT taking over our jobs, the platform is intriguing. We asked top 5 shipping related questions on behalf of Canadian small businesses. ChatGPT's answers were not without surprises. So let's jump straight in.
The first prompt was definitely the overall impact of Chat GPT on the logistics industry. The immediate use case for ChatGPT seems to be in the customer service function. This is great news to eCommerce business owners who are forced to spend a large chunk of their time responding to "Where is my order" queries. Using historical data to predict inventory will be a significant advantage preventing stockout situations. The answer rightly lists "automated operations" as the last point given the technological chasm that we have to cross to allow AI to make such critical decisions.
Prompt 1: How will ChatGPT revolutionise the logistics industry?
We moved on to ask the question that every small business owner who is setting up shop in Canada is struggling with – insanely high shipping costs.
Prompt 2: Why is shipping expensive within Canada?
We wanted to drill down into this question. So we headed to Reddit and copy pasted a query from a Canadian beauty cosmetics seller.
Prompt 3 : " I am shipping beauty products in Canada and getting smoked"
Chat GPT calmly generated this response:
Offering free shipping was out of question for the beauty cosmetics seller owing to the insanely high shipping costs. But is free shipping really necessary? We decided to pose the question to Chat GPT.
Prompt 4 : Paid vs Free shipping?
Clearly Free shipping outdoes paid shipping although Chat GPT refrains from naming the winner. The response was well balanced without really pushing one strategy over the other.
We wanted ChatGPT to get into details of shipping options available for Canadians trying to go global, so we posted a very specific question from a Reddit user:
Prompt 5:" I am shipping a 2 KG box from Canada to the US. What are my options?"
Note that ChatGPT only lists National carriers and not any of the regional players who are equally competent for international shipping. In this regard Reddit and Quora answers still trump ChatGPT.
From our conversations with small business owners, we know that small businesses are constantly weighing the pros and cons of different National carriers. We could not help ourselves but ask ChatGPT to address the age-old rivalry between UPS and FedEX as a bonus prompt.
Chat GPT summarizes the pros and cons quite well.
Prompt 6: FedEx Canada vs UPS Canada: Which is better?
Although FedEx and UPS Canada do not provide the best rates for small businesses ( in other words expensive), they are certainly quicker, more reliable and have a larger coverage. ChatGPT beautifully highlights the benefits of using these carriers while carefully sidestepping the fact that neither of them are cost effective.
ChatGPT is a great tool if you would like to geek out about different aspects of running your small business. And If ChatGPT runs out of solutions for your eCommerce shipping problems, you can always jump on a call with us. At ShippingChimp we have helped hundreds of Canadian eCommerce businesses ship at the cheapest rates. But before we offer our logistics expertise, we need to know if you have tried ChatGPT yet? If yes, post in comments the responses you received.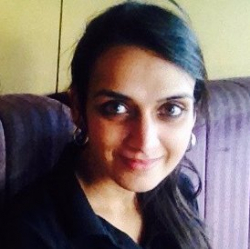 Latest posts by Revathi Karthik
(see all)