If you own an online retail store, you must be facing the critical task of calculating its estimated shipping costs and trying to keep them low to retain your customers.
Shipping cost is a key differentiator in the eCommerce industry that can make or break your business. Most customers expect fast and free or low-cost deliveries, particularly the ones who place large orders from your store.
As a store owner, however, you have to offer affordable shipping without affecting your profitability.
For this reason, accurate calculation of shipping costs is so critical. Your business has to consider different factors while calculating shipping costs, including the carrier charges, the package weight, dimensions, the shipping zone or destination, and others.
An accurate shipping calculator can help you do these calculations without any difficulties.
What is a Shipping Calculator?
A shipping calculator is a software solution that helps calculate shipping rates and other related details in a simple format.
The idea behind a shipping calculator is to automate the process of calculating shipping costs after applying the essential components, such as pricing, the origin of a shipment, destination, weight, dimensions, and the type of shipping.
The Importance of Calculating Shipping Costs
While running your online retail store, you need to know the estimated shipping costs you will incur for every sale.
First of all, the shipping costs will have a direct impact on your profit margin. Unless you know exactly how much you will pay for shipping to your customers, you won't be able to calculate your profits.
Another crucial reason is you can give your customers an estimated shipping cost they have to pay. Depending on the size and weight of a package and the type of item you are dispatching, shipping costs will vary.
In this competitive eCommerce market where customers have many options, shipping costs can determine whether they will stay with your brand or drift away to your rival brands.
The hassles of shipping costs are the top reason why customers often abandon their shopping carts. There are various ways to reduce the cart abandonment rate, and managing shipping costs is one of them.
The following statistics from a recent study will give you a better idea:
45 percent of customers abandoned their shopping cart when they realized their total order value was not eligible for free shipping.
52 percent of customers increased the number of items in their cart to qualify for free shipping.
56 percent of shoppers were ready to pay the shipping cost when they thought their order was too good a deal to drop only due to shipping costs.
Simply put, customers don't want to pay a cent extra for shipping costs. With many eCommerce giants offering free shipping, customers expect the same every time.
If you have set a minimum order threshold for customers to qualify for free shipping, you need to figure out the final amount accurately, and a shipping calculator can help with that.
Besides, to make your customers stick around, you need to be transparent and let them know all the costs they will incur. This way, they will remain loyal to your brand.
How to Does a Shipping Calculator Work?
The input you enter in a shipping calculator will display the result. A shipping calculator comes with specific fields where you need to put in the basic data to give you an accurate figure of the shipping costs.
The information you need to enter includes the origin and destination of the shipment, location, zip code, number of packages, size, weight, the nearest shipping date, and type of shipping.
A few shipping calculators also have more detailed settings that allow users to request various service levels based on pricing. It also includes the fields on pickup and drop off or customs clearance if required.
Overall, a shipping cost calculator is a dynamic and useful tool where new freight rates and new service providers get updated and removed as and when necessary.
A shipping calculator functions based on different factors or components during the calculation and displays the most accurate results.
Factors to Consider While Using a Shipping Cost Calculator
The following factors are crucial for calculating the shipping costs of your eCommerce store:
The Dimensional (DIM) Weight
Major shipping carriers use the dimensional weight DIM weight to find the shipping cost of a package. They consider the size or different dimensions of the package while calculating the cost. 
You can get the dimensional weight by multiplying the length, width, and height of the shipping box or container, then a DIM divisor to divide it. 
Shipping carriers often compare the actual and DIM weight of a package and consider the higher of the two to determine the billable weight and charge it.
The Method of Calculating the Dimensional Weight (Source: LinkedIn.com)
Actual Parcel Weight
Here no calculation is required. Again, a carrier considers the higher of the two package weights and applies it to determine the estimated shipping cost. The larger or heavier package will have more shipping costs.
The Destination of the Shipment
Carriers use shipping zones to calculate shipping rates. The shipping zones help to measure the distance between the starting point and the endpoint. 
Shipping zones comprise the point of origin, which explains why two different points of origin that ship to the same destination might be under different shipping zones.
Higher shipping zones will have higher shipping costs. For example, if the shipping zones are A to G, A is the lowest and G is the highest shipping zone.
Item Value
Items with high value are insured to reduce the risk of losing them. Shipping insurance companies reimburse the senders if their packages are lost/stolen/damaged during transit. The insurance adds up a significant amount to the overall shipping cost.
Delivery Speed
The delivery speed of a package also influences the shipping cost. Generally, there are different delivery speeds, such as standard, same-day, next-day, and two-day shipping.
The delivery speed also depends on customers' preferences. If a customer wants a package urgently and is ready to pay the premium shipping cost, the carrier can send it through expedited shipping.
Sample of E-commerce Shipping Cost Calculation 
The table below has broken down different components of retail shipping costs with a 60 percent profit margin:
| | |
| --- | --- |
| Cost of per item | $50.00 |
| Cost of Carrier (Shipping) | $5.50 |
| Packaging Cost | $0.85 |
| Processing Charge | $2.50 |
| Total Cost | $58.85 |
| Profit margin (in percent) | 60% |
| Selling Price: | $94.16 |
Shipping Calculators of Major Carriers
Leading carriers, such as FedEx, UPS, and DHL consider the factors discussed in the earlier sections and offer their shipping cost calculators.
FedEx: Shipping Calculator
The FedEx calculator applies the dimensional weight while calculating shipping costs. The carrier has different delivery speeds, including ground, same-day, and overnight.
For the past few years, FedEx has been running a program for startups or small retail businesses that look for affordable shipping rates. By signing up for this program, small businesses can get up to a 30 percent discount on their shipments.
Find the Rate Finder tool of FedEx to calculate shipping rates.
UPS: Shipping Calculator
The calculator of another shipping giant UPS also uses the DIM weight to calculate shipping pricing. The final costs of UPS shipping vary based on different available shipping choices, including UPS Ground, UPS Next Day Air, UPS 2nd Day Air, or 3-Day Select.
UPS also runs a Connect program that allows small businesses to make the most of its discounted shipping options. UPS offers a 20 percent discount for these businesses for air/international shipping and a 10 percent discount for ground shipping.
You can try the shipping calculator of UPS to get the estimated shipping costs.
DHL: Shipping Calculator
DHL offers a quick quote tool to find the cost of DHL shipments. The company is known for handling international shipments at an economical postage rate. 
Although DHL shipping does not come cheap, they do the international shipping job well. However, this carrier is not a viable option for local shipments.
ShippingChimp: Shipping Cost Calculator
One of the best and most efficient ways to get quick and affordable shipping options for your online retail store is partnering with a cloud-based eCommerce platform like ShippingChimp. This integrated shipping website can get you maximum discounts on shipping.
ShippingChimp will work in your favor in the following ways:
It will import your orders from different eCommerce platforms, such as Shopify, Woocommerce, Magento, and others with a single click.
The AI-powered rate optimizer will get you the best possible shipping rates.
It can print labels in one click, including printing labels in bulk.
Tracks packages and sends notifications to customers.
ShippingChimp offers significant shipping discounts regardless of your annual shipping volume. Unlike carriers like FedEx, UPS, or DHL  who need you to commit to a package volume to access a specific pricing tier, ShippingChimp offers the best rates for all sizes of businesses alike.
Check out ShippingChimp's shipping calculator.
Partnering with an Integrated Ecommerce Shipping Platform
A major advantage of working with an integrated shipping platform is getting discounted shipping rates for your eCommerce business on every occasion.
You should not be paying full shipping rates for shipping orders because they will take away a major chunk of your profit. This is why joining hands with ShippingChimp will get you the best shipping rates. ShippingChimp is a suit of premium and local carriers with the best discounts with an AI rate optimizer that curates the best shipping rate for your shipping needs.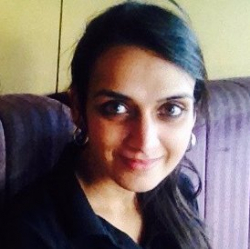 Latest posts by Revathi Karthik
(see all)