Choosing the right shipping carrier for your business can be a daunting task, especially if you are just starting. There are hundreds of different carriers out there. You need to choose one that is best compatible with your business.
A good shipping carrier is an essential vehicle supporting the success of your business. Out of all the shipping carriers in Canada, the prominent ones are Canada Post, FedEx and UPS. The reason they are so popular is that they are convenient and reliable.
But these broad features are not enough to gauge the suitability of the perfect carrier for your business. You need careful calculations and comparisons to choose the best one to address all your needs effectively.
This article will give you a detailed comparison of the three best carriers in Canada. Different carriers are suitable for different businesses. Keep on reading to identify your type.
Canada Post – An Overview
Canada Post is one of the largest and most popular shipping carriers. Founded in 1867, it has been serving the delivery needs of businesses since. They have a network of over 6200 post office locations, making it convenient and popular. They offer both domestic and international shipping.
Canada Post has specifically taken steps to address the needs of small and e-commerce businesses. You can get a business membership to get your hands on discounts and various offers.
Members can save up to 34% and 58% for domestic and international shipments, respectively. To make things convenient for you, they have an online store for purchasing packaging materials that can get you additional discounts.
While it gives a stellar service within Canada, the international shipments have certain drawbacks, one of which is the lack of tracking information. You will only get a notification when the shipment reaches its destination and not while in transit.
If you ship within Canada, it can serve as a perfect carrier for you because it is affordable, convenient and reliable. If your shipping needs are international, you might want to explore other options.
Pros
Affordable and reliable
Attractive discounts and offers for members.
Great for domestic shipping.
Cons
No tracking information is available for international shipping.
No weekend deliveries.
FedEx – An Overview
FedEx is based in the U.S, but it delivers all over Canada and other international destinations. It was founded on 5th May 1971 in Little Rock Arkansas, United States. Started as a small delivery company, it now ships to all the world's major locations. It has two divisions of operation, FedEx Ground and FedEx Express or FedEx Air.
FedEx is a great pick for merchants looking for fast and reliable deliveries across international borders dealing in large shipments. The best part about FedEx is that it delivers on all days of the week. Apart from shipping services, it also has packing and pickup
facilities.
FedEx is one of the first shipping companies to introduce package tracking and real-time delivery updates. Its tracking system is one of the best industries providing accurate information. FedEx international shipping rates are on the expensive side. So if you are looking for affordable rates, this can make you rethink your decision.
Pros
Excellent and accurate tracking system.
Delivers on all days of the week.
Good discounts and offers are available.
Cons
Expensive compared to other shipment companies
No free pickup services.
Fewer locations.
UPS – An Overview
UPS or United Parcel Service was founded in 1907 and is based in the U.S. It is one of the largest shipping carriers globally and features under Fortune 500 company. It actively ships to all parts of Canada and other international destinations, delivering an average of 5.5 billion packages every year.
Its deliveries are fast and reliable. There are different delivery options available to you including priority mail express. Their rates are a little expensive as compared to Canada Post. If your shipping needs are large, and you need faster deliveries, this could be a suitable choice for you.
With top-notch delivery services worldwide, UPS remains one of the top shipping carriers. However, if you go by the customer reviews, it is still struggling to establish a good track record in Canada.
Pros
Guaranteed Express delivery for emergency shipments with same day or next day delivery.
Good tracking system.
Suitable for heavy shipments.
Cons
Can be expensive.
No free deliveries on Saturdays.
No free pickup facility.
Canada Post vs FedEx vs UPS – A Comparison
We have already discussed the features, pros and cons of Canada's three most prominent shipping companies. Now let us compare them on important aspects to make it easier for you to choose the one best compatible with you.
Operating hours
Canada Post- Operates from Monday to Friday from 9.00 a.m to 5 p.m. Weekend delivery is not available.
FedEx- Delivers from Monday to Sunday from 9.00 a.m to 8 p.m. It is the best choice for you if you ship on weekends.
UPS- Ships from Monday to Friday 9.00 a.m to 7 p.m. Weekend delivery is only open to certain areas.
Insurance
Canada Post- You can purchase full coverage of the shipment with 0.5% of the stated value of the goods or a minimum of $ 0.50.
FedEx- It automatically covers up to $100 for every package. For additional coverage, you need to declare the value of your goods.
UPS- There is a cover for $100 for every undeclared package. For additional coverage, you have to declare the value of your goods which can go up to $ 50,000.
Pick up and drop off
You can schedule a pick up from your location by contacting the offices. None of the three companies offers a free pick-up service. Drop-off can be done on the mail slots of respective offices.
Tracking
FedEx excels in its tracking system, providing up to date and accurate information. UPS's tracking system is also reliable. Canada Post has a reliable tracking feature for domestic shipments. However, an international tracking facility is unavailable.
Shipping carrier costs 2022 – A Detailed Analysis
Cost is the most crucial factor determining your affordability and compatibility with your shipping carrier. To simplify your understanding process, we have made a shipping cost comparison with the help of tables.
Flat Rate Packages
A flat rate means offering the same price for all types of shipments fitting in single packaging under a certain weight. FedEx and UPS offer a flat rate policy under 50 pounds and Canada post under a weight of 5 kg.
| | | | |
| --- | --- | --- | --- |
| Starting Rates | Canada Post | FedEx | UPS |
| Small | $18.49 | $9.50 | $11.50 |
| Medium | $23.49 | $12.35 | $15.50 |
| Large | $29.99 | $19.05 | $21.00 |
| Extra large | NA | $30.85 | $25.00 |
Ground Service
Both FedEx and UPS offer competitive pricing for ground services. Canada Post also has reliable ground services. You can look at the pricing by using their personalised cost calculator here .
| | | |
| --- | --- | --- |
| Courier | Cost | Surcharges |
| Canada Post | NA | NA |
| FedEx | Starts at $8.23/1 lb | 4 %(home delivery) |
| UPS | Starts at $ 7.35/1 lb | $ 3.60 (residential) |
Priority Mail
All three company offers priority services for time-sensitive goods. It guarantees faster deliveries, including a next-day delivery for all three companies. Check out the rates below for UPS and FedEx and use a personalised calculator for Canada Post here.
| | |
| --- | --- |
| Courier | Cost |
| Canada Post | NA |
| FedEx 2day Am | $31.18 (May change) |
| UPS Next Day Air | $75.15 (May change) |
Light-weight or small packages
Businesses often send small packages across various destinations. You can look at the rates for FedEx and UPS for lightweight packages below 12 ounces. Use a personalised calculator for Canada Post here.
| | |
| --- | --- |
| Courier | Cost |
| Canada Post | NA |
| FedEx 2day Am | $13.85 |
| UPS Next Day Air | $10.72 |
Final Words
Canada Post, FedEx and UPS are all reputed and reliable courier companies in Canada. They all have their pros and cons, which we had already listed in the article. Choosing the perfect shipping carrier will depend on your needs, requirement and budget.
We have laid down all possible comparisons of the three companies. Now it is time for you to choose the best one that fits your needs perfectly. If you want AI to choose the best rates and the perfect carrier for you – Start your Free Trial with ShippingChimp today!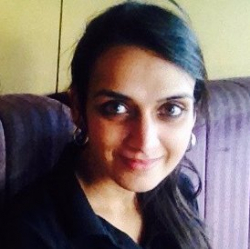 Latest posts by Revathi Karthik
(see all)