Suppose you are a new eCommerce merchant investing a whopping amount on optimizing your eCommerce store, SEO, copywriting, and image quality. But you have missed out on one of the essential aspects of the eCommerce business – your eCommerce shipping strategy.
44% of US shoppers are ready to wait for up to 2 days to get their shipments delivered. This tells us that customers expect speed and affordability when it comes to eCommerce shipping. That's exactly why every eCommerce store needs a proper eCommerce shipping strategy in place.
We understand that eCommerce shipping is tricky. That's why we have created this comprehensive eCommerce shipping guide to guide you through the fundamentals of eCommerce shipping.
So, let's dive in!
What is eCommerce shipping?
eCommerce shipping is the process of delivering a product from the online seller to the customer. When customers are shopping from your eCommerce store, they're likely to complete a digital transaction first. Shipping is the completion of that digital transaction by ensuring the physical transfer of the ordered product.
That being said, eCommerce shipping is indeed a vast topic. The buyers might see only one side of it, but there is much more to do for the eCommerce stores apart from delivering a shipment package to the buyer's doorstep. An eCommerce merchant has to take into account multiple factors like selecting a shipping carrier, timing, packaging, cost management, etc. to build a shipping strategy.
Let's discuss it more in the next sections.
10 eCommerce shipping terms for online sellers
Here are some of the fundamental eCommerce shipping terms you should know before getting started with your eCommerce shipping strategy:
Shipping methods – the shipping process for a particular order. There are different types of shipping methods starting from expedited shipping, same-day delivery, etc.
Shipping rates – shipping rate or shipping cost is the price that an eCommerce store charges the customers during checkout. It can be visible with each product or on the cart page.
Inventory management – a process comprising different phases like ordering a product, storing it in inventory, producing the finished products, etc.
Warehouse and storage – the place where you store the raw materials and even finished goods before they are handed over to the shipping carrier.
Returns – a process where customers ship the ordered item back to the warehouse due to different reasons like receiving damaged products, wrong products, etc.
Fulfillment – a fulfillment center is where an ordered product is received, packed, and then shipped to the end-users.
LTL shipping – LTL stands for Less than truckload freight shipping. It refers to the shipping of smaller items that do not require an entire trailer to transport items.
Shipping carriers – a courier company that eCommerce stores partner with to deliver their shipments within the stipulated time. Some of the popular shipping carriers include FedEx, UPS, USPS, etc.
Shipping origins – the source of a shipment package. It can be a seller's brick-and-mortar store, a warehouse, etc.
Pick & Pick – it is the method of picking up different inventories from the warehouse creating a shipment package.
5 Factors that Impact eCommerce Shipping Costs
There is no hard-and-fast rule when it comes to building an eCommerce shipping strategy. Different eCommerce stores will require different eCommerce shipping plans based on their operations. One of the most important factors to take into account while building an eCommerce shipping strategy is the types of shipping costs.
Here are the five major factors that affect the eCommerce shipping costs for your store:
Shipping zone – how far is the destination for the products being shipped? Naturally, international shipping costs are much higher than domestic shipping costs. The reason is the long distance.
Unexpected challenges – there can be sudden accidents, natural disasters, etc. that delay the shipping and cost high shipping charges.
Product dimension – the size and weight of a shipment package are the two major factors that determine shipping costs. To put it simply, the shipping carrier will estimate both the height and weight of your package and calculate the shipping charges based on whichever is higher.
Area-specific restrictions – sometimes different countries, states have different restrictions and guidelines related to shipping. These factors can affect the shipping charges too.
Customers' demand – different customers have different expectations. For example, one customer expects same-day delivery while the other customer is okay with 3-day delivery. Shipping costs will vary for these two different customers and their different expectation levels.
4 Easy steps to build your eCommerce shipping strategy
Now that you know all the shipping jargon and the major factors affecting your shipping costs, it is time that you start building your eCommerce shipping strategy. Here are some easy steps to get started:
Select the right shipping carrier
The first and foremost step to building an eCommerce shipping strategy is to select the appropriate shipping carrier. The three major shipping carriers that are dominating the US market are UPS, USPS, and FedEx.
Here are some more details on these shipping carriers:
UPS
UPS is one of the oldest shipping carriers in the US, with operations in over 200 countries. It is arguably the most affordable shipping carrier. Plus, UPS' shipping network in the US is top-notch. Some of the popular UPS service packages include UPS Standard, UPS Worldwide Express, UPS Ground, and so on.
USPS
If you are running a new eCommerce store that delivers lightweight products, USPS can be a great choice for you. However, USPS doesn't have expedited shipping options unlike UPS and FedEx. Also, the shipping network of USPS is the strongest within the US. if international shipping is on your agenda, USPS may not be the right shipping carrier.
FedEx
FedEx is one of the fastest shipping carriers having a global network. It is expanded across 220 countries and ships at over 50000 worldwide locations. Some popular FedEx service packages include FedEx Ground, FedEx Overnight, FedEx Priority, etc.
Go for the most suitable shipping method
The next step to build your shipping strategy is choosing an ideal shipping method. The selection of shipping methods can vary based on the target customers' expectations. Here are some of the shipping methods that you can offer the customers:
Free shipping – Free shipping model is when an eCommerce store doesn't charge any fee for shipping to the customers. eCommerce stores generally go for this model when customers purchase over and above a certain value.
Same-day delivery – online shoppers demand their shipments as fast as possible. This has led to the popularity of same-day delivery methods. This method ensures that the customer will receive their ordered package within the order's day.
Flat-rate shipping – this model is most applicable for a particular area where the eCommerce store charges all customers with the same shipping fee. If you're operating in multiple locations, this might be the right shipping method for you.
Focus on packaging and labeling
Packaging and labeling also play critical roles in your eCommerce shipping strategy. Packaging should ideally be a representation of your eCommerce brand. Plus, your packaging must ensure the safety of the product you're shipping.
On the other hand, every shipment should come with a shipmen label that mentions all the details like fragility, source, destination, and any other relevant factor. Getting eCommerce labeling right is a must for an appropriate eCommerce shipping strategy.
Don't forget the returns
Finally, when you're building your shipping strategy, don't forget the returns and exchanges. Those are very common nowadays and you should have a separate plan to manage eCommerce returns. International returns are trickier to handle. But you can't miss out on these as returns play a pivotal role in building post-purchase experience.
A great way to manage returns is through the platform ShippingChimp. This Shopify app has an interactive platform that bridges the gap between eCommerce stores and shipping carriers through an efficient return center. To know further, start your free trial.
Final Words
Creating an eCommerce shipping strategy can be overwhelming, especially for first-time eCommerce stores. But again, it is a must to streamline your eCommerce operations and improve your retention rate.
Get started with these easy steps and we're sure you'll soon build an eCommerce shipping strategy.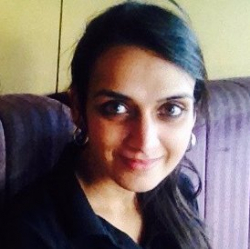 Latest posts by Revathi Karthik
(see all)