If you have an online business in Canada, you can sell your products through Etsy Canada, one of the leading eCommerce sites with around 378,000 sellers.
You can now sell your products by taking advantage of Etsy's vast customer base and specialized market.
Here is how you can sell on Etsy Canada.
Set up Your Etsy Canada Store
Set up your Etsy Canada shop to get your products before potential customers.
First, you have to create an account on Etsy.com and choose "Canada" as your country. Then, set up your shop, including entering your store name, location, and language. You also need to select a currency, which should be Canadian dollars (CAD).
Keep all the necessary information ready while setting up your shops, such as your business information, payment method, and taxes. Also, you have to set up your shop policies, including shipping and returns.
In the last step, you have to add your products. It includes providing detailed product information, such as product titles, descriptions, prices, and photos. Make sure your product images have high resolution, and they should showcase your products well.
Optimizing Your Product Listings
Optimizing your product listings is crucial to ensure potential customers can see them on Etsy Canada.
To optimize your product listings, you have to ensure your product titles and descriptions are clear, concise, and keyword-optimized. It will help your products show up in relevant search results.
Besides, make sure your product pricing is competitive. Research the pricing of other sellers and adjust your prices accordingly.
Also, you should organize your products into relevant categories. It will be easier for customers to find your products. By following these tips, you can make your product listings more visible to potential customers, which will help increase your sales.
Using Etsy's Marketing Tools
Etsy offers various marketing tools that can help you promote your products and boost sales. One such marketing tool is "Promote on Etsy," which enables you to promote your product listings through targeted advertising after setting a budget.
Another useful marketing tool is "Etsy Ads" which helps you create and run ad campaigns on Google and other platforms to increase online traffic to your store.
Another tool you can use is "Etsy SEO" to ensure your products show in relevant search results. It includes optimizing your product titles and descriptions with keywords and organizing your products into relevant categories.
Lastly, you can use the email marketing feature of Etsy to reach out to customers and promote products through newsletters and other email campaigns. By leveraging these marketing tools, you can increase your brand's visibility on Etsy and reach more customers.
Building a brand and customer base
Building a memorable brand and customer base is crucial for long-term success on Etsy Canada. Strong branding will make your products stand out and win the loyalty of your customers.
First, create a visual identity for your brand by carefully choosing your logo, color scheme, and product packaging. It will help customers recognize your products and make it easier to recall your brand.
Also, offer attractive promotions and discounts to your customers, and they can spread the word about your store.
Managing and Fulfilling Orders
Managing and fulfilling orders is crucial for running a successful Etsy Canada shop. You should have an easy-to-use process for fulfilling and tracking orders.
Next, you should have a reliable and efficient shipping process. Have all the necessary materials and equipment ready, including packing materials and shipping labels.
Besides, keep in touch with your customers through emails or automated text messages to confirm the order or shipping status.
Tips for eCommerce Success in the Canadian market
E-commerce marketing in Canada is unique compared to other markets. Here are a few tips to succeed in the Canadian market:
Make sure your products and pricing are competitive. Canadian consumers are price-sensitive and tend to shop around for the best deals.
Stay updated about Canadian laws and regulations, especially taxes and consumer protection.
Be mindful of Canadian consumer preferences. For example, Canadian consumers may prefer socially responsible and eco-friendly products.
You may consider providing bilingual service and a Canadian customer service phone number. It can make customers feel more comfortable and confident buying from you.
Lastly, take advantage of Canadian holidays and events such as Christmas, Canada Day, and Thanksgiving to offer special promotions to increase sales.
Using Social Media to Promote Your Shop
Using social media to promote your products can help you reach a wider audience and drive more sales on Etsy Canada.
Here are some tips for using social media to promote your store:
Develop a social media presence on Facebook, Instagram, and Twitter. These social platforms can help you reach a vast customer base and engage with them.
Make sure to post regularly on social platforms, including product photos, useful information, quiz, contest, and promotions. It will help keep your followers engaged and interested in your store.
Use social media advertising to reach potential customers and drive traffic to your store. Facebook and Instagram offer options like targeted advertising that will help you address specific demographics, including location, age, and interests.
Finally, use social media analytics to track your store's performance. It will help you figure out which type of content works best, and you can change your strategy for better results.
Staying Up-to-date on Industry Trends
Staying up-to-date on industry trends is crucial for success on Etsy Canada. The eCommerce industry in Canada is constantly evolving, and you need to be aware of new trends to stay competitive.
Stay informed about new product trends and emerging niches by regularly researching industry news and following relevant blogs and social media accounts.
Also, take note of changes in consumer behavior and adjust your strategy accordingly. For example, optimize your store for mobile devices to increase mobile traffic.
Keep an eye on your competitors and stay informed about their strategies and promotions. It will help you identify your areas of improvement and stay ahead of the competition.
You can take advantage of Etsy's educational resources, such as guides, webinars, and workshops to learn about new features and best practices.
Finally, try new and innovative strategies to stay ahead and look for new opportunities to grow your business on Etsy Canada.
The Costs of Selling on Etsy Canada
Shop owners need to pay the following fees to sell on Etsy Canada:
Listing Fee: $0.20 (Listing fees are payable in US dollars, even when you operate from Canada)
Shipping Transaction Fee: 5 percent (Etsy gets 5 percent of shipping costs)
Transaction Fee: 5 percent of total item cost
Etsy Payment Processing Fees: CAD 0.25 + 3 percent for domestic orders or 4 percent for international orders
Listing Currency Conversion Fee: 2.5 percent (If your product listings are in foreign currency, Etsy charges a fee to convert them).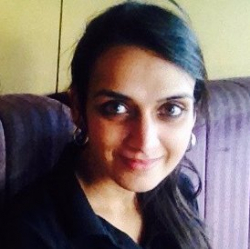 Latest posts by Revathi Karthik
(see all)