Building an eCommerce store is not easy! You have to take care of so many different aspects to ensure that the store is running smoothly. Once the store is ready, you have to work on marketing too. Ever wondered all these for what?
Well, the reason behind putting in so much effort is to increase the conversion rate for eCommerce sites. So, it's time you ask yourself which eCommerce conversion hacks you are applying to drive the maximum conversion rate in your store.
In this blog, we'll discuss some of the best eCommerce conversion tactics that can help you with a fast conversion boost. So, let's get started.
7 Conversion Rate Optimization Strategies for eCommerce Stores
Here are some of the best ways to increase eCommerce sales conversion:
1. Develop a simple store navigation
Nobody wants to go to a store that's too complicated. Even though you want to purchase a small item, you'll have to spend hours on searches to find the right product. Clearly, customers won't spend much of their valuable time in an eCommerce store with complicated navigation. So, to achieve a good eCommerce conversion rate, you must develop a simple eCommerce store with a seamless navigation process. 
Here are some tips for you:
Using a navigation bar at the top of your store is a must. This is what your customers will use to browse across the store.
If you don't want your users to spend more time searching, adding a personalized search engine to the store is a good idea. These are AI-enabled search engines that display the most relevant product recommendations to the customers.
For each product, you should add the most informative descriptions and images. That way, the users will have a complete idea of what to expect from which item, making their shopping experience painless. That means greater chances of conversion.
2. Leverage social proof as much as possible
Leveraging social proof is one of the best ways to increase the eCommerce conversion rate. Did you know that 84% of consumers rely on recommendations coming from their friends, family members, and other known sources? So, if you can showcase your social proof well, it will help you win consumers' trust to a larger extent.
So, start showcasing social proof on your website, social platforms, emails, and any other appropriate communication channels. The "go with the herd" mindset of consumers is real. From a consumer's perspective, it is always better to buy something that others have used and recommended. It helps them build trust. And as you know, trust and conversion go hand in hand.
3. Always focus on up-sell and cross-sell
Never lose an opportunity to up-sell or cross-sell your products. It is one of the best ways to drive eCommerce conversion rate by engaging hesitant customers. Let's break down the concept of cross-sell/up-sell for you.
Suppose a visitor has entered your eCommerce store to buy denim. However, that's not the only thing they want to purchase. The visitor is currently in a shopping mood, and can easily buy more if you can direct them properly. How about adding a recommendation widget called "You may also like" for this user? You can display different items like shirts, tops, shoes, earrings that can complement their current denim purchase.
If any one of these recommended items catches the user's attention, they can complete the purchase pretty soon. That means a prompt eCommerce conversion rate boost.
4. Be informative but not pushy!
Offering compelling deals and offers is okay. But what's not okay is to push the customers. eCommerce stores often end up pushing the customers to buy products as they keep sending in-app notifications, emails, text messages, etc. We agree that these are promotional strategies, but we don't recommend you to do too much of them.
Too much pushing can create an annoyance for the customers and the result will be a high churn rate. And we bet, you don't want that. So, a better way to convert eCommerce store visitors is through information. Make each item visually notable and add sufficient information. Also, instead of frequent pop-ups, push notifications, eCommerce stores can focus on playing the right CTAs in the right place. That's sufficient to increase conversion rate optimization for your store.
Note: Always keep the option of "guest checkout" open. If you force a visitor to sign-up while they want to place an order in the guest mode, that's clearly pushing. This could reduce your conversion rate instantly.
5. Be wise with product pricing
Want to go beyond the standard eCommerce conversion rate? Well, you have to be smarter with your product pricing strategy. Instead of simply charging a fortune, try being more creative with your pricing strategies. Introduce loyalty programs, referral bonuses, and other innovative pricing options that can keep the customers engaged. Loyalty programs are a big hit among customers as 84% of customers are fond of these offers.
Here are some pricing strategies to increase the eCommerce conversion rate for your store:
Offer different pricing options. Don't stick to the same old pricing model. Try to entertain the customers with your pricing plans
Create innovative product bundles and price them smartly
Use referral programs and promote them aggressively on social platforms. That's the best way to create a buzz and master a word-of-mouth marketing strategy.
6. Go for a simpler checkout process
Did you know that an optimized checkout process can increase an eCommerce store's conversion by 35.62%? So, if you want to increase the eCommerce conversion rate and maintain a low cart abandonment rate, you must use a user-friendly and straightforward checkout process.
Here are some of the best practices that could come in handy:
Don't ask irrelevant questions during the checkout process. Keep it simple and make sure that you're asking as much as is essential.
Keep the checkout design clean and distraction-free. Any distractions at this stage can lead to an abandoned cart. So, beware.
Don't just offer one or two payment modes. Make sure that there are multiple payment options available to the customers starting from credit cards, debit cards, PayPal, digital wallets, and even cash on delivery.
Don't charge any surprise costs and fees. In fact, for loyal customers, it is ideal if you remove the shipping charges too. That can be a great way to boost the eCommerce conversion rate.
7. Develop and highlight your return policy
Return policy is a deal-breaker for eCommerce stores. A reliable return policy can help you win more customers and thus a high conversion rate, whereas an unclear return policy can result in extreme dissatisfaction for the eCommerce store customers. You should know that over 50% of customers go through the return policy before purchasing anything from an online store. So, it is always better to stay honest, transparent, and reliable with your return policy.
Many eCommerce stores make the mistake of not adding a return policy to their stores. But what they don't realize is that they're creating a horrible shopping experience for their customers. Normalizing return is a much better option if you want a good eCommerce conversion rate.
Bonus tip: Use a shipping platform
Do you want to ensure high conversion for your eCommerce store? Well, you must use a shipping platform that takes care of tracking, timely notification, return, and various other aspects of an eCommerce store. We recommend this high-performance shipping platform called ShippingChimp.
Here's why:
ShippingChimp enables live tracking and creates a branded tracking page for your eCommerce store
It sends customized and timely notifications to the customers
It can handle return and delivery disputes efficiently and create repurchase possibilities
Want to know further? Start a free trial now!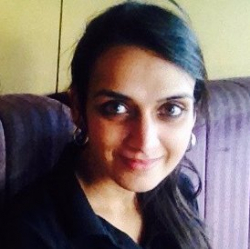 Latest posts by Revathi Karthik
(see all)