Ready to handle the bombastic BFCM (Black Friday and Cyber Monday) crowd?
Hopefully, you are!
These two days are crazy for any store out there. The boost in sales soars sky-high. But why do the benefits of BFCM have to last just for four days?!
To make the most of the BFCM sale, don't just plan for the weekend. Planning for the future is a must. A lot is involved in the BFCM strategy than being ready just for a doorbuster sale.
This blog post will take you through a few of the best BFCM post-purchase email subject lines. Plus, there's a bonus of 5 awe-inspiring BFCM post-purchase email templates.
So, let's see what's in store!
10 Effective Post-Purchase Email Subject Lines
Isn't it quite incredible that follow-up emails have a 40.5% open rate, 6.4% click rate, and 0.7% conversion rate?
Post-purchase follow-up emails with amazing subject lines can work wonders.
They catch customer attention, maintain a good communication flow, encourage a website revisit, and build strong connections.
Here's a list of 10 post-purchase email subject lines that could work for enhancing your customer's post-purchase experience.
Yay! We have shipped your order!
Your Doorbell can Ring Anytime Soon!
A Huge Thanks for Shopping with Us Today!
Can we have a moment to know about your shopping experience?
Here's your gift to you from us: 25% off on your next order
Ready to re-stock/ reorder?
Rate your purchase on a scale of 5!
Wow! You do have great taste.
Thanks for Your Purchase. We're Glad to Have You.
The Happiness of Your Order Confirmation is here!
So, get inspired and choose some of the best subject lines for your next post-purchase email.
5 steal-worthy BFCM Post Purchase Email Templates
Every purchase of your BFCM weekend must end with awesome post-purchase emails.
Think of the BFCM sale as your golden chance to build relationships with customers. So, what could be better than post-purchase emails?
Post-purchase emails can include order confirmation, follow-up, post-purchase survey, and much more.
So, we have compiled a list of 5 post-purchase email templates that you can utilize in the next BFCM sale.
1. Order Confirmation emails
Right after your customer makes a purchase, what's the first post-purchase email you should send?
It is an order confirmation email (No points for guessing!)
After a transaction is complete, ensure that the order confirmation reaches the customer's inbox right away. This will ensure your customer's peace of mind and reduce your order-related phone calls.
Thanks to the Shopify post-purchase email that you can automate order confirmation emails easily.
Include all order details – order number, shipping/billing address, billing summary, expected delivery, and purchase description in your order confirmation email.
Have a look at this order confirmation email by Burst.
Source: Blog.smile.io
What we liked the most is that the email is detailed and fuss-free. It's easy on the eyes with a 'view order' CTA.
2. Post-purchase Customer Support
The list of post-purchase email templates is never complete without a post-purchase customer support email.
Customer support is something that can turn your business around if done right. When it comes to offering customer support, brands provide live chat, 24 hours call support, etc.
But doing something unique will have greater rewards. Agree?
Here's SEMrush taking that extra care to provide the perfect customer support experience.
Source: Loopreturns.com
What SEMrush does is that it offers a customized after-purchase product demo. As soon as you begin working with SEMrush, the SEO hero provides a demo to get started.
During the demo, you can resolve your queries and know about the support resources to help you further. In a bit of a chat bubble, SEMrush guides you to its entire world.
The bonus point is that SEMrush has a highly well-established knowledge base. They have adequate resources to help you move forward in case you get stuck.
3. Review Request Email
Appreciation keeps you going, and criticisms tell you where to improve. That's what feedback is for.
After a customer has received their product, it's always a great gesture to check on them. You can send emails asking how their shopping experience was or did the purchase live up to their expectations.
Honest feedback from customers can help you make necessary changes with the product or service.
At times, customers do not take the hassle of reaching out if they experience trivial issues during their shopping.
But if you reach out proactively, they are likely to speak about those issues. Hence, you can ensure preventing those issues from recurring.
Here's an example of a post-purchase experience email.
Source: Blog.smile.io
We came across this superb after-purchase email template by Bellroy.
What we like is that Bellroy has focused on its communication more than the look of the email.
The content is engaging. It has been center-positioned to draw attention. The cherry on the cake is that customers can rate the brand then & there. No external links. No CTAs. The feedback process has been made super easy.
4. Post-purchase Loyalty
Just offering customers a loyalty program might not work well to make them stick to your brand. There are several factors that you must consider;
− customer engagement
− flow of communication
− brand image etc.
What we mean is that your loyalty program must make the above factors pop.
Take, for instance, the brand – Chubbies.
Like its name, the brand has a fun presence. This fun-loving image has made Chubbies build a strong community of engaged customers. These loyal groups of customers easily communicate with the brand via emails and social media.
Communication becomes like a breeze when you have an engaged community of customers aligned with your brand.
Here is exactly where your loyalty program can come in to complete the post-purchase engagement ritual.
Source: Loopreturns.com
What we love is that Chubbies has walked the extra mile for customer loyalty.
From creating an account to making the first purchase – Chubbies has a reward for almost every action.
5. Re-stock Reminders
If most of your products require a refill, why not remind customers about it once in a while?!
Sending reorder reminder emails works well for brands selling products having a lifespan of anything less than a year.
For example, you sell a wellness supplement that generally lasts for a month. After a month, you can send customers who have bought the product emails asking if they would like a refill soon.
The same can apply to pet food, office supplies, baby food, makeup products, cleaning supplies, and much more.
Here's an example reminder email by Graze Shop that has our heart!
Source: Blog.smile.io
The 'time to re-stock' by email Graze is simple, clean, yet eye-catching.
We love how Graze has attached product pictures with a two-liner text and CTAs, making the reminder email subtle but effective.
Improve post-purchase experience with ShippingChimp
Handling post-purchase experience can be tricky? Especially when you have a lot on your plate. Why not go for a platform like ShippingChimp? It will help you create an exceptional shopping experience without spending a long time building and planning a shipping strategy.
Here's how it can help you:
ShippingChimp can send personalized delivery notifications to each shopper and drive repeat purchase
It is a great tool to reduce WISMO queries and resolve customer support tickets faster
ShippingChimp simplifies live tracking for your customers with a branded tracking page
Want to explore more? Start your free trial now!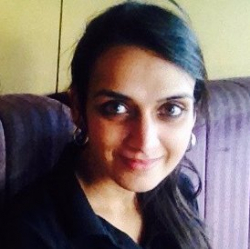 Latest posts by Revathi Karthik
(see all)