In an ideal world, we would all be having a proper supply chain in place before the holiday season. But, in today's fast-paced, technology-led and carrier-driven market, the decision to go for a particular shipping partner is increasingly complex. This year, the demand will be similar to what we saw in 2021.
So, if you are a newbie in eCommerce and haven't quite figured out your ideal shipping partner yet or if you are someone who is on the lookout to add a new shipping carrier to your bucket, this blog post is for you.
Peak shipping season is here! Every year, from Black Friday to New Year, there's a surge in demand. People start shopping for the holiday season in November and as an eCommerce brand owner, it gets quite difficult to manage the surge. If you don't have proper, well-prepared carriers, it is even more. A single carrier is usually not well-equipped to handle the BFCM order volume.
Why would you need to add a 3PL?
Primarily, investing in a carrier is about saving on shipping.
If your shipping partner has burned a hole in your pocket in the last season, chances are, your relationship with them has soared and you have moved on. Throughout the year, surcharges play a very important role in determining which carrier will be beneficial for an SMB and which carrier is made for enterprise businesses. Choosing the correct 3PL solves the entire problem of shipping by taking the logistics part of the business in control. Getting the best rate shipping is the first step toward making sure the 3PL is right for you. If you are restlessly googling Canada Post shipping rates or shipping comparison rates, you know how difficult the choice is.
But wait, what are the hurdles like?
Challenges when selecting a 3PL
Lack of experience – Peak season demands a lot of proactiveness. Any new 3PL might find it difficult to know all about your business in the first year. The key is going for an experienced 3PL that has seen the changing landscape of the supply chain through the years and has a plan B as well.
Not knowing the upcoming carrier rate changes – By now, most carriers have published their surcharges for peak shipping season 2022, but if you are looking to invest in a 3PL, you'll have to get an idea of the next surcharges as well. Businesses often see quarterly goals and fail to see the big picture. If you want to have a solid relationship with your 3PL, you need to understand their patterns and the numbers that come your way through the invoices. Doing proper research on the rates of your dream 3PL is.
Too many options – Around 73% of shippers interact with their 3PL on an hourly basis and around 63% of shippers indicated that they would increase their use of 3PL services. This indicates that the 3PL market is going to expand and with it, it will bring the problem of choices. We suggest shortlisting two partners- one that gives you reduced shipping rates and the other that meets your needs (delivery times, category specific etc) the best. Do a thorough analysis of both and you'll have your answer.
To help you make a decision that doesn't let you second-guess, here are some popular carriers and their surcharges for the holiday season –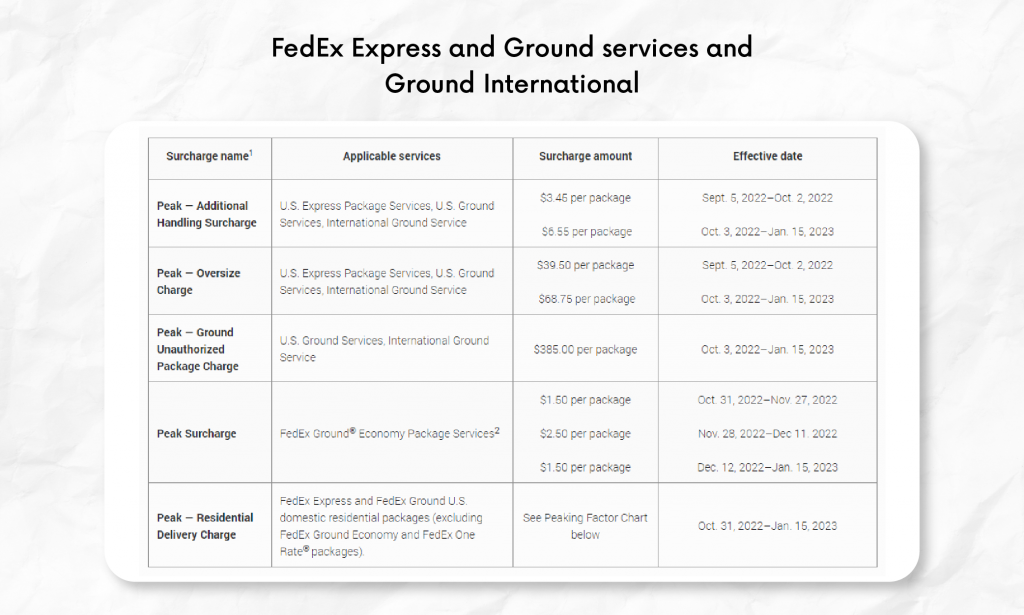 Credit – FedEx.com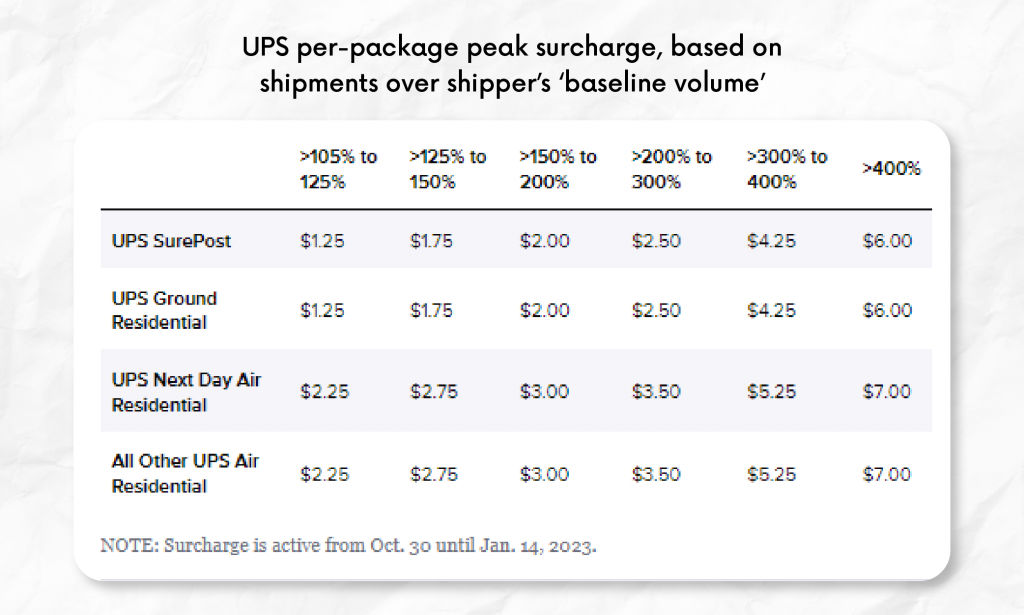 Credit – Supply Chain Dive
Credit – Purolator
But choosing an efficient 3PL is no child's play. It requires months of research (think UPS's all-in-one pricing is fun? Check again), long hours on Zoom to know the best features and annoying friends in freight with that one question – whom would you suggest? Here's what we recommend when it comes to selecting the RIGHT 3PL to navigate the holiday season as smoothly as possible.
Use these key performance indicators to measure each carrier's service quality:
On-time pick-up – It is a metric that shows the number of pickups your carrier made on time compared to the period's total shipments.
On-time delivery -This metric shows how quickly an order arrives in full.
Truck Turning: This metric will tell you the time a delivery truck spent loading and unloading.
Average Days Late: This metric shows the days between the delivery's due date and when the customer receives the order. This metric is very important when building customer loyalty.
FAQs on peak shipping season (October through December) –
Why is peak season shipping important?
October through December is the time of festivities across the globe. We have major days like Thanksgiving and Christmas, not to mention Black Friday, Cyber Monday and Small Business Saturday. Business owners everywhere make it a point to provide the best discounts and offers this time of the year. Because people buy in bulk (think Christmas gifts), sometimes the pressure is too much on a carrier. But everyone expects a cheap shipping quote as well. A well-strategized shipping plan helps avoid mishaps.
What are the predictions for 2022?
The stats that matter goes like this – 64% of shoppers said they will shop for the best shipping policy.
What role does technology play in peak-season shipping?
A simple example would be that of a shipping software like ShippingChimp. Through ShippingChimp, you can ship your products in minutes, generate labels in seconds and even check returns and disputes. We have a track record of proving the best shipping for small businesses. Since it is the busiest time of the year, the chances of errors are even more. Technology helps you predict things and later, know precisely what went wrong.
One tool that can help prepare better for peak season
Use a shipping rate calculator to get the best rates before you prepare for the peak shipping season. Guesstimation makes things worse. If you want to save on shipping, apart from getting discounted shipping rates, choose this. Knowing exactly what the prices will be is a win-win.
How can I prepare my Shopify store better for the holiday season?
Shopify has a lot of shipping apps that are super easy to use and have a very elegant interface. Apart from that, you can offer discounts, set a countdown for the big day and more.
Preparing for BFCM shipping requires finding the right carrier, the right team and most importantly, the right shipping options. If you got all three right, you got it under control!