Your eCommerce store is way more capable of offering customers unique services than you imagine. However, despite having the best eCommerce platforms, many online stores fall short when it comes to customer engagement.
The biggest differentiator for any eCommerce brand is their loyal customer following. eCommerce brands need to start leveraging customer engagement as a channel to drive more revenue.
Here are the 10 best ways you can do that:
Responsive Customer Service
Focus on User-Generated Content
Real-time shipping updates
Personalized product recommendations
Invite Customers to Join Your Loyalty Program
Cross-Sell and Upsell
Engage across social media channels
Organize Contests
Highlight Risk Reducers
Build a feedback loop
Responsive Customer Service
Customers may have several questions about your product, shipping process, estimated delivery, or others. Besides listing extensive details on your web pages, you also need to offer customer support.
"Where is my order?" tickets/calls make up 80% of eCommerce support tickets. The easiest way to manoeuvre overwhelming number of tickets is to share automated delivery alerts to customers. Regardless of the helpdesk that you use, ShippingChimp imports all order-delivery related information to feed it into your side panel of the helpdesk.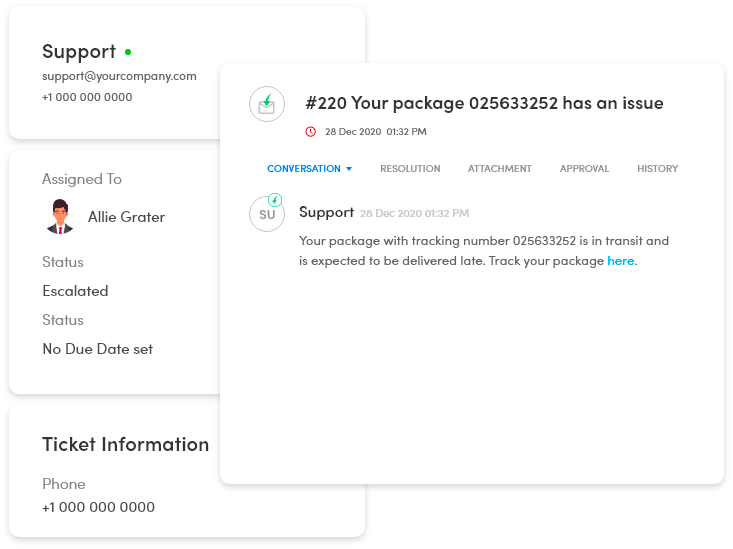 Moreover, support agents can share delivery notifications as well as predict delivery delays to keep shoppers informed of their order-location. Check out the different shipment transit order statuses that can be shared from within helpdesk: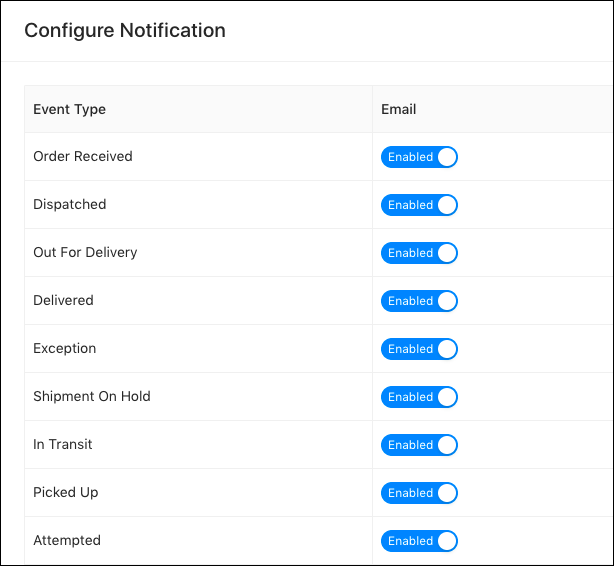 Additionally, using interactive voice response (IVR) or Chatbot are trends. However, when a customer is seeking answers to his/her pressing questions, automated stuff can be annoying for them.
Truly effective options for customer support are voice chats, video chats, and text chats. These are usually easy to integrate into your online store.
Particularly, offering live chat is a crucial way to help customers and is one of the most desired ways to resolve customer issues.
Here is a screenshot of Land Rover's customer service option using video chat. For such expensive cars, live video chat is a great way to engage customers.
By using an introductory video, along with a video or text chat option, you can reassure your customers.
A report by Econsultancy shows that live chat provides the highest level (73 percent) of customer service satisfaction. In comparison, emails have 61 percent and phones have 44 percent satisfaction level.
Live Chat Data (Source: Neilpatel.com)
Focus on User-Generated Content
To propel customer engagement for your eCommerce store, encourage users to contribute content and photographs. User-generated content (UGC) could be comments, product reviews, a selfie with your product, and more.
Encouraging user-generated content will give a feeling to customers that your products are reliable and popular. Users will see other customers who are like them and interested in your product or service or are existing users.
For example, posting user-generated pictures are an excellent way to engage customers with social proof. Potential customers will see that other people are regularly buying your products, and will feel more comfortable following in their footsteps.
User-Generated Instagram Image Gallery on GentleFawn's Homepage (Source: Neilpatel.com)
Real-time shipping updates
No customer wants to wait for weeks to get his/her product. Even worse, if they have no clue about the whereabouts of their orders. It may eventually lead to buyer's anxiety and remorse, which are not good signs for any business.
By integrating a branded tracking page, you can allow customers to track their order status in real-time. The order tracking pages will include features such as shipment status, estimated delivery date, and regular in-transit updates on the order.
You can engage and satisfy more customers by providing transparency, specifications, details, and choices. Overall, order tracking can provide the following:
Shipping updates
Estimated delivery schedule
Any potential delivery delay
Delivery tracking
The ability to track their orders and receiving timely notifications will assure customers and reduce their anxiety.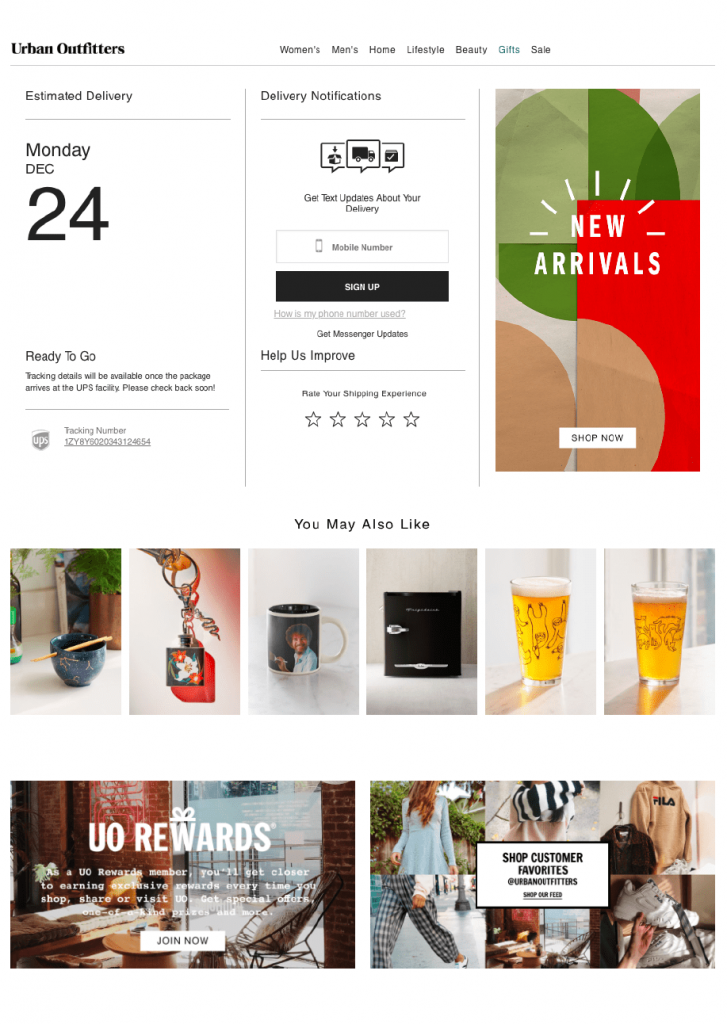 Order-Tracking through an eCommerce Website (Source: Outfitters.com)
Personalized product recommendations
It is not a secret in the retail world that customers show their interest in personalized product recommendations. A report by Business Insider shows the following:
Nearly 49 percent of customers responded that they have bought a product they had no plan to buy after getting a personalized recommendation.
40 percent of consumers have paid more on a product without any planning due to a personalized shopping offer.
If you visit a specific product page on Apuls' website, like exercise bikes, it will show a teaser, which says "Have You Considered These Exercise Bikes?"
Apuls' Product Recommendations (Source: sleeknote.com)
If visitors click that teaser, the website will show three different bikes on offer, each with a CTA.
Interestingly, each bike has a sales copy, suggesting customers with different budget:
First offer (1,699 SEK) for visitors, who are looking for a budget bike without compromising on quality;
Second offer (6,000 SEK) that appeals to impulse buyers; and
Third offer (7,500 SEK) for those customers, who usually go for the most expensive option.
After you click one of the offers, the website will take you to the product page with a new slide-in popping up, and offering assistance.
Such an intelligent and systematic product recommendation technique is likely to help visitors find the product they are looking for, and increase the retailer's sales.
Invite Customers to Join Your Loyalty Program
In this intensely competitive eCommerce market, customer loyalty is like chasing a "Golden Goose" (not the sneakers). To sustain and grow your retail business, you need your customers to keep buying your products.  
Many eCommerce have achieved customer loyalty by making them feel valued through their customer loyalty program.
You can create a loyalty program that will offer regular incentives to customers so that they buy more often or spend more on your products.
The feature of your loyalty program could be a system of accumulating points to redeem or collecting coupons. The purpose is to provide more buying power to customers.
Loyalty Program by Pure Hockey (Source: Neilpatel.com)
Also, you may consider your loyalty program going beyond just rewarding points to customers. You can offer them opportunities to share your product pages and posts, write reviews, and uploading images.
Cross-Sell and Upsell
Your customer engagement strategy also gives a great opportunity to cross-sell and upsell your products to boost sales. For example, if a customer has purchased a laptop from an online store, the retailer can offer related products like a wireless mouse, cooling pad, and others.
Typically, cross-selling includes the following:
Your best-selling products
Relevant product recommendations
The items that are usable with the products they checked
Displaying "Other customers also purchased" section
Highlighting the "Users also viewed these" section.
Cross-Selling Example (Source: wishdesk.com)
You can easily think of practical cross-selling techniques to offer your customers products to add value to their purchase.
Upselling can be equally effective. A study by Econsultancy shows that upselling has 20 times better selling rates than cross-selling.
To make your upselling successful, recommend the products that are closely related to the products they purchased. Also, remember:
The recommended products should fulfill customers' original needs.
Price sensitivity can be an issue, so be transparent about the product and price upgrade.
Upselling Example (Source: wishdesk.com)
Engage across social media channels
The total number of social media users is estimated to hit 3.02 billion marks in 2021. Social media platforms are where you can get many of your potential customers. This is why the customer engagement strategies for Facebook, Instagram, Twitter, and Pinterest are critical.
The following example of the ASOS website shows the elements of user engagement. The posted photographs on the site are part of the "as seen on me" section, which encourages users to participate by sending their images.
ASOS Social Media Page (Source: econsultancy.com)
The power of social media is immense. Some of your social media strategies could be:
Posting engaging posts frequently with links to your online store.
Sharing icons along with promotions, products, or other content on your portal.
Sharing social media feeds on your website displaying current activities
Running paid ads on social media platforms.
Posting social media statistics highlighting the number of followers.
Sharing answers to potential questions of customers in FAQs format.
Overall, social media engagement can develop a positive brand image among users, and eventually may generate interest to try your products.
Organize Contests
Running contests on your online store by leveraging social media platforms such as Facebook and Instagram can significantly increase user engagement and help promote your products or services.
Contests are one of the interesting ways to increase awareness, develop a community, increase traffic, and boost sales.
A Contest Run by Ipsy (Source: sproutsocial.com)
A few best practices for running contests include:
Make an interesting image or video to announce the contest.
If there are previous winners, highlight them or post their interviews to inspire other users.
Create unique hashtags for the contest.
Show the curated posts as a gallery on your store and social media platforms.
Get legal rights to re-post user-generated content.
Highlight Risk Reducers
The homepage of your eCommerce website should carry the elements called "risk reducers. They are like small notices, which help customers overcome any doubt or objection before making the buying decision. Such notices give peace of mind to customers. Examples are below:
Quick delivery
Free Shipping
30-Days Return Policy and money-back guarantee
Transaction security
Highlighting Risk-reducing Elements (Source: Neilpatel.com)
Make sure that other than the homepage; the most important risk-reducing messages are also displayed on other prominent pages like the product page. Before rolling out, test the design, message, and page layout to figure out the most effective risk reducers.
Build a feedback loop
Can you think of a situation when you are trying to convey your concern to someone, but no one is listening? If yes, then you could put yourself in the customers' shoes, particularly, if you own an online retail business.
Now, imagine what if your customers have the same feeling. They will look for another retailer who would listen to them.
While visiting your eCommerce store, visitors may come across a wide range of issues. It could be navigation, slow loading, lack of product filters, Confusing checkout process, and more.
To get rid of these issues, you need to collect customer feedback and let them express themselves with a rating system. Just like the example below:
Review with the Customer's Image (Source: wishdesk.com)
Customers' reviews can have more impact with the face of the reviewer, as it provides more authenticity to the review.
A Review with the Customer's Image (Source: econsultancy.com)
The bottom line is letting your customers talk about their buying experience is an effective way to improve your business' performance and customer engagement.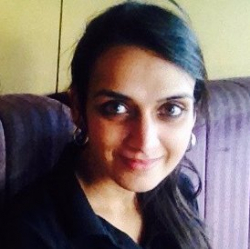 Latest posts by Revathi Karthik
(see all)