Typically, most eCommerce businesses mainly look to gain new customers and allot as much as 80 percent of their sales/marketing budget. However, it is not the most lucrative area to focus their efforts.
If you are doing the same, it may cost your online retail business 7 times more on average to gain a new customer compared to getting a repeat sale from an existing customer.
Who are Repeat Customers?
By definition, repeat customers are the visitors to your online store who have made a minimum of two purchases.
Interestingly, customers are more likely to make repeat purchases from your website as their amount of purchases increases. 
Existing customers have already shown their interest in your products, are familiar with your brand, and willing to spend money.
Once you recognize the significance and financial value of repeat customers, you need to encourage them to make more purchases. We would discuss the best practices to persuade repeat customers in a later section of this post.
Repeat purchase rate and its impact on eCommerce revenue
The repeat purchase rate is about measuring the percentage of consumers who come back to your online store to buy again after making their first purchase.
Calculating Repeat Purchase Rate:
Source: zaius.com
Once you have a clear understanding of your repeat purchase rate you will also understand the buying behavior of your customer base. Thereafter, you can focus your marketing strategy to persuade these customers to buy more and encourage customer loyalty.
According to smile.io, although repeat customers only account for 8 percent of the total online traffic, they represent 41 percent of a website's revenue. This rate often goes up to 75 percent when online stores spend more time and effort persuading repeat customers.
Source: Adobe Digital Index
After making the first purchase, there is a 27 percent chance that a customer will come back to your store. Even better, if you can encourage that customer to return and purchase a second and third time, there is a 54 percent chance that he/she will be back for making another purchase.
Ways to Encourage Customers to Make Repeat Purchases from Your Store
Use email to send personalized product recommendation
In eCommerce businesses, personalization goes a long way when it comes to making an impression. Increasing interactions with customers will give you a clear idea about their lifestyle and product preferences. 
Personalized Email by Very.co.uk (Source: optinmonster.com)
Collate data on customers based on their purchase history, and personalize your emails and promotions to them.
By using the right type of software, you can send personalized product recommendations through your emails.
Personalized Email by Amazon (Source: optinmonster.com)
You can send repeat customers items in the same category they purchased earlier. It increases the chances that they may purchase those items again.
Keep in touch with customers
If customers have permitted to receive marketing emails, make the most of it. Take the opportunity to thank customers for their purchases, and make subtle offers to upgrade for long-term association with them, and drive more sales.
A Thank You Email to a Customer with an Upgrade Offer (Source: ecommercebooth.com)
While sending such emails, it is important to keep in mind to personalize the messages and avoid suggesting products they have no interest in. This is a major reason why people unsubscribe from the email lists of pushy retailers.
Sending regular emails with interesting updates and tips is a great way to ensure brand recall by your customers. You can also use these emails to present new and relevant products and offer special discounts, which may seem interesting to customers.
Invest in post-purchase communication
Post-purchase communication is a crucial aspect of eCommerce marketing and an effective way to retain customers.  
Nearly 50 percent of consumers feel buyer's anxiety and buyer's remorse after buying a product. So, take this opportunity to rationalize a customer's buying decision and ease their anxiety.
It starts with sending an order confirmation email coupled with a thank you message to customers to feel them assured. Just like the following email:
Order Confirmation Email (Source: optinmonster.com)
Well-thought-out post-purchase communications can increase customer retention rates. It will keep your brand connected to your customers even when they are not shopping. It will build a relationship with your brand, and will likely inspire brand loyalty.
Post-purchase communication need not always be about direct product recommendations. Sometimes asking customers what they want is the best way to personalize your message.
Here is an example:
Giving Options to Customers (Source: optinmonster.com)
Once customers select one option, then you can personalize your next communications suggesting products that suit their preferences.
Encourage Customers to Sign Up.
On your website, if you allow customers to check out as a guest without opting for signing up, it will likely drive sales.
Many online retail stores lose customers because they force visitors to sign up. Due to this reason, almost 23 percent of visitors abandon their shopping carts.
Not all customers feel comfortable sharing their data with a merchant unless they are familiar with the brand.
Customer Sign up Option (Source: ecommercebooth.com)
You can persuade customers to sign up more subtly by letting them know about the advantages it will offer, such as regular discounts, faster checkout, and more. When they sign up, you can send them emails from time to time for repeat business.
Send discounted offers
Another effective way to retain existing customers and encourage them to purchase again is by sending out special discount coupon codes. It is ideal to mention a time constraint to apply the coupon to make it sound urgent, which is likely to increase conversion rates.
Sending a Discounted Code to Customers (Source: ecommercebooth.com)
The method of rewarding repeat customers by offering discounts or free items is a proven marketing technique. It will both encourage existing customers to make repeat purchases and attract new customers.
Send a Birthday Gift
Birthdays are special occasions. To make that day even more memorable for your customers, send them a special discount. Keep your customers' date of birth handy when registering on your website.
According to your customers' age, you can send emails with a discount coupon on relevant products on their birthdays.
Birthday Message to a Customer (Source: ecommercebooth.com)
Sending a birthday gift to customers will serve two purposes: first, it will make them feel special and valued. It will also enhance your brand appeal. Second, customers will likely feel tempted to buy something using the discount code as a gift.
Offer easy financing to customers to buy your products
Many customers often find it difficult to shell out a substantial amount at a time, and in the absence of an alternative payment method, they often abandon their idea of buying.
If your online store can provide easy financing options, it will help customers to make a repeat purchase that fits into their budget.
Particularly, Millennials are more budget-conscious, and they avoid credit cards. Studies show that nearly 63 percent of Millennials do not have even one credit card.
To encourage these customers to buy, you need to offer multiple alternate financing options such as pay per month, pay with a coupon, and more.
Check in the following example, how MindMeister is offering multiple payment options:
MindMeister Payment Options (Source: neilpatel.com)
Apply Retargeting Methods
Retargeting online visitors who abandoned their carts is one of the most effective ways to make conversions happen.
If customers added items to the shopping cart but did not complete the transaction (Happens with 68 percent of online orders), send an email reminding them that the is still in their cart. You can also offer them a discount or an incentive like free shipping.
Abandoned Cart Email by Adidas (Source: bigcommerce.com)
Retargeting also works well on social media platforms. You can send online visitors directly to the products they browsed.
Such dynamic ads on Facebook have as much as three times the conversion rate and a 65 percent drop in cost per conversion than generic ads.
Give special treatment to your top repeat customers
When your repeat customers turn into high-value customers, show them your appreciation.
These customers rank top as "high-spenders" when it comes to eCommerce customer segmentation and major revenue generators for a retailer.
Starbucks Gold Card for a VIP Customer (Source: blog.smile.io)
According to the segmentation, some of the other customers are cart abandoners, thrifty shoppers, coupon lovers, one-timers, newsletter readers, indecisive shoppers, curious browsers, and more.
To keep your high-spending consumers engaged and happy, send them thank-you notes, offer them special discounts, or invite them to become part of a focus group for future product launches.
Treatments like these will make customers feel special and they will be more connected to your brand.
Introduce a Referral Program
Introducing a referral program is a systematic and useful way of getting consumers to refer others to your business.
It is a form of word-of-mouth marketing since it rewards existing customers for bringing new customers to buy from your business.
Airbnb Referral Program (Source: referralcandy.com)
Most referral rewards generally come through referral incentives, including significant discounts, or access to a program for free.
An attractive referral program can increase your customer retention rate, brand reputation, and revenue.
Customer service using social media platforms
Making your brand easy to reach for customers and with quick responses, you can earn customers' trust, and social media can play a crucial role in it.
(Source: ecommercebooth.com)
Besides providing support over the phone, email, and live chat, offering customer services through social media platforms would be convenient to customers.
Responding quickly to customers and solving their problems, will likely make them shop with your store again.
Request for feedback
You can offer better products/services and enhance the customer experience by asking your customers about their shopping experience with your brand.
Feedback Request to Customers (Source: ecommercebooth.com)
On your website, you can include a survey button or multiple questions with a star rating option for quick feedback after customers check out. You may also contact the customers later via email to take up a longer survey. Make sure to offer an incentive to complete the survey.
All these best practices can help your eCommerce business to get repeat purchases and loyal customers, who will work as your brand evangelists.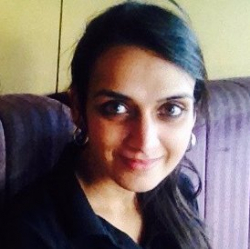 Latest posts by Revathi Karthik
(see all)