If you own an eCommerce business, your relationship with customers is not limited to their purchase of a product. It is about nurturing and enhancing customers' shopping experience even after the post-purchase stage. With personalization, product recommendation, persuading for repeat purchases, and using an additional sales funnel, you can increase your sales as well as establish a long-term association with your customers.
In this post, we will talk about creating effective post-purchase engagements with customers. Here are the topics covered in the post:
What is a Branded Order Tracking Page?
The Significance of Branded Order Tracking in the Post-Purchase Experience
How Offering Branded-Order Tracking Page improve customer retention?
Key Benefits of Providing Branded-Order Tracking Experience to Customers
What Should You Add to Your Tracking Page?
Ways to Make Your Branded-Order Tracking Experiences Unique
A branded order-tracking page improves the post-purchase experience of customers by putting useful information through clear and customized content.
What is a Branded Order Tracking Page?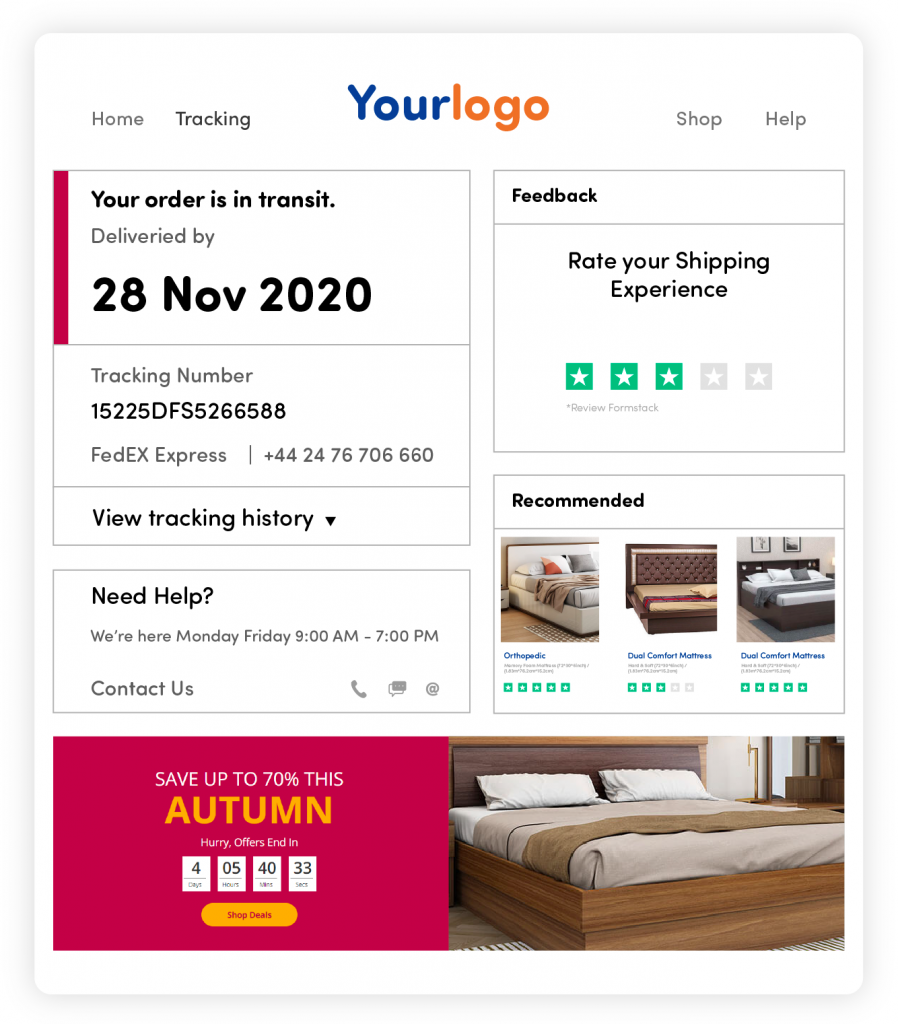 Usually, if customers buy products/services through your online store they are redirected to the carrier's website or order-tracking page. These pages have all the marketing elements with the carrier's logo, branding, and links. It means customers would be opening and viewing the carrier's web page over and over again to track their order.
Now, if you create a personalized branded order-tracking page, you will be able to funnel those customers to your web page that showcases your brand and your ads. It will create an additional touchpoint for your business in your customers' journey and will open up new avenues to connect with your customers and gain their brand loyalty.
The Significance of Branded Order Tracking in the Post-Purchase Experience
When it comes to the eCommerce business, the post-purchase phase is still mostly untapped. Giants in the eCommerce market like Amazon have shown the way of doing it the right way to drive customer engagement, delight, and repeat sales. However, from an average retailer's point of view, capitalizing on post-purchase marketing opportunities may not be easy, as most eCommerce businesses ship through a third-party carrier.
Online retailers can control their customer experience until the point customers browse on their website and before the shipping process starts. Post that stage, offering a personalized customer experience would be a challenging task since the onus passes on to the shipping carrier in terms of providing a memorable customer experience.
In the eCommerce customer journey, shipping is still perceived as a third-party job. Retailers consider their job done as soon as a package is handed over to a shipping carrier. However, due to a lack of visibility in their operation, they miss out on the much-needed service-level accountability. As a result, it often results in a negative customer experience and loss of business.
The absence of transparency in customers' order-tracking leads to:
Buyer anxiety, frustration, and negative customer experience that hits customer loyalty.
Spreading of word-of-mouth, which damages a retailer's brand's reputation.
Negative customer feedback on various reviews platform and on social media that will make potential customers shy away.
A spike in customer inquiries regarding deliveries.
On average, customers tend to track their order status 6 to 8 times in the post-purchase phase, which is the most anxious period in the customer's journey. Also, studies show that customers open shipping confirmation emails 1.5 times on average. Take advantage of this opportunity by adding a branded tracking page to your online store.
A custom branded order-tracking page can put you in control of your buyers' journey, and alleviates their post-purchase anxiety. On top of it, your branded order-tracking page will help you engage with customers while developing a strong brand loyalty.
How Offering Branded-Order Tracking Page improve customer retention?
Your branded order-tracking page can offer a unified experience to your customers and will walk them through the browsing of products to the arrival of their order. It will help enhance customer experience and will pave the way to repeat purchases.
When you offer a customized branded order-tracking page to your customers, they no longer need to go to FedEx or UPS tracking page. Also, they need not look around for a carrier's tracking detail page.
Re-directing customers to the tracking page of the shipping carrier has several disadvantages for an eCommerce business. These disadvantages may have a short-term impact on customer experience and issues such as brand recall and low retention rate in the long term.
One of the most crucial aspects of order tracking is the real-time visibility of your in-transit packages, and your customers should have access to that information too. Track your FedEx, UPS DHL shipments here.
Access to real-time order status is not only about staying updated about the packages that are on schedule but also having information about the ones that may get delayed due to unavoidable reasons. Such transparency will help you create an excellent post-purchase experience for customers.
Sending personalized emails has proven to be the most effective channel to ensure customer retention. However, many online retailers still do not focus on their most important emails to customers, shipment tracking emails.
You can use emails for your brand to share useful information on your product or promote your rewards programs. These emails have high open rates. When regular marketing emails have open rates of 10 to 20 percent, tracking-related emails have open rates between 50 and 120 percent.
These emails work as critical touchpoints and provide you a great opportunity to use interesting content and make your customers' journey delightful. By doing the following, you can increase the chances of customer retention:
Being proactive: The shipping time of packages varies based on the carrier. Particularly, the process varies for domestic and international shipping. You need to be proactive to provide shipping updates to your customers through emails or SMS. You need to do that before your customers reach out to you.
Showcase how your brand can help customers: On your branded tracking page, display current and upcoming products based on customers' past purchases. You can also include live social media feeds, which often work well to initiate interactivity.
Timely delivery updates: Provide an estimated delivery time to your customers after communicating with your shipping carrier. This way, your customers will feel assured about the delivery of their order and will not be anxious.
Live interactions: Live interactions over the phone or chat are an effective way to enhance your customers' tracking experience. Often it is difficult for customers to interact with a real person because of IVR or chatbot, and it can be annoying. Troubleshoot customers' issues in real-time and avoid angry responses.
There are many things that you can communicate to your customer by using interactive steps during their journey. When your customers are engrossed with the delivery of their order and keep waiting, feed them with the right content to enhance their brand experience.
Key Benefits of Providing Branded-Order Tracking Experience to Customers
The following are some key benefits of offering your customer's a unique post-purchase experience:
Reduce Buyer's Remorse and Anxiety: Keep in touch with your customers and provide them with timely updates on delivery status. This will reduce buyer's remorse and the resulting anxiety.
Build Customer Loyalty: In the case of delivery delays, be transparent with customers and let them know in advance the delivery issues. Also, proactively communicate with the carrier to resolve such issues as soon as possible. Develop a relationship of trust and inspire customer loyalty.
Increases Customer Delight: Offer a consistent order-tracking experience to create memorable post-purchase moments and delight customers.
Drives Repeat Purchase: Send periodical post-purchase communications to drive repeat sales. Use your branded order-tracking page to run relevant promotional campaigns.
Lowers Customer Inquiries: Always keep customers aware of their shipment and delivery cycle status and reduce the number of customer inquiries. Receiving a lesser number of emails and calls from angry customers, the support team can use their time on resolving product-related issues and upselling/cross-selling to customers.
The listed benefits of your branded order-tracking page are likely to be effective in enhancing customer experience and improve your customer retention.
What Should You Add to Your Tracking Page?
By adding the following elements to your branded order-tracking page, you could increase your conversion. Online retailers have been able to boost their conversions up to 20 percent by adding these.
Your Company Logo
By adding your company's logo to your order tracking page, you can give it to your business identity. However, the question is whether you can do that when you have a third-party carrier or logistics partner.
Most shipping carriers offer tracking services on their website without offering any scope to the seller. This way, the seller does not have a way to provide a distinct and personalized experience to its customers.
The creation of a branded order-tracking page can serve two major purposes:
It will empower you as a seller, as you will still be in charge of your orders and not handing over the authority to the carrier.
It will add more value to your branding effort. Your business' logo will help with customers' brand recall and they will stay connected with you.
Status of Customer's Order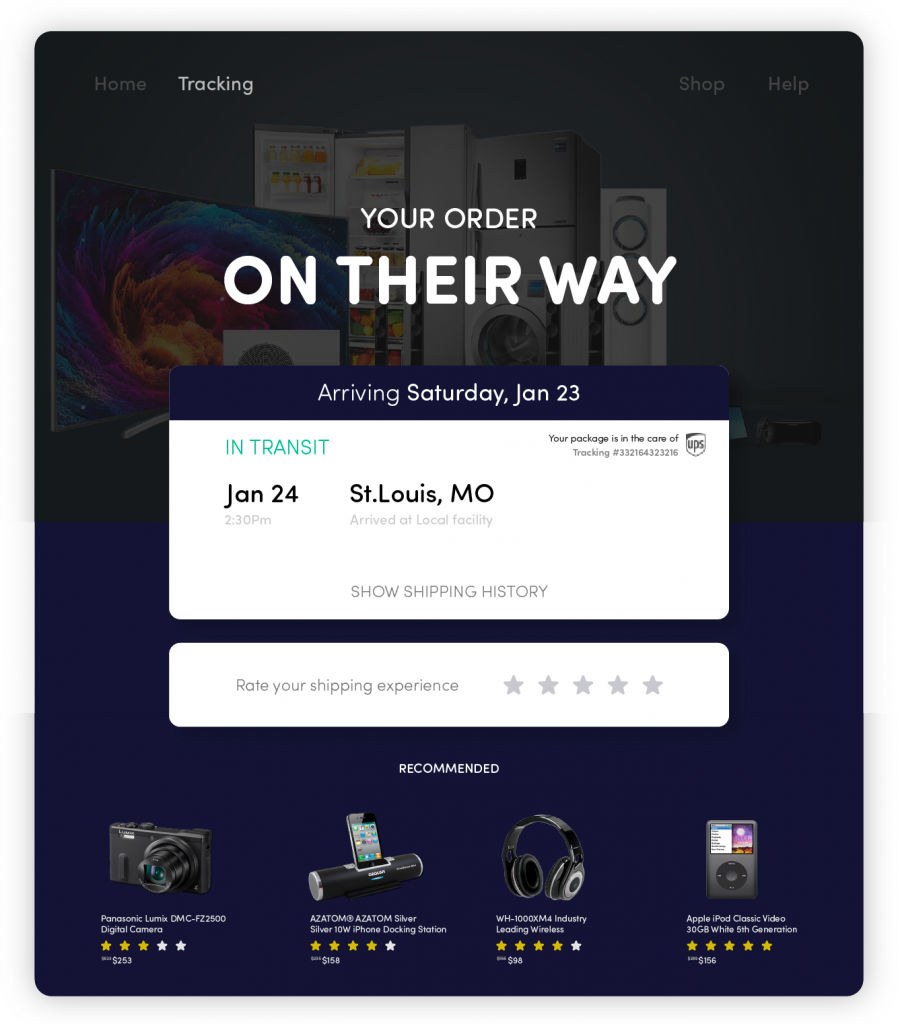 The status of your order is an essential piece of information for customers. It helps customers stay in the loop of the delivery cycle, regardless of the order's location.
Many online retailers do the common mistake of showing only the estimated delivery date but not the order status on their order-tracking page. It often leaves customers clueless and about the timely arrival of their package.
Product Banners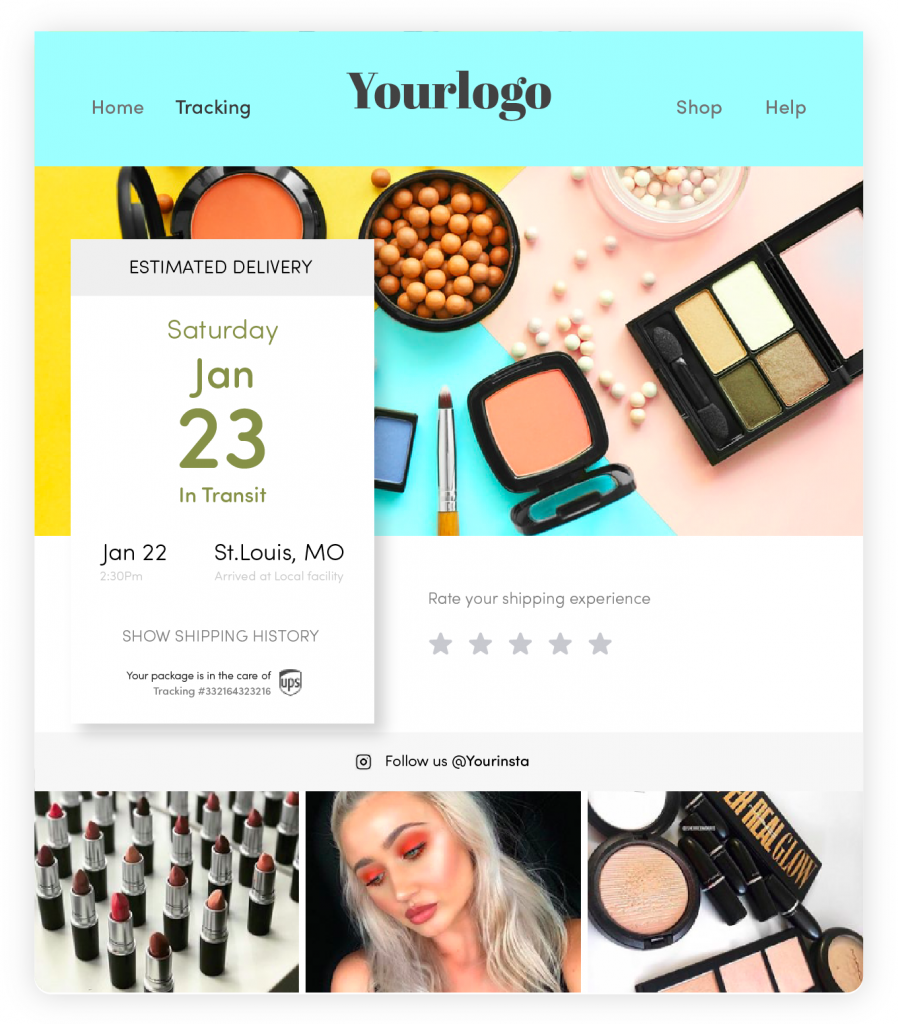 Your branded order-tracking page can even help you to market your products. As customers frequently visit the order-tracking pages, adding new product banners and links can generate sales.
Retail marketing experts say that these days, customers are kind of hooked to the tracking page after placing their orders. Retailers can cash in on this opportunity by adding product recommendations based on customers' buying history and drive conversions.
Check out ShippingChimp's branded tracking template
Ways to Make Your Branded-Order Tracking Experiences Unique
Offer a Customized Tracking Experience
By developing a fully customized, branded order-tracking page, you can improve your customers' brand recall and boost sales.
Your branded order-tracking page will have all the necessary details about an order, such as shipping, estimated delivery date, and current location of the package, and more.
Boost Repeat Purchases
Customers check the status of their order on the tracking page frequently after they buy a product. Use this opportunity by developing your own branded order-tracking page with your brand's elements, and leave a permanent image of brand identity in the customers' minds.
You can also promote new products, run marketing campaigns, and use upselling/cross-selling techniques to increase sales.
Send Embedded Emails with CTAs to Track Order
You can an order confirmation email to your customers with an embedded and clickable "track your order" button. It will help customers check their order status easily.
Request Customer Feedback
On your order-tracking page, you can include a scoring system where customers can rate your company's delivery performance.
Such unbiased ratings will give you an idea of your customers' level of satisfaction in the context of their post-purchase experience.
Provide Self-Service Option to Customers
Offer your customers a self-service option to help them track their orders on your branded tracking page. By installing a tracking widget can provide single-click access to your customers to their order status.
As closing words, we can say that by creating a customized branded order-tracking page, you can make the most of the opportunity to impress your customers and generate more sales. An ideal blend of personalization and marketing elements is likely to enhance customer's order-tracking experience.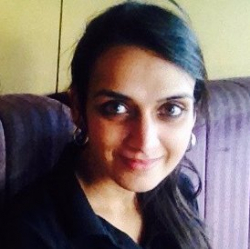 Latest posts by Revathi Karthik
(see all)