Satisfaction is a rating. Loyalty is a brand

-Shepp Hyken
Customer Service Expert
A surefire way to build loyalty among customers is by increasing repeat purchase rates. As an eTailer, you are probably laser focussed on bringing more shoppers to your website. From polishing your website theme to optimizing SEO.
However, did you know that a repeat customer is likely to increase your revenue by 16X compared to a new shopper?
In the eCommerce ecosystem, customer loyalty must be earned over and over again. Besides, your competition is just one click away. In this hyper-competitive and rapidly changing world, how can you keep shoppers coming back to your site? The key lies in strategically engineering the repeat purchase process.
In this article, we discuss the following topics:
What is the repeat purchase rate?
How to calculate the repeat purchase rate?
Why is the repeat purchase rate considered a growth lever?
How to increase repeat purchase rates?
Hyper-Specific Targeting
Personalized Product Recommendations
White-Glove last-mile delivery experience
Post Purchase Thank You!
Predictive Delivery Alerts
Simplify Return Process
Seek feedback to iteratively improve
What is the repeat purchase rate?
Let's start with the obvious. Simply put, this rate measures the total percentage of customers who come back to buy from your brand after making their initial purchase. It is a direct measure of your brand's loyalty. A crucial metric in understanding the health of your overall customer base.
How to calculate the repeat purchase rate?
A good repeat purchase rate affirms that you're on track and doing great in terms of providing value to your customer. The purchase rates however can vary wildly depending on the product category hence your target percentage will vary too.
Average repeat purchase rates for eCommerce companies are considered to be between 20% to 40%.
Why is the repeat purchase rate considered a growth lever?
Have you ever considered repeat purchase rate as a growth metric? If not, it's high time you paid attention. Most brands spend 80% of their total marketing budget on acquiring first-time customers. However, 8% of an eCommerce brand's customers create 40% of its revenue. So a small segment of your customers ( I bet these are your regulars!) contribute to a large chunk of your revenue.
Moreover, according to Shopify, when a customer returns for a second time, their likelihood of purchasing jumps to 45% and it jumps to 56% the fourth time. Simply retargeting your first-time shoppers can result in huge rewards.
How to increase repeat purchase rates?
It's all about building and nurturing the relationship with customers from their first purchase. Understandably as your shopper volume scales, it is almost impossible to extend the special attention to all your customers. This is where technology lends a helping hand.
Here are a few techniques to keep your customers returning for more even as you scale:
Hyper-Specific Targeting
Personalization combined with automation is the key to successfully delivering a delightful shopping experience in the digital spectrum. Personalization involves a deeper understanding of your customer's purchasing behavior. Amassing data on multiple factors such as item, order value, purchase frequency, etc from a customer's journey will help you hone your recommendations.
Reaching your customer with the right content at the right time is crucial to keeping them hooked on to your brand.
Personalized Product Recommendations
How can your store differentiate from the competition? Simply by offering personalized recommendations, product offerings in the emails, and offers/discounts. Your customers want you to remember who they are and what they want.
Hence, your personalization policy should go beyond addressing customers by their names (all the big players already do this hence it just won't cut it anymore).
The more you interact with your customer base the more data you will have about their preferences. You can leverage this further to tailor the messaging and promotions using marketing automation and other relevant tools.
Post Purchase Thank You!
Letting your shoppers know that you are truly grateful that they've chosen to do business with you is aa huge deal in the grand scheme of repeat purchases.
This simple act allows your customers' to remember your brand, and encourage the next purchase. Why? Because post-purchase thank yous via emails have better CTRs than your average promotional campaigns. Ofcourse a handwritten note sweeps them off their feet resulting in raving social media reviews. Read more about the post-purchase experience.
White-Glove last-mile delivery experience
White glove services are the creme de la creme of last-mile logistics. It entails a lot more than just taking extra care during physical delivery. It includes leveraging the latest technology to offer additional touchpoints in the shipping, picking up, and also packaging process so that last mile deliveries are more seamless and efficient.
Keeping the customers updated on their order delivery status is expected. Frustrated "Where is my order" calls are easily handled when you anticipate delivery issues and inform the customer of the same.
Predictive Delivery Alerts
Imagine a scenario where your customer is anxiously awaiting their order only to find it damaged. The resulting emotional trauma for your shopper can easily be avoided with forecasting abilities.
1 in 5 shoppers cites poor delivery issues to be the main reason to switch to a competitor. When a shopper knows actively what's happening on the ground it can be truly empowering. Real-time visibility will positively impact the delivery happiness score too.
Simplify Return Process
Processing returns are considered a source of a cost center for eCommerce businesses. But trailblazers like Zappos demonstrated how easy return policy could champion more customers. Well crafted return policy can be a unique selling point for your eCommerce stores. For starters, keep the return process relatively simple but also ensure your customers are well acquainted with the return policy.
Be prompt when it comes to product return requests. Transform return requests into exchanges or discounted purchases that are considered favorable by customers. At the end of the day, it's all about a hassle-free experience.
Check out some of the snazzy return templates
Seek feedback to iteratively improve
A satisfied and happy shopper is a loyal customer. Being responsive to their feedback should be given. When you want to build long term relationships you must respond promptly when they reach out. They will become more loyal with every additional purchase. This will also inevitably boost your ROI.
Repeat Purchase rates, although disregarded flippantly, are a major source of revenue. Double down on your existing customer base to augment your bottom line.
With tools like ShippingChimp, access centralized order delivery metrics, manage delivery exception in real-time, automate personalized customer notifications, and effectively handle RMA processes.
ShippingChimp helps your eCommerce store receive Amazonesque big data personalization on a budget. Want to offer enterprise-grade customer service? Start your free 30-day trial now.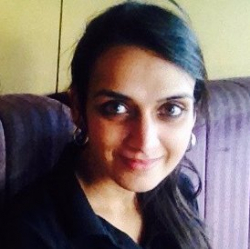 Latest posts by Revathi Karthik
(see all)