According to one estimate, eCommerce return rates have spiked by 95% in the last 5 years. In the era of the new normal, the number of returns is only increasing. Consequently, the revenue loss due to returns is cutting into the eCommerce store's diminishing profit margins.
As an eCommerce store owner, it is tempting to make order returns process complex. An added complexity is sure to act as a deterrent to spurious unwarranted instances of order-returns. But how you handle your returns will directly impact sales and customer loyalty.
Let's back up the claim with proven stats:
79% of consumers expect free return shipping.
49% of online retailers offer free shipping.
92% of consumers have said that they will buy again if the returns process was simple.
Almost 60% of consumers review a returns policy before making a purchase.
The nature of eCommerce is such that it makes having a good return policy imperative. Unlike brick and mortar stores, customers are often required to make purchasing decisions without even having to interact with the product in person. Much like your shopping policy, it's important that you make your returns policy simple and straightforward. Refund speed also matters.
Ways to write a good return policy
When it comes to adding a return policy to your site you may want to abide by a few best practices. Ensure you are offering the best possible customer service experience. Some of the factors to take into consideration when drafting your returns policy are:
Be explicit about the policy
Don't make it too difficult for your customers to find the information. They are there to shop, not go on a scavenger hunt! Your main menu should highlight your returns policy. You may also include it in your confirmation emails on purchases made, carousels, or banners across the store or your website. Be your customer's biggest advocate and you can forge lifetime loyalty!
Give it a name
While it may seem like a relatively seemingly trivial, you must give your return policy a name. This will ensure that you stand out from your competition. Besides that, it also makes it very easy for your customers to search. Take the example of Vuori for instance who calls their return policy investment in happiness.
Avoid a one-size-fits-all policy
You cannot use standardized messaging across all your returns policies. A returns and exchange policy needs a certain amount of personalization based on your target audience. Make it compelling and reiterate your commitment to your customers. You might as well include customer reviews. Establish that your shoppers love our products and if they don't you nonetheless treat them with dignity and respect.
Less is more
You want to be able to initiate a conversation with your audience, not send them running for a dictionary. Ensure your policy isn't too verbose and avoid using too many technical terms. You don't want to overwhelm anyone especially Google that helps boost your SEO.
Set expectations for the customer
When a customer is investing in your product they are likely to have a set of key questions. Ensure you answer them and not leave them confused.
What's the procedure for a return or exchange?
Does the customer need to use your packaging?
Is there a stipulated time frame within which a return or exchange should be completed?
Do they need to include the order slip?
Crucial information to include in the return policy
The kind of refund you would be giving to the customer after the item is returned.
The number of days within which a customer must initiate a return
Determine who will pay for the return shipping.
If there are certain products that you don't offer returns on.
eCommerce brands that have a steal-worthy return policy
Having discussed the aspects to bear in mind while drafting a return policy, the following are some inspiring examples.
Zappos
Zappos gives its customers a generous 365 days to return their items. But they have come up with a brilliant way to improve on this already generous return window. They have implemented something called the Zappos VIP program where buyers can leverage a benefit called 'Rapid Refunds'. According to this program, Zappos will transfer money to the customer's account as soon as the UPS scans the return package. This means the customers do not have to wait for a refund — leading to an enhanced, organic experience and more loyalty.
Nordstrom
Nordstrom is a gold standard for return policies. There was a time when you could return anything in practically any condition for whatever reason—no explanations asked or required. Although this was changed, it still remains one of the best returns policies without any time limit on exchanges or returns. You can also return your purchases without any receipt.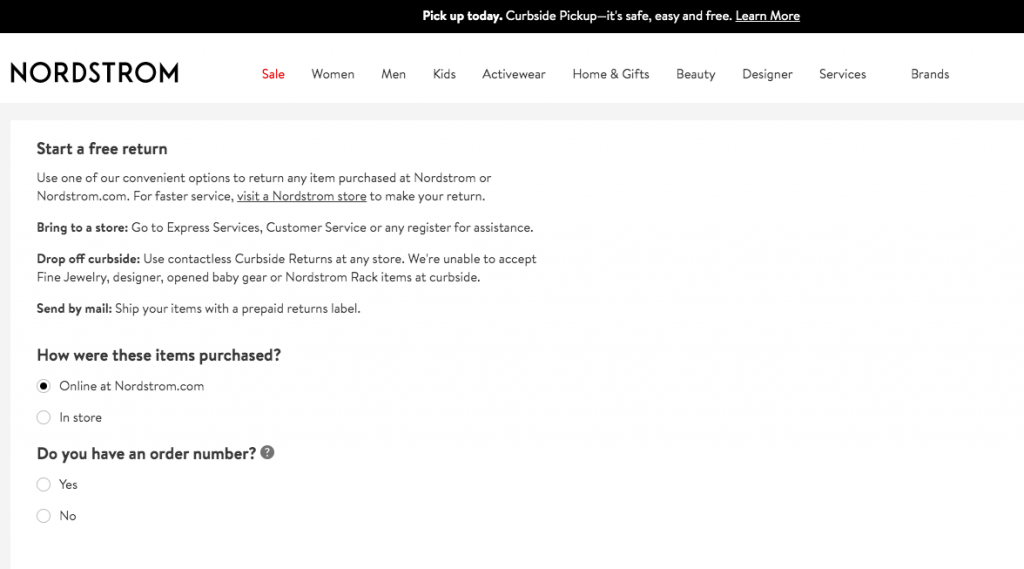 IKEA stands out from the pack with its generous return policy, humor, and an overall positive approach to returns and exchanges. They offer 365 days to their shoppers to exchange or return their items. This makes for a stellar value proposition because it's considerably longer than the usual 60 days. There are a whole lot of references to 'love' which drives the point home effortlessly—that they place their customers' wants above everything else and want them to be satisfied with their purchase.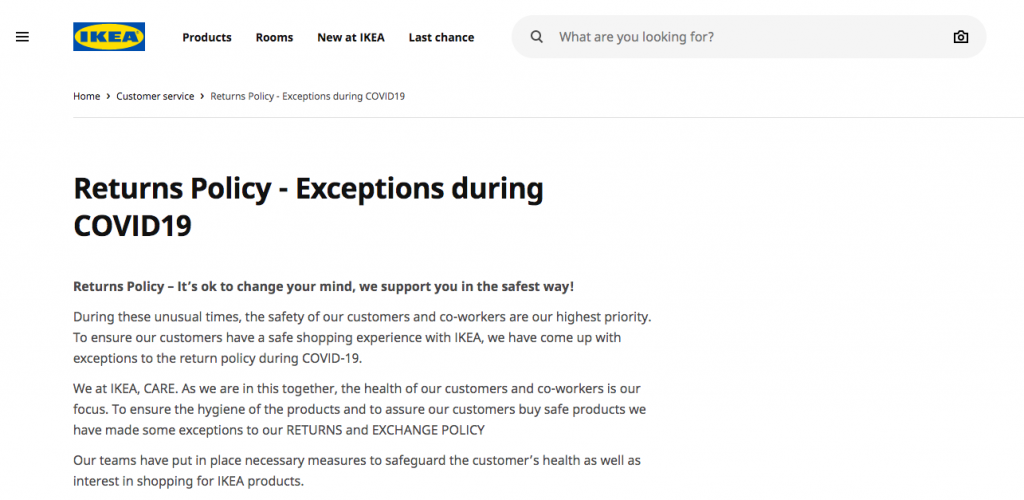 Sometimes products can be difficult to return. What they need is a well thought out return policy. A mattress is pretty difficult to return. It becomes extremely important in this regard to assuring your customers that the product quality will be unparalleled and alleviate their fears. Casper does a brilliant job to accomplish this with their 100-night trial.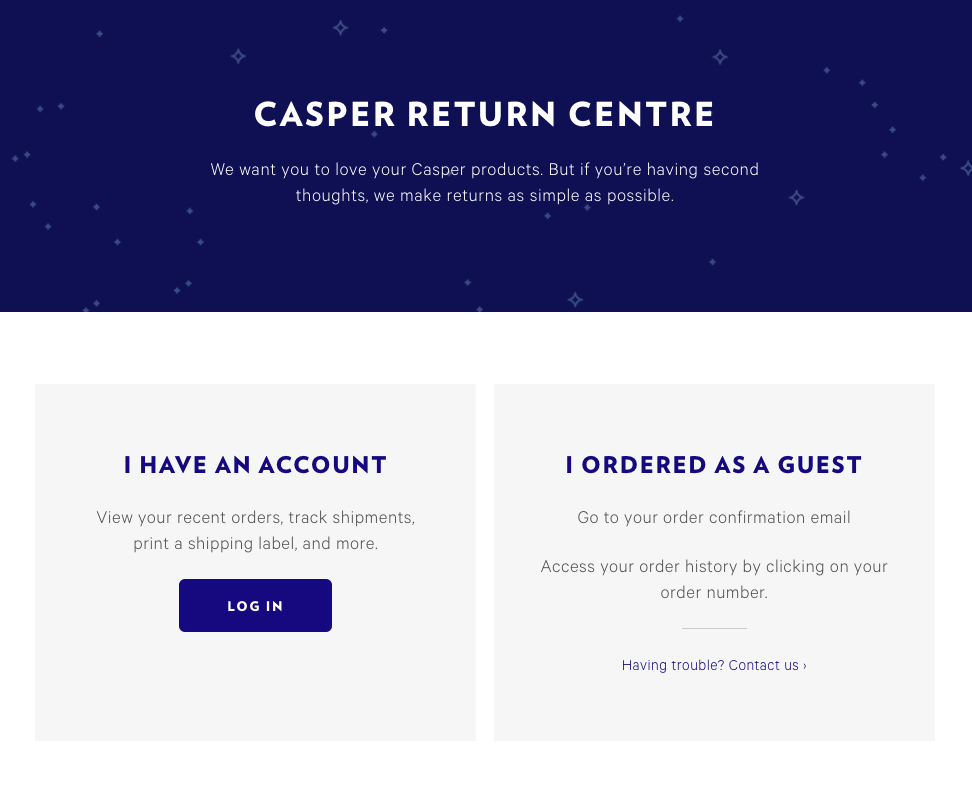 They give their shoppers enough time to decide whether they are a perfect fit for their product while offering a good return policy. If their customers decide that their bed isn't good enough, Casper will pick it up and donate it to a charity so that their customers don't feel bad about their choices.
We must take a moment here to turn our attention to Macy's. This was one of those few department stores with very few limits on exchanges and limits. However, they soon realized that their policy was being largely abused The updated return policy however is still one to reckon with. So, if you are on the lookout for a suitable template you may want to look at this one.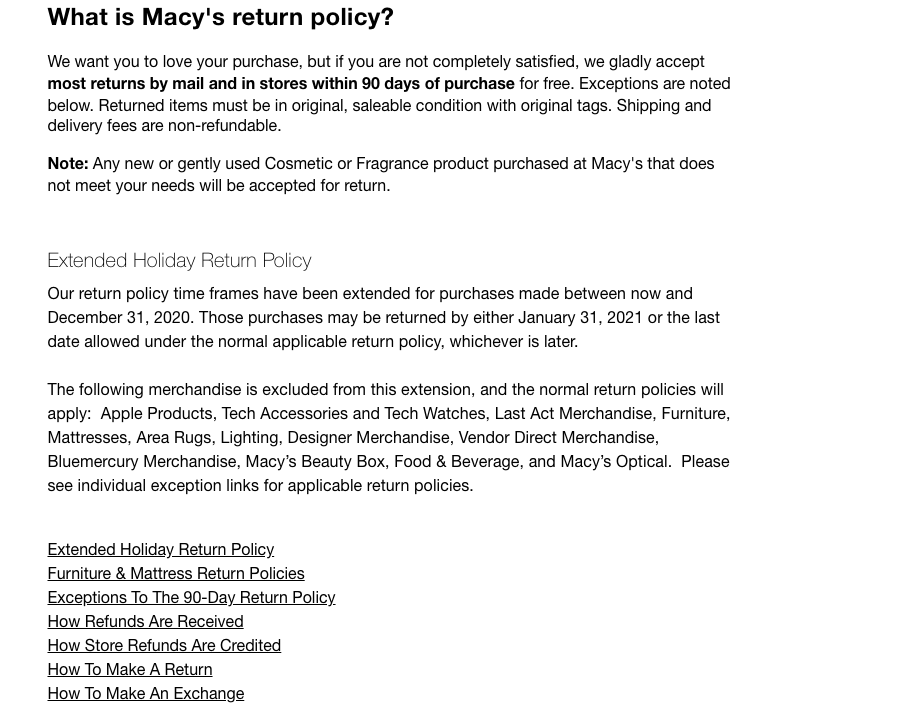 The new policy gives the customers 90 days to make a return which excludes some categories of items (like apple products for instance which must be returned within 14 days and understandably so). If you have no receipt you will still be able to make a return in most categories. How amazing is that?
Grab a return policy template and customise it according to your store's requirement.
Final words
There are a number of ways in which a customer can return their packages. You may update your return policy template to make it easier for your consumers. The template ideas above are some of the best practices being followed when it comes to returning eCommerce orders. Curating a generous return policy is the first step towards delivering awesome customer experience.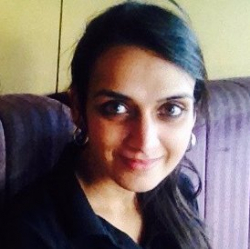 Latest posts by Revathi Karthik
(see all)