Running an eCommerce store comes with a variety of challenges. You need to be on top of the game 24/7. Starting from excellent customer service to updating inventory and shipping items, you need to do it all!
What if you could make shipment easier? The truth is, you can! There is a quick solution that makes the entire process of shipment painless.
Not only does it significantly reduce shipment damage, but it also smoothens the process, allows your supply chain to prioritize packages, and eliminates losses incurred due to damaged products.
The solution is simple-  fragile shipping labels!
You may wonder how a fragile label can resolve so many issues at a time! That's precisely why we are writing this blog. Read this blog to make the concept of fragile labels easier for you.
Which Items qualify as 'Fragile'?
Before we talk about using fragile labels, it is essential to identify which items qualify under the category-Fragile! Fragile items are those which are prone to breaking or chipping at the slightest impact.
Glassware, ceramic items, antiques, crystals, electronic devices, etc., come under the fragile category.
When it comes to shipping a furniture or an electronic item, the biggest concern is usually whether or not the item will be kept in the right direction. For example, if you are shipping a washing machine, you would not want it to reach your customer upside down. Naturally, fragile labels for shipping have a way of solving this issue.
How to optimize the effectiveness of shipping labels?
Half the work is already done once you have decided on which packages qualify under a shipping label. The rest of it relies on how you use the sticker labels. It is important to note that sticker labels are only effective if used right.
Here are some quick tips for eCommerce stores, to ship fragile items:
Use "This side up" stickers to address the direction in which the item needs to be placed.
Always place Fragile labels in visible areas of a package, preferably on all four sides.
Ensure the sticker hasn't expired. Also, use a good quality sticker else it could fall off from the shipment package.
Make use of multiple labels instead of one per package to ensure safe shipment of products.
Fragile products alone cannot keep your product safe. It is important to bubble wrap your product before shipping.
If you follow these tips, the courier company is bound to give special attention to the package.
Here are some additional benefits of using Fragile Labels
Many eCommerce stores overlook the benefit of adding a fragile label to the shipment packages. However, it could cost your store big time! Here are some additional benefits of using a fragile shipping label:
1. Improved shipping experience
Fragile labels may seem to be a small detail, but their contribution to the shipping process is significant. You can bubble wrap the fragile items to avoid any accidental damages. However, without a fragile label on your box, a worker may mishandle the package unknowingly. This would mean unintentional damage to the product and a negative shipping experience.
2. Higher Customer Satisfaction
Providing top-notch customer satisfaction can be tricky. One needs to keep in mind so many details to impress your customer and win their loyalty truly.
Fragile labels, can have a huge impact on your customer's experience. Imagine the look on your customers' faces when they open your package with excitement, only to find a damaged product. It would instantly create a poor customer experience, leading them to provide negative reviews on your store.
On the other hand, a fragile label can ensure that the package reaches your customers safely. That means higher customer satisfaction and increased loyalty.
3. Better branding potential
The added benefit of using custom labels is that they present the ideal branding opportunity! Branding your packaged item plays a vital role in customer experience and brand awareness. Going the extra mile of using custom labels highlight care and professionalism when the item reaches a happy customer.
You can customize your fragile labels with your brand's theme color, logo, and font. The fragile label can be personalized as per your brand's requirements. Hence, if you start using a fragile label, it would provide you with an opportunity to grow your brand identity. How great is that?
Let's discuss packaging and labels for different items…
The idea of shipping heavy furniture overseas or packing small breakable objects in a box feels overwhelming. However, once you have a clear plan in place, the process becomes much more convenient. Here is some more information to ship these items strategically:
Shipping Small Objects: Glass sets, ceramic bowls
Shipping small objects are comparatively easy. You can bubble wrap your products or place them in cardboards with partitions for each piece. Then just use a 'Fragile' label on the box. Your product is now ready to ship!
Shipping oddly shaped objects: Antiques, statues, showpieces
Some objects are shaped differently, and you cannot package them into cardboard boxes with partitions. Although, you may choose to bubble wrap the object and place it in a box with additional cushioning made of foam or paper.
Having a ' This side up' and 'handle with care' label on these packages is extremely important.
Shipping Furniture: Lamps, glass tables
Shipping furniture as a single piece can be difficult. A furniture is usually shipped with its parts separated and assembled at the location. You can bubble wrap these different parts and place them carefully within the shipping box to ship safely.
Fragile labels are a must on these products, especially a 'This side up' sticker to avoid confusion.
Shipping Electronics: Laptops, Televisions, Phones
Electronics are sturdy and may not break visibly due to low impact. However, the small electrical parts placed within the hardware may face damages or malfunction. Therefore, you must label these products as fragile items when shipping.
Make shipping painless with ShippingChimp
Don't take too much burden of shipping! eCommerce stores can easily subscribe to a shipping platform like ShippingChimp that streamlines your shipping operations to create an outstanding post-purchase experience.
Here are the benefits of using ShippingChimp:
Timely delivery notifications
Personalized live tracking page
Efficient return center
A much-needed delivery dispute portal
Want to give it a shot? Start your free trial now!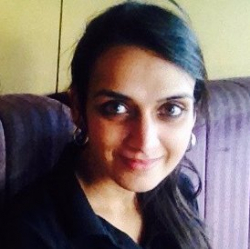 Latest posts by Revathi Karthik
(see all)