Most Canadians pay exorbitant amounts for shipping. Some small businesses that ship lighter packages but to remote areas generally pay more than businesses that ship to places where the carrier has a warehouse. Low Population Density, Gas Prices, and Terrain contribute to the shipping costs in Canada. Therefore, we can infer that shipping within Canada is much more complicated. Moreover, the rates are not merely because of inflation and distance but constitute a number of other factors. In such a scenario, is exploring national/popular carriers like Canada Post, Purolator, FedEx, UPS and more enough? The truth is, it's not. So, if you are wondering how to get cheapest shipping Canada in 2023? Look no more.
Factors that affect shipping costs
Weight – The most important factor that determines the cost of shipping is weight. Some carriers go by DIM or Dimensional weight pricing. If this DIM weight exceeds the actual weight of the item, the DIM weight is then used to calculate the price instead of the actual weight.
Volume – or volumetric weight is another metric that is used when calculating shipping costs. If a package takes up more space in the truck, even if they are lighter, then carriers tend to charge more based on volumetric weight. Volume-based commitments also fetch volume-based discounts. If you ship more, you get more discounts and pay less for shipping.
Distance – Shipping costs are calculated based on your To and From destinations. The distance is directly proportional to how much you pay for shipping. This is because if the distance is more, the carrier has to spend more on fuel and operating costs. Carriers calculate this by determining how many shipping zones the parcel goes through. Shipping to remote locations costs more. This is especially true for Canada where shipping to remote locations is extremely difficult.
Insurance – Generally, your items are insured $100 worth in case of loss or damage. For more, you are charged a premium. When looking for cheap shipping to Canada, always look for insurance coverage. If you are shipping high-end products, having insurance is a must. Paying a hefty premium jacks up the shipping costs.
Delivery Speed – Same-day, next-day and expedited shipping costs more than standard shipping. Carriers often have to involve two drivers on the same truck to fulfil the order. Then end up paying extra for the second driver. And make no mistakes, your customers don't want to pay for shipping. In fact, according to a report by Deloitte, 64% of Canadian shoppers don't want to pay extra for two-day shipping.
Cost of fuel – Carriers charge additional fuel surcharges depending on the price of gas. This is done because the carriers have to protect themselves against fluctuating fuel costs. Before choosing a carrier, check their fuel surcharge policy to gain a better understanding of the same. Fuel surcharges make up a significant part of your shipping costs and should not be taken lightly.
Your Shipping carrier – Ultimately, the most important factor is your chosen carrier. National carriers, while promising discounts, need a minimum volume commitment and raise rates year on year. Regional carriers, on the other hand, are less expensive and know the market better but lack reliability. Carriers like ShippingChimp help eCommerce businesses find the best prices without having to make a volume commitment.
How to lower shipping prices for items
Cheapest way to ship clothes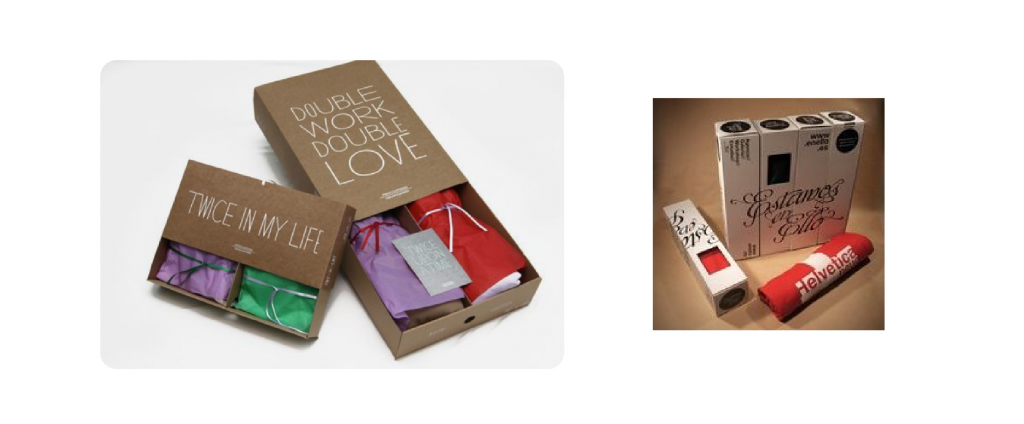 Canada is home to some of the most famous retail chains in the world. However, shipping apparel in Canada remains tricky and many retailers still do not know the cheapest way to ship clothes.
Fold your clothes – A common mistake that businesses make is assigning large boxes for items of clothing. Folding clothes and fitting them into small boxes would save you a lot when it comes to shipping costs.
Use a smaller Box – If you opt for flat-rate shipping and your clothes fit into the box given by your carrier you save a ton of money.
According to Deloitte, eighty per cent of apparel retailers offer free shipping. Free shipping means that the shipper will have to either add the cost to the price of the product or pay for shipping by herself. In the case of the latter, the shipping costs are higher. Some Canadian apparel companies have cracked the code and here are their shipping strategies.
Cheapest way to ship electronics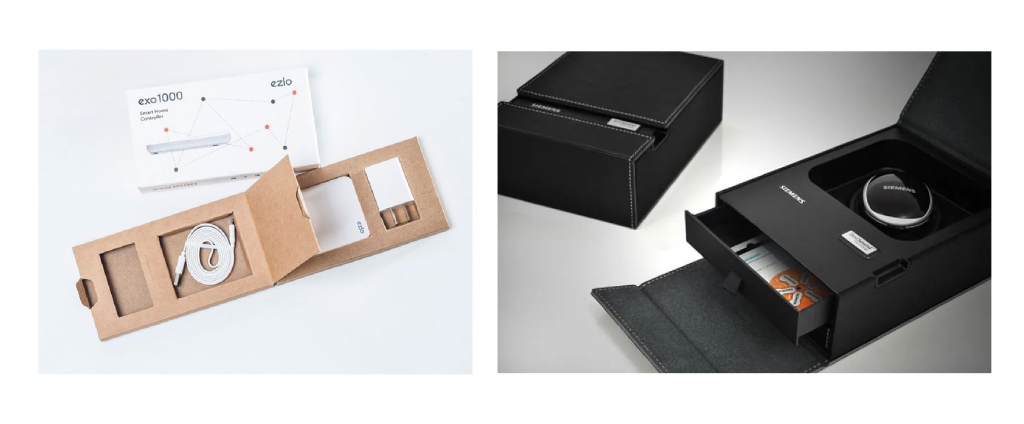 Electronics are high-end products which, if damaged, can cost the retailer dearly. The cheapest way of shipping electronics is picking the right box, figuring out additional packaging and most importantly, making sure to get insured in case of an unfortunate event.
Right box – The right box is the one that is not too big for your products to move or too small for them to break on the way.
Additional Packaging – Make sure to ask for bubble wrap and other additional packaging materials.
Get Insured – If your products are expensive, do not hesitate to ask for additional coverage and pay the premium. Cheaping out here is eventually going to be an expensive mistake.
Cheapest way to ship Cosmetics
Cosmetics are yet another fragile category. Some products cost hundreds of dollars. Consumers will not hesitate to return if the packet is torn or have any other minor damage. The cheapest way to ship cosmetics is by making sure that you have them in a high-quality warehouse which is also close to the location of your target customers. This is followed by figuring out additional packaging and getting insured.
Additional Packaging – A little speed breaker can break an eyeliner and spill the product. Therefore for cosmetics sellers, it's crucial to pay for additional packaging and save on the cost of return logistics.
High-quality warehousing – ShippingChimp has many warehouses located in the most crowded areas across Canada. A carrier like ShippingChimp can help you deliver your products as they are and on time.
Get insured – Again, prevention is better than cure.
Cheapest national carriers to ship within Canada
Here are our top picks for the cheapest shipping within Canada.
Canada Post
Canada Post is a suitable option for small as well as enterprise businesses. Canada Post rates are affordable as well. They have been serving Canadians for a long time and have established trust. Use the Canada Post shipping calculator to get a shipping estimate. For further exploration, read this.
Canada Post Domestic Shipping options –
Canada Post Priority
Canada Post Xpresspost
Canada Post Regular Parcel
Canada Post Expedited Parcel
FedEx
FedEx is an excellent choice for shipping within Canada and in the US. Because of their dominant presence in most countries, they work well for businesses doing international shipping as well as domestic shipping and looking for cheap shipping from Canada to US. FedEx rates are often compared with Canada Post parcel rates.
FedEx Domestic Shipping options –
FedEx First Overnight
FedEx Priority Overnight
FedEx Standard Overnight
FedEx 2Day
FedEx Economy
FedEx Ground
Purolator
A major carrier in Canada is Purolator. They have been in the top 10 shipping companies in Canada for a long time.
Purolator Domestic Shipping options –
Purolator Express
Purolator Express 9AM
Purolator Express 10:30AM
Purolator Express 12PM
Purolator Express Evening
Purolator Ground
Purolator Ground 9AM
Purolator Ground 10:30AM
Purolator Ground Evening
UPS
UPS is another great pick for businesses shipping within Canada. They are also among one of those carriers that provide cheapest international shipping from Canada.
UPS Domestic Shipping options –
UPS Express Critical
UPS Express Early
UPS Express
UPS Express Saver
UPS Expedited
UPS Standard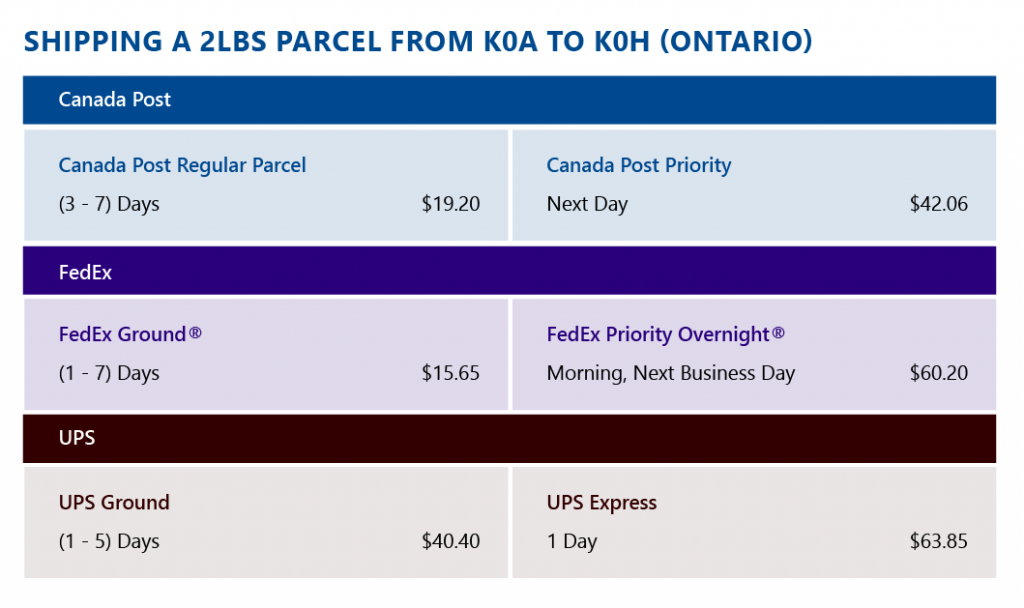 There is a better alternative for these national carriers.
ShippingChimp – ShippingChimp is Canada's #1 eCommerce shipping carrier. eCommerce businesses can benefit from up to 53% discount on shipping costs, free pick up, real-time tracking alerts and free insurance up to $100. The best part of shipping with ShippingChimp is that businesses can pay as they ship without any minimum volume commitment. So, if you are looking for cheap shipping within Canada, ShippingChimp is a great option. Start your Free Trial here.
Finding the cheapest way to ship within Canada would require you to find the right carrier who would choose what's best for your business. A carrier like ShippingChimp, which knows the Canadian market well can save you a lot of money, time and energy. Cheapest as well as reliable shipping service is what Canadian businesses should strive for!