If you are running an eCommerce business in Canada selling niche or multiple products, you need to figure out the right shipping service to get the items to your customers.
Picking an ideal shipping company for seamless logistics and timely delivery of packages can be a serious challenge, especially if you have international customers.
On top of it, due to high shipping rates in Canada, you hardly have any room for error.
Best-performing shipping carriers can smoothly integrate their systems with any eCommerce platforms to process orders fast, automate label printing, provide tracking numbers, send shipping status to customers by sending frequent notifications, and generate reports.
Also, leading shipping companies have web-based platforms and can work with any interface.
It means you can get all the relevant information about your shipment by accessing PC, laptop, and mobile platforms.
Things to Consider Before Picking the Right Shipping Company for Your Canada Business
To streamline your eCommerce business and ensure on-time delivery, you need to pick a reliable shipping company to make it happen.
The question that will naturally come to your mind is, "Which shipping company should I pick for my business?"
Although you have many options to choose from, you should make your decision based on your product, destinations, distance, speed, and other factors. Let's check out the factors:
Shipping Rates
Shipping rates in Canada are often quite steep and can take away the competitive edge of your online store.
To make things worse, customers these days expect free shipping when they shop online. Nearly 88 percent of customers are likely to buy from your store if you offer free shipping.
If you are a Canadian merchant, you may already be in the dilemma between high shipping rates and free shipping demand by customers.
To understand why whipping rates are so high in Canada, let's talk about the reasons:
Fuel costs: The fuel price often fluctuates throughout the year and shipping carriers pass on a portion of the increased cost to the merchants.
Distance: Canada is a large country, stretching across 3.8 million square miles. So, sending shipments such long distances increases shipping costs.
Remote Pickup and Delivery Addresses: Shipping to Remote areas in Canada cost the shipping companies significantly more. This is why many carriers add a "delivery area surcharge" for those locations.
Also, shipping rates may vary significantly from one carrier to another. Considering that, you should get quotes from multiple shipping companies before choosing one.
Most reputable carriers offer discounts for eCommerce businesses depending on the number of parcels they send.
If you partner with a leading shipping company for its ongoing shipping services, you may even get bulk discounts.
Remember that you can also use multiple carriers to get the best shipping and pricing options.
For example, you can use one shipping carrier for domestic deliveries and another one for international shipping. Or you can choose one carrier for standard and another one for express delivery.
Shipping Destination
The origin and destination of a package are the other factors that make a difference. Distance plays a major role in how shipping companies in Canada set the delivery price.
As mentioned earlier, due to many remote locations in Canada, long distances can add up to your shipping costs.
Try to find shipping carriers that will deliver your packages at the lowest costs across the country.
When your business grows fast, you can collect data about the locations of your major customer base and think of using fulfillment warehouses.
To minimize your shipping costs, choose a warehouse that is the closest to a majority of your customers.
For international shipping, it is ideal to pick reputable and specialized shipping carriers such as ShippingChimp Canada, UPS, FedEx, Canada Post, or DHL.
Your Parcel Size and Weight
Another crucial factor is your package size and weight. Shipping carriers use package dimensions to decide rates.
If the dimensions of your packages are relatively uniform, choosing an ideal shipping company will never be a problem. Just search for a carrier that delivers parcels similar to the size and weight of your packages at the lowest rates.
Things can get complicated if your business ships packages with widely varying dimensions.
One way to solve this issue is by dividing packages into groups based on their size and weight and then looking for a shipping company that can offer you the best rate for each group.
The right packaging will not only save you shipping costs, but it will also prevent packaging costs from eating your profit margin away.
Other factors you should consider while shortlisting are below:
Automated Parcel Syncing: The shipping carrier you choose should be able to sync your packages in the warehouse. It will improve the visibility of your packages.
Automated Label Printing: If you provide the QR code of your label, your shipping carrier can help by automated label printing as a batch.
International Customs Procedure: Leading shipping carriers often integrate international customs forms with each international shipping label. It makes the process of declaring goods faster.
Shipment Status and Tracking Visibility: After packages are shipped, your carrier should be able to send tracking details to your eCommerce platform, so that you can pass them to customers.
Returns: Check how your carrier can help to return packages with return labels.
Top Shipping Companies in Canada
All leading domestic and international shipping carriers run their businesses in Canada. It gives you many options for your eCommerce business.
You can consider the following shipping companies:
FedEx is a leading global carrier with a strong presence in Canada. The company ships packages to most places in the country. The company ships parcels through FedEx Ground and FedEx Express/FedEx Air.
The turnaround time of FedEx for shipping packages within Canada, to the US, and other international destinations start from one day up to weeks for economy shipping.
If you are seeking an efficient and affordable shipping service for sending packages within or out of Canada, ShippingChimp is an ideal option.
By partnering with ShippingChimp, your business can save as much as 53 percent on shipping costs across Canada, irrespective of the destination.
ShippingChimp offers the most competitive and discounted shipping rates and provides real-time status of orders through efficient tracking during shipping.
Associating with this platform will enable you to lower your shipping costs and ensure a faster delivery to keep your customers delighted.
UPS is another major global carrier that provides domestic and worldwide shipping services. However, UPS services could be costly for you.
You can try the UPS Ground for economy shipping, which is relatively economical. For faster shipping (1-2 days), UPS Overnight can be a good option.
Canada Post offers shipping service through its expanded network of 6,200 post office addresses. The services are affordable and reliable. The carrier also offers add-on services, such as signature confirmation and shipping insurance.
Other than its domestic shipping services, Canada Post ships packages to over 190 countries.
To send packages within Canada, you can use Canada Post Priority service with guaranteed next-day delivery, Flat Rate service, and Xpresspost service.
For international shipping, you can try Xpresspost International, Priority Worldwide, Xpresspost USA, and Tracked Packet USA.
DHL is one of the global shipping trios that offer shipping services within and outside of Canada.
The shipping services of DHL may not be as expansive as FedEx and UPS, but it still has one of the fastest shipping services to send packages from Canada to the US.
DTDC Canada offers customized domestic and international shipping services with warehouse fulfillment at affordable rates.
DTDC also helps with all the custom clearance procedures.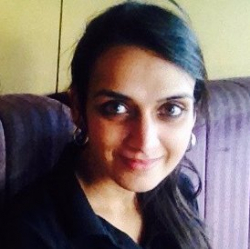 Latest posts by Revathi Karthik
(see all)