When you think of a shipping label, what is the first thing that comes to your mind? Just a sticker, right? Well, it is a sticker, but it has bigger significance. eCommerce stores must take extra care of their shipping labels since it holds crucial importance during the supply chain.
In this blog, we'll take you through the process of creating an eCommerce shipping label. So, let's get started!
What is a shipping label?
A shipping label is an identifier that detects the following factors in a shipment package:
The origin of the package
The destination of the package
Package's weight
Name of the courier company and so on.
A shipping label is also called a package label. During a supply chain cycle, shipping agents use a shipping label to find out all necessary information regarding a shipment package.
If you forget to add a shipping label to a particular parcel, it can get stuck in transit. Other risks include delivering to the wrong location, shipment lost/theft, etc. So, if you don't want to face either financial or reputational loss, make sure to add a shipping label to each shipment package.
Why does a shipping label matter?
Want to have a detailed idea of the importance of a shipping label? Here's what you need to know:
A shipping label provides some of the most crucial information to the delivery agents including the source and destination of a shipment package.
Shipping labels are designed so that both humans and machines can decode them and comprehend necessary information.
A shipping label consists of several information like barcodes, letters, and numbers. All these have a specific role to play in different stages of the shipping process.
How does a shipping label look like?
Here's the anatomy of a shipping label: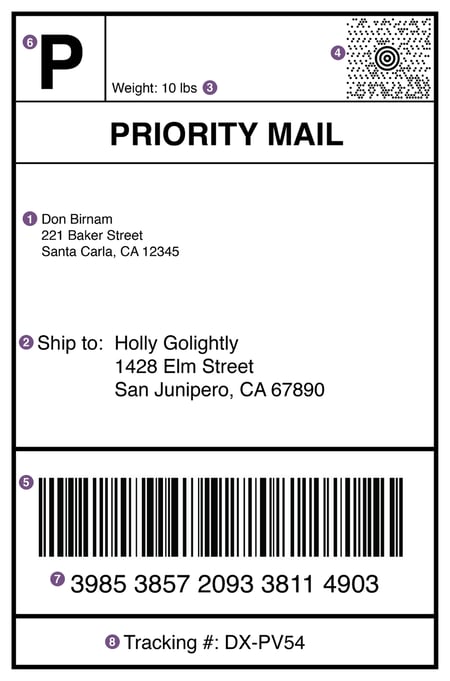 Here are the factors that you must include within a shipping label:
Sender's name and contact details
Recipient's name and contact details
Weight of the shipment package
A unidirectional code that can be read by machines and/or human beings
Postal code of the recipient
A routing number for the package
The particular tracking number for the package
How can you create a shipping label?
Wondering how to create a shipping label? There are two broad ways. Here are the details:
Method 1: Create shipping label through the courier company
Most of the popular courier companies like USPS, FedEx, DHL, UPS offer an online option to create shipping labels directly. eCommerce stores can easily opt for this option. So, what you have to do is visit the websites of these courier companies, fill up the shipping templates, and finally download the label.
Here are the popular shipping carriers and the URLs to their shipping label templates:
However, if you're looking for a fast way to complete shipping labels, this is surely not the best way. Especially when the order volume is low. So, make decisions wisely.
Method 2: Create shipping label through a software
Another convenient way to create a shipping label is through a software solution. There are plenty of software solutions available online and you can use any one of them to create your eCommerce store's shipping label. These are faster and more suitable for newbie eCommerce stores. Mostly because these software solutions follow a pay-as-you-go model and charge you based on the outcomes.
Plus, these solutions offer much more than just a simple shipping label. They come with a consolidated dashboard that provides analytical support. It becomes easier for you to get actionable insights into your activities.
Some other best practices…
Here are some other best practices that you should know of:
1. You need add some special instructions
For cross-country deliveries or special scenarios, eCommerce stores may need to insert some special instructions. For example, is the parcel fragile? Mention it in the label. Does the package need any kind of special alignment? Include that as well. These special instructions can help the courier companies to handle the shipment package with care and ensure that the package will reach the end-users in the right condition.
2. Placing the label can be tricky!
Next comes the placing of the shipping label. The best practice is to place it on the upper side of the package. That way the shipment executives can do justice to the package. Sometimes the shipping label gets folded on any one side, resulting in misinterpretation of valuable information.
Note that there can be bumps on the label after you stick it on the package. You should ensure that those bumps are flattened as that can also make some information obscure. Try to keep the label as transparent as possible. If you have any transparent tapes, use that. Remember that the sole purpose of using a shipping label is appropriate communication of information.
3. Don't forget the packing slips
Adding a waybill or packing slip within the shipment package is always a good idea. It serves as a receipt and it is a good practice to include this document. It should have the eCommerce store's contact information, customer's contact details, order number, any additional information related to return, and so on.
Create excellent shipping experience with ShippingChimp
Worried about your eCommerce store's shipping process? Want to make it better? Go for these strategies:
Track the useful shipping metrics and align your shipping journey accordingly. Monitor the KPIs like on-time delivery rate, shipping spend, etc. and create a shipping performance report to evaluate the carrier's performance.
Make sure that you're getting a 360-degree view of all your shipments, across boundaries and segments. This will simplify your logistics decision-making process.
Make live tracking, personalized tracking page and frictionless return and refund a regular practice.
Wondering how to do all these? Use a SaaS-based shipping solution called ShippingChimp. It can help you with all these and much more! The best part is that you can easily integrate it with your Shopify or eCommerce stores to get the best results.
Want to know more? Sign-up for a free trial!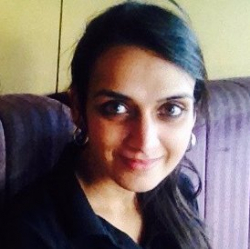 Latest posts by Revathi Karthik
(see all)