You may not have used cryptocurrencies yet, but we bet you heard about it! Bitcoin (BTC) is one of the most popular cryptocurrencies that help you perform transparent transactions without the presence of any intermediaries. Since 2017, over 5 million people have their BTC wallets and they are getting more and more comfortable using BTC for online payments.
Shopping with cryptocurrency is pretty common these days and being an eCommerce merchant, you should also explore accepting crypto on your Shopify store. But do you know enough about this whole crypto eCommerce system?
Are you wondering where you should start? Here's a quick guide to get you started with the BTC payment steps. Let's get started.
So what is Bitcoin?
To keep it very simple, Bitcoin is a type of digital currency. Satoshi Nakamoto invented BTC back in 2008 to make online payments simpler. You can use Bitcoin for online shopping and also exchange it for other digital currencies. Users prefer Bitcoin particularly because of its transparency at the time of online transactions.
Why should you accept BTC payments for your eCommerce store?
Here's why you should consider accepting Bitcoin for your eCommerce store:
BTC accounts for faster transactions
BTC, or any cryptocurrency for that matter, processes payments immediately. Unlike credit cards that take a few days to process, eCommerce merchants can get quicker access to funds with Bitcoins.
Bitcoin is a secured option
Bitcoin is a far more secured option as compared to the traditional payment methods. Once you complete a BTC transaction, it is irreversible unless you have the user's consent. This is possible because there are no intermediaries to control the transactions. Hence, the chances of fraudulence are almost nonexistent.
BTC imposes low transaction fees
BTC charges you some transaction fees too. But it is much lesser compared to PayPal or credit card transactions. The transaction fee percentage depends on whether you're accepting the BTC payment on your personal wallet or using any third-party provider.
Bitcoin can open up a broader market
Cryptocurrencies are the new credit cards! Believe us or not, if you want to target the tech-savvy gen-z users, accepting BTC payments is a great option for you. BTC literally opens up a broader market for you with multiple new opportunities.
2 Ways to accept BTC payments on your eCommerce store
Now that you know about the advantages of accepting BTC payments, here're the ways to accept Bitcoin payments on your online store:
1. Go for manual acceptance of BTC payments
To accept Bitcoin payments, the involvement of a third-party service provider is not imperative. You can accept BTC payments directly on your website with a rather simple process.
All you have to do is generate a specific Bitcoin address for every transaction on your site. Also, provide instructions on what amount of money one should send for these transactions. That way, you can receive the coins in your digital wallet and process the orders afterward.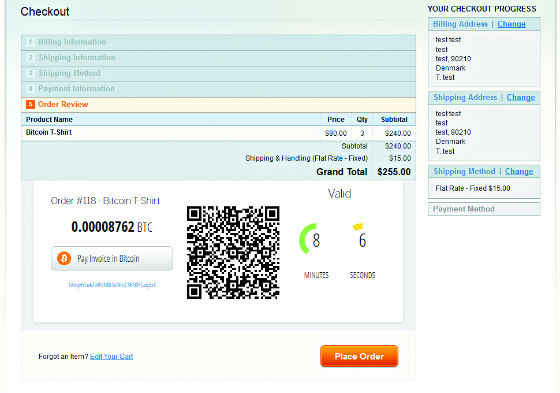 Pros of this method
Accept BTC payments without the interference of any intermediaries
Store the BTC payments in your digital wallets whenever you want
Exchange your personal Bitcoins in any other digital currencies of your choice
Cons of this method
You need to take care of the invoicing on your own. That's a lot of work, especially for new eCommerce stores.
2. Use third-party providers
If manual BTC payments sound tedious, you can also go for third-party providers like Coinbase and BitPay. Here's what you must know about these two platforms:
Coinbase
Coinbase is a top BTC exchange platform to buy and sell Bitcoins using different modes of payment. Coinbase also has a dedicated merchant service for eCommerce stores. All you have to do is sign up there with your eCommerce store's details and you can start accepting Bitcoin payments through your Coinbase account.
Later you can convert these BTCs into cash and transfer the amount into your bank account. In that case, there'll be an imposed fee of 1%. You can also keep your Bitcoins in your Coinbase account for as long as you want. In that case, there'll be no charges applicable.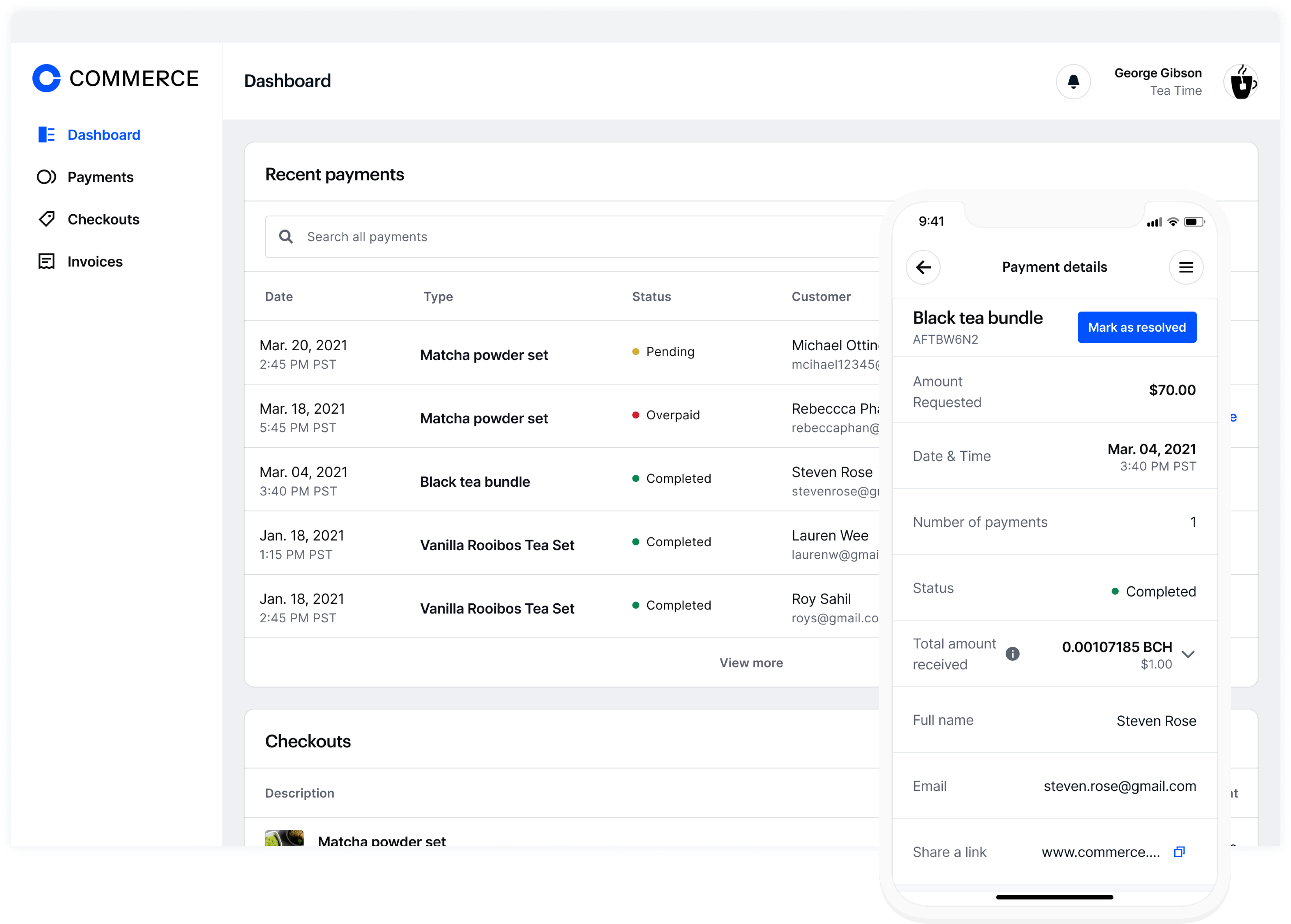 Pros of Coinbase
Accept BTC payments and avoid any hassle related to BTC invoicing and billing
You can keep the Bitcoins in your Coinbase account for as long as you want, without worrying about any additional charges
Cons of Coinbase
In case of withdrawal and bank transfer of BTC, Coinbase will charge a 1% transaction fee
BitPay
BitPay is another seamless platform to accept BTC payments on your eCommerce store. It has become a rather popular name among Shopify stores. Largely because BitPay supports multiple integrations and that's a useful feature for eCommerce stores.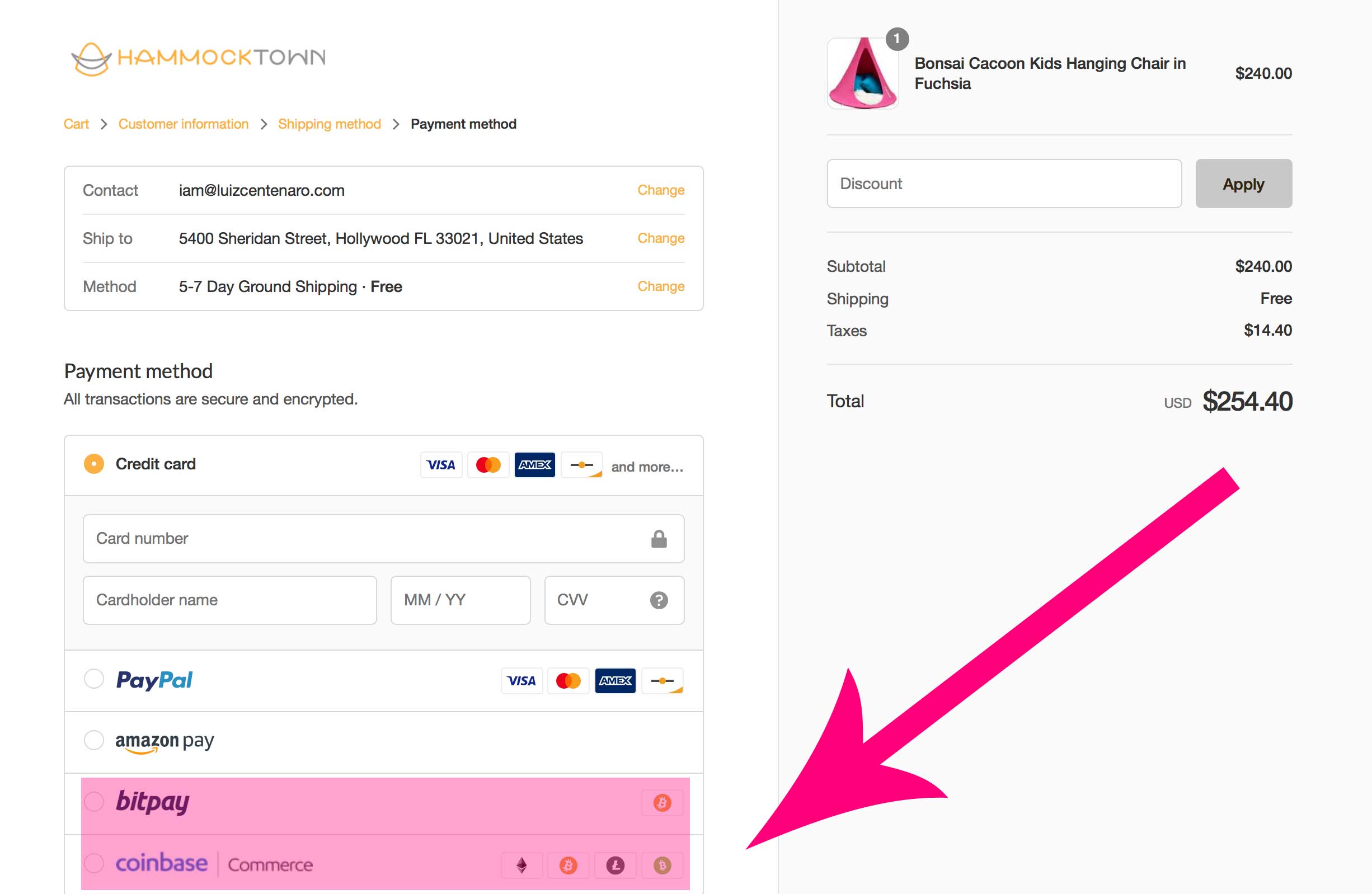 Pros of BitPay
BitPay makes it easier for eCommerce merchants to accept one-time payments, donations and setting up subscriptions.
It takes care of tedious activities like invoicing, record keeping, etc. to streamline the financial operations of your online store.
Cons of BitPay
BitPay also imposes a 1% fee on your bank transfers
Final Words
We hope now you have a fair idea of how to accept BTC payments on your eCommerce store. Heraclitus rightly said, "Change is the only constant". To keep up with the latest market trends and to satisfy your target customers, it is a must that you start accepting Bitcoin or other cryptocurrencies on your online store. Remember, it is the first step toward scaling your online store.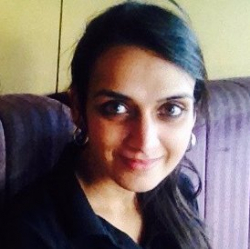 Latest posts by Revathi Karthik
(see all)