E-commerce businesses are always racing against time. It is a time-sensitive business, where customer satisfaction largely depends on the fast turnaround time. On top of it, quicker and timely delivery also gives an edge over your competitors.
For a seamless shipping process, it is crucial to streamline the labeling task for faster order fulfillment.
This article is about the importance of creating shipping labels and five easy ways to make them.
Why Do You Need to Create a Shipping Label?
An e-commerce business creates shipping labels to ensure the shipping carrier delivers packages to customers accurately and on time.
A shipping label contains crucial information, which is below:
The customer's shipping address
The e-commerce company's return address
Specific delivery instructions (e.g., leave the parcel at the front door)
Space for signature
Scannable barcode
Article number
Connote number
Parcel weight
Postage paid or pending.
Most of the listed information is mandatory to include in a shipping label, and it varies from one courier to another.
Besides, the layout of a shipping label is unique for each carrier. If any required information is missing or misplaced on the label, the carrier will most likely refuse to accept the parcel, resulting in additional charges.
Here is an example of a FedEx shipping label:
1) Create and print a shipping label online
You can create shipping labels successfully online through relevant websites by following a few simple steps.
Follow the steps mentioned below to create a shipping label:
a. Create the Shipment with a Carrier
This is the first step of creating a shipping label. Create a shipment with a shipping carrier, such as FedEx or UPS. 
b. Select a Shipping Label
After creating the shipment, go to "Manage Shipments" to download a relevant shipping label. From the listed options, select the boxes with the labels you want to download.
c. Download a Shipping Label
Once you select a label, click the "download" button.
d. Print the Shipping Label
After downloading the file containing the shipping label, you can print single or multiple labels using a printer.
2) Use a Carrier's Shipping Template
Most major carriers provide their unique shipping labels through their official websites, where you can create and print a label. You need to fill out the customer details, download, and print on a sticky label.
FedEx Shipping Label: FedEx is one of the largest shipping carriers in the world, and you can create an account on the company's website to make shipping labels. After signing up for a business account, you will be eligible for discounts and be part of the FedEx rewards program.
You can create and print shipping labels even without an account. Enter the ZIP Codes for the parcel's origin and destination, the number of parcels to ship at once, the type of packaging, the dimensions of the parcels, and their weight. You also need to enter the phone number of the recipient.
UPS Shipping Label: UPS is another global shipping carrier and offers an excellent shipping and parcel tracking system. You can begin your shipping process by entering the destination and origin ZIP Codes and the shipping address. The UPS system will confirm the address and let you know different delivery options, such as UPS Ground, Next Day Air, Second Day Air, etc.
To create a label, enter the shipment details, including the type of packaging, its weight, and value. Besides, include details of parcel contents, and print the label.
3) Get a Thermal Label Printer for Ongoing Use
Buying a thermal printer is a one-time investment, and it will save you the recurring cost of creating and printing labels through a third party. Direct thermal printers come with a chemically treated material and do not require any ink, ribbon, or toner for printing labels.
Besides the cost benefits, a thermal printer provides several timesaving benefits as well:
Having a dedicated thermal printer means, you do not have to feed labels like an inkjet or laser printer for preparing a label.
The instances of jamming are quite unlikely on a thermal printer since it has a straight path for printing, which leaves minimal chances of printing errors.
Printing shipping labels on a direct thermal printer is a hassle-free process, as there is no smear and you do not have to wait for the ink to dry, which saves your time.
If you are unwilling to shell out the cost for a new printer, you can get a refurbished one for a significantly lower price.
4) Use a Third-party Shipping Labelling Application
You can use a third-party shipping labeling tool or software for creating and printing shipping labels. Having a clearly defined process of creating a shipping label for your shipments can make your e-commerce process of fulfilling and shipping orders much faster and easier.
There are several software options available on the market for printing shipping labels. However, the flip side of using third-party software is that you have to import your orders into the system whenever you need to print a label unless the software comes with an automatic import tool.
A couple of known options for creating and print shipping labels are Easyship and ShipStation, but they ask for a monthly cost.
5) Use an Integrated Software
The final one is the easiest way to create and print shipping labels, and it saves a significant cost and time. An integrated e-commerce tool enables you to receive and ship your orders with labels of the relevant carrier. It means you do not have to export and import the shipping information to the software.
Besides, you can print shipping labels using its shipping label generation feature without logging into the application. An advanced software solution comes integrated with all the major shipping couriers, such as FedEx, UPS, and others.
The shipping label formats of the major shipping carriers are already in the system, and only need to choose the relevant label for a carrier and take a print out. There will not be any issue such as label sizing, no missing or incorrect information, and no additional cost for re-shipping a parcel.
On top of it, you are likely to save staffing costs with faster and efficient order processing. Shipping orders faster will lead to quicker delivery of packages to your customers, resulting in positive reviews and an advantage over your competitors.
Track your FedEx, UPS or DHL packages in real-time using ShippingChimp's shipment tracker.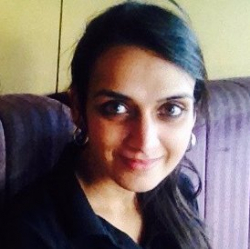 Latest posts by Revathi Karthik
(see all)