SMSBump is an E-Commerce app for SMS marketing and automation that recovers lost revenue, boosts marketing ROI, and increases sales.
In this article we cover the following topics:
What sets SMSBump apart?
Features and functionality aside, is it easy to set up and use?
So how does it really perform?
Does SMSBump improve customer retention or drive repeat purchases?
To put it simply, the app is specifically used for sharing notifications via SMS. In fact, they are the largest SMS marketing tool within the Shopify marketplace because of their extremely robust features and functionality.
With SMSbump, you will get highly targeted SMS campaigns where you can create marketing campaigns in seconds. Moreover, these smart SMS automation can be triggered based on certain events in your store ( think cart abandonment), and also grow your list with catchy pop-ups and branded SMS keywords ( Yes they exist!).
Other features include SMS segmentation, custom flows, A/B testing, ROI text automations, SMS automations, link shortener, campaign scheduling, and opt-out lists.
An important component when it comes to SMS is serious compliance concerns. But they have got it covered. One of the challenges of compliance is getting that opt-in. SMSBump provides the possibility to modify your checkout page so that users can opt in to receive SMSs. This allows for SMS abandon carts, shipping notifications, and marketing campaigns. All great things and proven to increase ROI.
It easily enables you to compartmentalize by various factors like country, price of SMS, and time of day so that you don't frustrate your customers by sending a 3 am text about their abandoned cart, which is typically against international law. They do all this with automatic IP detection and phone number detection software so that you don't have to worry about handling any of them.
What sets SMSBump apart?
Their dynamic messaging system includes images and GIFs (the US only) to alert the user of their abandoned cart, driving them back to complete the purchase. They have a similar feature dedicated to post-purchase upsells too!
Other vital functions involve A/B testing, where they run different versions of SMS messages to measure performance. Opt-out lists where you can keep track of your unsubscribing clients and yet another is their distinct tracking of Shopify discount codes that can send unique, time-sensitive, and individualized offers that spark interests and thereby increase conversion rates.
They integrate with all the popular apps like Shopify, Slack, MailChimp, WooCommerce, Zendesk, and more.
Features and functionality aside, is it easy to set up and use?
The app does offer free installation and it claims to have a five-minute setup time.
Pricing
SMSBump's pricing is, however, based on the plan you choose.
The Free plan ($0/mo and $0.0149 per SMS – US) includes SMS Campaigns & Automations, Primary Subscription Tools, Audience Segmentation, ROI & Performance Analytics, Yotpo Integrations, and 24/7 Email & Chat Support.
The Growth plan ($19/mo and $0.0149 per SMS – US) offers all free features plus SMS Flow Builder, 1:1 SMS Conversations, Keyword Subscriber Collection, Advanced Analytics, Integrate Your Tech Stack, and Business Name.
The most popular Prime plan ($59/mo and $0.0142 per SMS – US) offers all growth features plus a Full Suite of Subscriber Collection Tools, Timezone-based Messages, Export Analytics & Reports, Branded URLs, and Priority Email & Chat support
The Powerhouse plan ($199/mo and $0.0130 per SMS – US) offer all Prime features plus, Conversational SMS Flows, Unlimited A/B testing, AI-Powered Predictive Segmentation, Customisable Analytics Dashboard, Shopify POS Integration, and Dedicated Onboarding Specialist
Finally, the Enterprise plan which has Custom Pricing include all Powerhouse features plus, Custom Reporting, API Access, Advanced Compliance Solutions, Dedicated Short Code, Multi-domain, and Enterprise Client Success Manager
So how does it really perform?
The app is over-all rated well with the majority of reviews being 5-stars. The users claim the app to be 'user-friendly and efficient in performing the services as promised'. Some users even claim that they start seeing improvements in their ROI within the first few campaigns.
A couple of pointers if you are looking to instal SMSbump. Firstly, you will need to ensure that you are compliant by any means and you will have to set up your opt-ins. Secondly, you will want to start your SMS automated campaigns and also incorporate your existing marketing strategies, which could inevitably take up some more time.
Does SMSBump improve customer retention or drive repeat purchases?
Well, yes. It technically can be implemented at any point in time of your business's growth and does show significant improvement. It is however advisable to use it early on in your store's lifecycle. Its benefits for merchants and users definitely go without saying. From a distinct ROI to better retention, it can boost a company's engagement to a new and unseen high!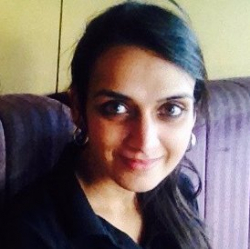 Latest posts by Revathi Karthik
(see all)