In a few short weeks, a lot of people faced a shift in their lifestyle due to the CoronaVirus. Their behavioral pattern saw many changes. Brands were expected to have an omnichannel presence, with a huge demand for e-commerce. Time spent saw a 14% increase in the past few months, which is the largest for a social media platform and 10 times higher than their projected growth.
As a marketer, since your followers are spending more time online than ever, this presents you with an opportunity to communicate with your audience better and strengthen your brand affinity. Since managing a social media business account during a global pandemic is new territory for most of us, let's take a look at some of the brand accounts to take inspiration from, during this time.
1. Nike
Nike's play for the world campaign addresses how Covid 19 has affected the lives of the athletes. It encourages and draws people from all age groups and approached the problem with the indomitable spirit of an athlete. The posts with this hashtag show how other athletes are staying fit despite staying indoors. This gives a sense of belonging and a push of encouragement to stay on top of one's physical health during trying times. This is a classic example of how Nike changed with a rapid, effective, and timely response. They quickly pivoted their messaging towards providing all the resources to work out indoors.
2. Revolve
Revolve is one of the fastest-growing fashion eCommerce companies in the united states. They are extremely active on Instagram with their innovative hashtags and a plethora of influencer marketing to market their clothes to young tech-savvy women. They had a lot of events planned for 2020 like Revolve Festival during Coachella, Revolve Summer, and their famous #RevolveAroundTheWorld where they post vacations and travel content. Due to the travel ban, they quickly shifted their content strategy and changed their hashtag to #RevolveAroundTheHouse and started posting about stay-at-home lifestyle content. They focused on the kind of content their customer base wanted to see.
3. Fabletics
If you had visited Fabletics' Instagram page pre-covid, you would have seen influencers and their models wearing their sportswear, footwear, in their athleisure attire, working out in a gym, or hiking in the natural setting.
They launched a new series called 'Take care' by Fabletics where they would post workout-at-home video clips.
This easy no equipment workout routine was a big hit and well received by the followers. They also promoted the comfort attribute of their clothes by posting influencers wearing their outfits in a non-workout setting like attending a meeting, reading, or cooking. Fablectics was also seen actively posting positive messages about self-care and thoughtful words of encouragement.
4. Lush Cosmetics
The bath, body, skin, and haircare company Instagram doesn't shy away from taking a stance on political opinions like black lives matter and LGBTQ rights. They manufactured and donated several personal hygiene products to high-risk communities and posted about their progress and updates to their 4 million followers on Instagram.
They have their famous "How its made" campaign, which is an IGTV series that shows a behind the scenes sneak peek.
This gives the consumers a rare look into all the work that goes into making their favorite shampoo or bath bomb. Showcasing how your products are made will make the customers feel good about buying them.
5. Gucci:
The luxury fashion brand was one of the fastest to respond and align with the WHO by reposting their infographic on their Instagram page. In addition to making large donations to various charities, Gucci's social media accounts were at the disposal of WHO. They were given access to Gucci's 40 million followers for a week at the end of March. Timely posting to raise awareness and their complete handing over of their account showed the customers how sincere their efforts were.
As we navigate through this crisis, marketers should keep in mind life beyond the crisis and work to keep their customer journey whole by filling any gaps that occur. Due to the forced acceleration of digital transformation, companies should embrace it and use the power of Instagram and other social media to have a better understanding and interaction with one's customer base. Having a positive and empathetic angle to your messaging will go a long way in these trying times.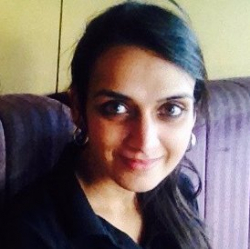 Latest posts by Revathi Karthik
(see all)