There's nothing more frustrating for customers than receiving a message that says 'your shipment will be delayed'.
While 40% of consumers consider delivery to be the most significant factor in an online purchase, there have been increasing shipping delays leading to disappointed customers.
According to a study, retailers are taking an average of 1.5 days longer than usual to complete their orders. The reason being high order volume, issues with courier partners, and supply chain disruptions.
The struggle of the eCommerce companies is understandable. While the pandemic has triggered high demands and order delays, several customers do expect speedy deliveries. Hence, the chances of eCommerce companies losing out on customers have increased.
So, what eCommerce businesses should do to maintain the brand reputation while saving customers from disappointment?
'Communicate'.
Yes, communication is the only way out of this dilemma. As you increase your communication with the buyer at all stages of their journey, their satisfaction will gradually increase.
Through this blog, we aim to tell you how to communicate a shipping delay to customers.
So, get ready to enhance your email communication skills!
Why does it matter to send shipment delay notifications to customers?
We do know that shipping delays must be communicated to customers to avoid losing out on them.
But, why?
Increased communication with the buyer keeps them updated. Also, it lets them know that you are processing their orders. May it be a short shipment email, shipment delay email, order confirmation, or delivery status communication, letting customers know the progress always builds a better relationship. 
Here is why it is important to communicate shipping delays to customers:
1. To avoid WISMO queries
By WISMO query, we mean Where is my order? Every eCommerce shop owner is familiar with this query. Anxious customers keep raising queries to know about the status of their order. This creates unnecessary pressure on the customer support teams.
The moment you communicate about the shipping delay you can avoid WISMO queries which, in turn, reduces the stress on your support team.
2. To increase trust
According to a study, 2.14 billion buyers are expected to go for digital purchases in 2021. This is about 27.2% of the global population. Then, what about the rest?
Statistics show that there's still a large population of people who are not ready to purchase online. This may be due to various reasons like lack of technology, safety issues, and of course, lack of trust.
By sending information about shipment delays, you can increase the trust of customers. While they may become doubtful about receiving their order, communicating about the order delay restores their trust to some extent.
3. To show customers that you care
Shipping delays often harm the brand reputation. So, if your customers aren't aware of the status of their orders, they may either cancel them or never repurchase.
Communicating shipping delays with a short shipment delay email can save the brand image. It shows customers that the brand does care about their order and that they don't need to worry about receiving it.
5 Best Email Templates to Convey Shipping Delays
While leaving a short shipment delay email must be pretty easy, the email templates that you use have to be perfect for your brand. Hence, we brought you the 5 best email templates to convey shipping delays.
These email templates worked well for us.
Template 1: Stay Genuine and open
See how AWAY explains the genuine reason behind shipping delay: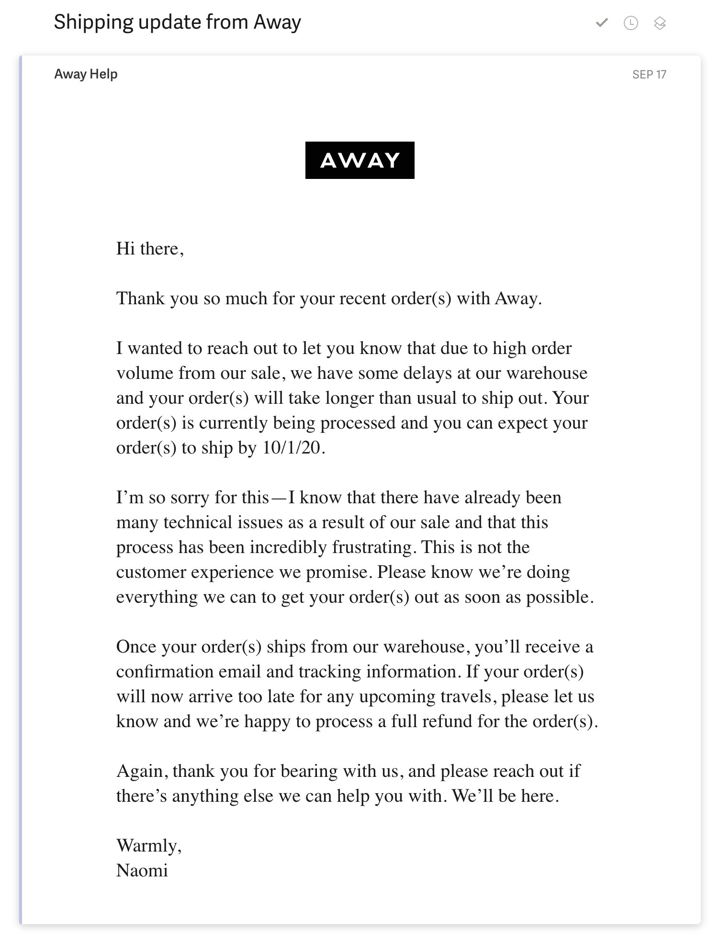 What works in this shipping information example is the genuineness of the brand. In a simple and detailed way, the travel and luggage brand communicates about the order delay to its customers.
Away details that their high sales volume and warehouse delays are causing the delay in delivery. Instead of concealing the reason, Away opted for humble and honest communication to convey the bad news.
We found this an extremely honest way to communicate with the customers. What about you?
Template 2: Proactive communication can save the day
Sometimes, staying proactive can also help. Take inspiration from this small-shop owner:
This delayed delivery email sample shows that sometimes all you need to do is take preventive measures to avoid the consequences.
This shipping delay email is from an eBay seller in China and it dates back to the pre-pandemic era.
For a small merchant to ship orders across countries is a struggle. However, the top-rated sellers on eBay adopt these pre-emptive delivery delay emails to ensure that their reputation remains intact. Especially in international shipping, small sellers need to convey beforehand that the shipment will be delayed.
Template 3: Post-Purchase Communication can also come in handy!
We all appreciate Nike as a brand, right? This brand kills their email marketing campaigns too. Notice how they communicated shipping delay email in style:
Nike came up with an amazing strategy to communicate shipping delays. This popular brand utilizes post-purchase communication like order confirmation emails, short shipment emails, etc. for communicating order delays.
Nike did not wait for a later date to communicate the shipping delay. Instead, the brand chose to provide prior notice. They mentioned current measures for the safety of distribution center employees and requested customers to cooperate.
Are you confused about communicating shipping delays to your customers? Use this short and simple delivery status communication email template.
Template 4: A Simple Sorry Can Melt Hearts
Sephora is also not lagging behind when it comes to communicating shipping delays. Notice their style:
Being upfront and honest can work like magic. What made this shipment delay email rank in our best 5 is the straightforwardness.
Sephora took the road to truthfulness. You can see how they've apologized to their customers in the very subject line. Sephora communicated about the order delay right away to the customers without making the email too long.
Hence, drafting a simple, concise, honest email could be another way to communicate shipping delay.
Template 5: Expressing Gratitude to Customers
CAUSEBOX takes a new way. Apart from being apologetic, they also express gratitude. Notice how:
CAUSEBOX drafted its shipment delay email strategically. They started the email by mentioning the standard shipping estimates along with the reason behind the delay. In the second half of the email, the brand expressed gratitude while staying apologetic to the customers.
What works in the email is admitting to the customers that they matter to CAUSEBOX. So, the next time you send out an email to a customer for a delay in delivery, show that you care. This ensures happy customers and long-lasting relationships.
Start notifying your customers consistently on shipping status
So, if you're an eCommerce shop owner, it's time you get more serious about the order delay emails. Start notifying the customers about the shipping status of their orders in every step. From order dispatch to delivery, make sure that customers can track every phase of the shipment's movement.
Are you looking for a platform that can help you in this process? Well, ShippingChimp is here to help you out. Here's what it can do for you:
Real-time tracking of shipment and end-to-end visibility
Prompt and timely delivery notification
A personalized tracking page with upsell/cross-sell options
An easy delivery dispute portal to resolve issues
Is that all? Well not really! ShippingChimp has more to offer.
ShippingChimp lets you predict delivery delays even before customers are informed. With live tracking, it can help you find out exactly where your shipment can get stuck and how you can expedite the shipment's movement. That means you can know exactly when you should send the shipping delay email.
Want to explore further? Start your free trial today!
Final Words
Shipping delays have become quite common ever since COVID-19 entered our world. While we cannot avoid genuine issues like surge in demand and supply chain disruptions, we can certainly communicate with customers.
Start making communication with customers a habit. Notify them with constant updates regarding their order status. Take some inspiration from our 5 best email templates and try using different ways to predict shipping delays.
So, own up to the situation around you and let your customers know that they matter!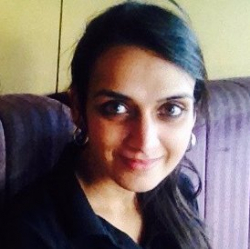 Latest posts by Revathi Karthik
(see all)