Around 56% of Canadian online shoppers turn to the U.S. and now that you are deciding or have decided to ship to Canada, there's a lot to figure out. As a company shipping only within the US, you knew the market well. You knew the prices, the cheapest ways, what not to ship and how to win on your home turf. However, on this international scale, shipping is going to look different. We know what you are thinking – Canada is just across the border. It is, but cross-border shipping is intimidating.
Tapping into the Canadian market is difficult without the right pool of resources. So, we thought of creating this comprehensive guide to help you in shipping from US to Canada and earn all the CAD you possibly can! 
In this blog post, we will guide you through the time it takes to ship to Canada, the carriers who ship from US to Canada, the cheapest shipping options, Canadian taxes and duties, rules for shipping to Canada, printing labels for your Canadian customers and everything about how to ship from US to Canada.
The first few questions to ask before you ship from the US to Canada would be – Do national carriers ship to Canada? How much is shipping from US to Canada?
Let's have a look at what options FedEx, UPS and USPS offer –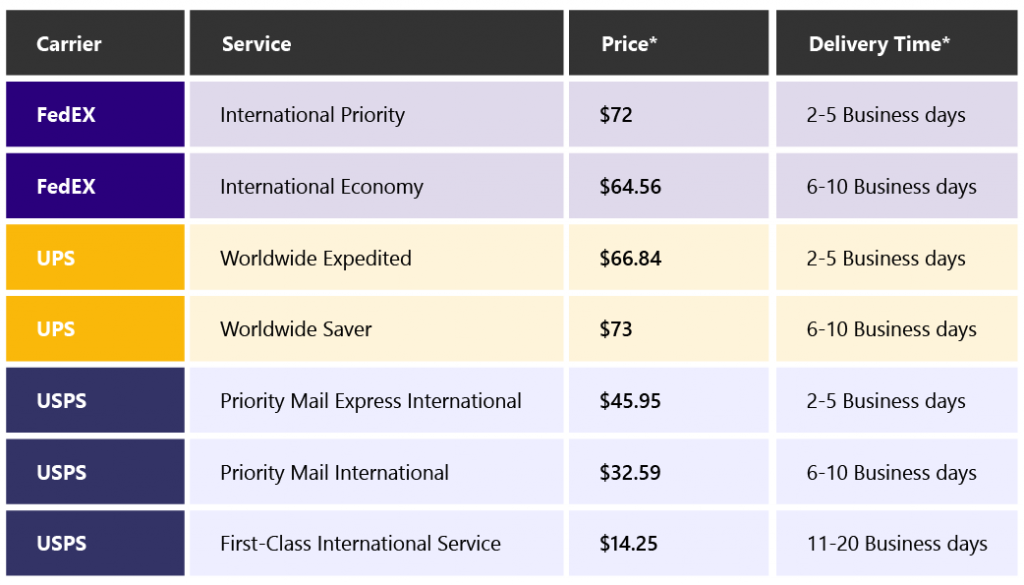 How long does it take to ship to Canada?
The answer to this depends on what you are trying to ship, where in Canada you are trying to ship, and the speed you have promised to offer. It takes between 1-25 days for your parcels to reach Canada. Therefore, it's crucial that you mention the delivery date on your eCommerce website during checkout. Around 22% of customers state that they would abandon their cart if there was no guaranteed delivery date. For small parcels, you can have express deliveries and send them via 3PLs. However, for larger parcels, you have to use sea freight, air, or trucks.
A question that follows up 99 out of 100 times is "Do FedEx, UPS, and USPS also ship from Canada to US?" The answer is yes.
Shipping light and small parcels to Canada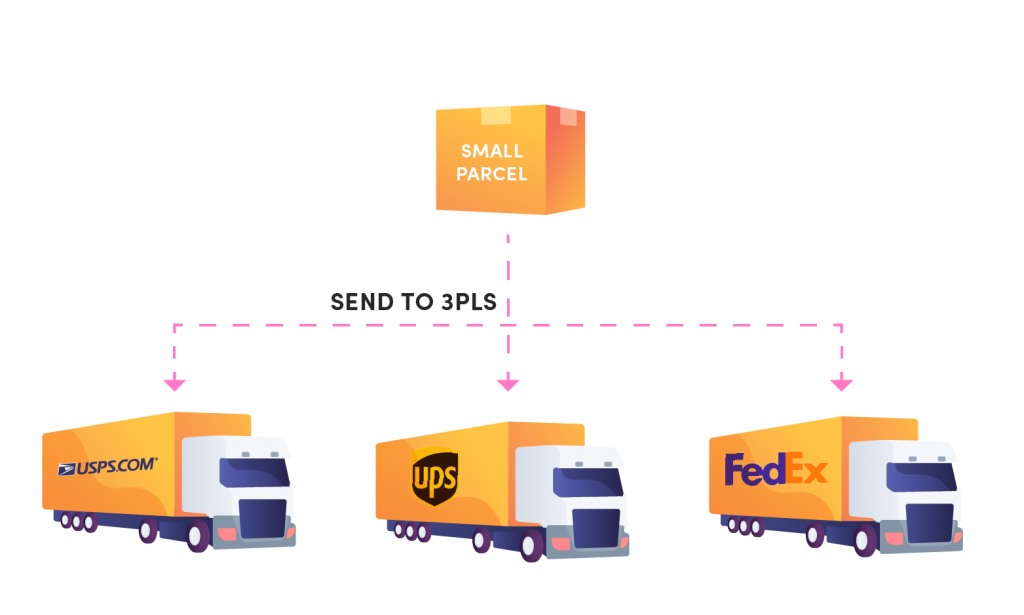 If you are shipping lightweight and small parcels from the US to Canada, it is expensive compared to heavy parcels. Under 5 lbs, USPS Flat Rate Boxes are a good option. USPS Priority Mail Express International delivers within 3–5 days when shipping to Canada. USPS First Class International is also a popular option. However, USPS transfers their mailings to Canada Post upon entry into the country.
Shipping heavy parcels to Canada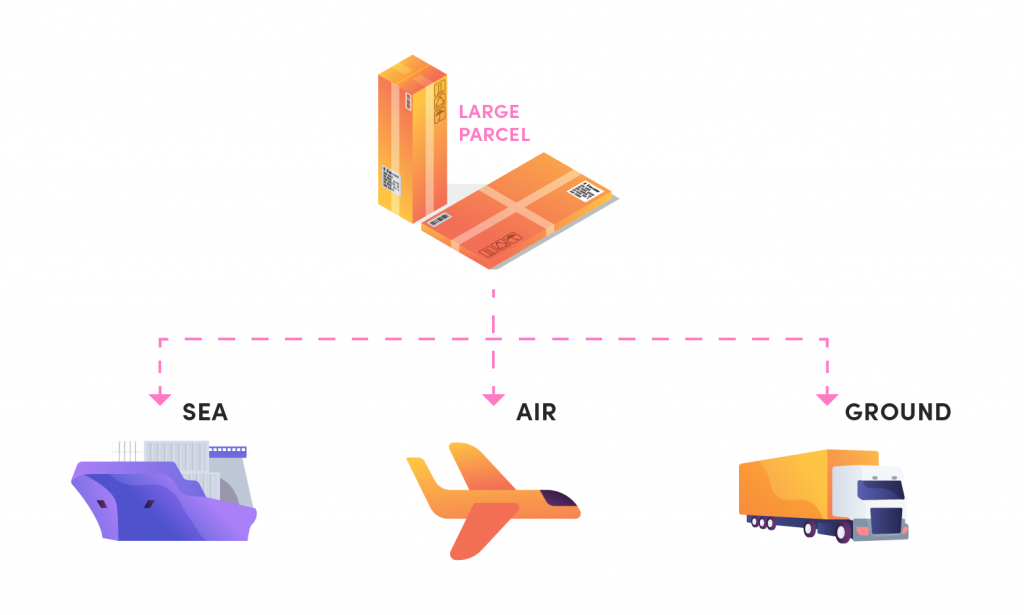 Heavier parcels are mostly shipped using trucks. A full truckload or FTL is used when your shipment needs an entire trailer and is bigger than six pallets. Less than a truckload or LTL is when you don't need an entire truckload but just a portion of it. FTL is faster and LTL is slower. Additionally, truck shipping is subjected to more clearance fees than air shipping.
Now, the next option is sea freight. There are two options for this – full container and less than container load. Sea freight is the fastest and the most expensive option here.
Another option is using air freight. The cost for this depends on the volume. Less volume is more expensive. More volume is less expensive.
Shipping heavier items from US to Canada cost a lot a lot too. In that case, a good way to ship from US to Canada would be shipping with UPS (over 70 lbs). You can also try FedEx International Connect Plus.
Shipping fragile items from US to Canada
Ceramicware, glassware, electronics and antiques are things that can be considered fragile. Shipping from US to Canada involves knowing the best way of packing. If you don't do that meticulously, your orders can be returned. This was also the leading cause of returns for 34% of people who returned it for packaging-related returns. For fragile items, the best service is UPS. They offer fragile packing services as well.
Note – It is imperative that you mention FRAGILE on the shipping label. Here's a detailed read on how to ship fragile items.
Best Carrier for eCommerce Shipping – For your eCommerce store, here's a quick comparison!
UPS is great for fragile and luxury goods. Check all the UPS international shipping options here.
Vs
USPS operates 24*7 and even makes deliveries on Christmas. They manage all customs and duties till they arrive in the destination country. Their order tracking is not as good. Check all the USPS international shipping options here.
Vs
FedEx is expensive. Their strongest part is their temperature-controlled fleet. They have a great order-tracking tool. Check all the FedEx international shipping options here.
So, what is the cheapest way of shipping from US to Canada?
These are the options when shipping 2 lbs, 5 lbs and 7 lbs packages via UPS from New York, USA to Kingston, Ontario.
The most popular one is UPS Standard.
USPS shipping from US to Canada. The most popular one is First Class Package International.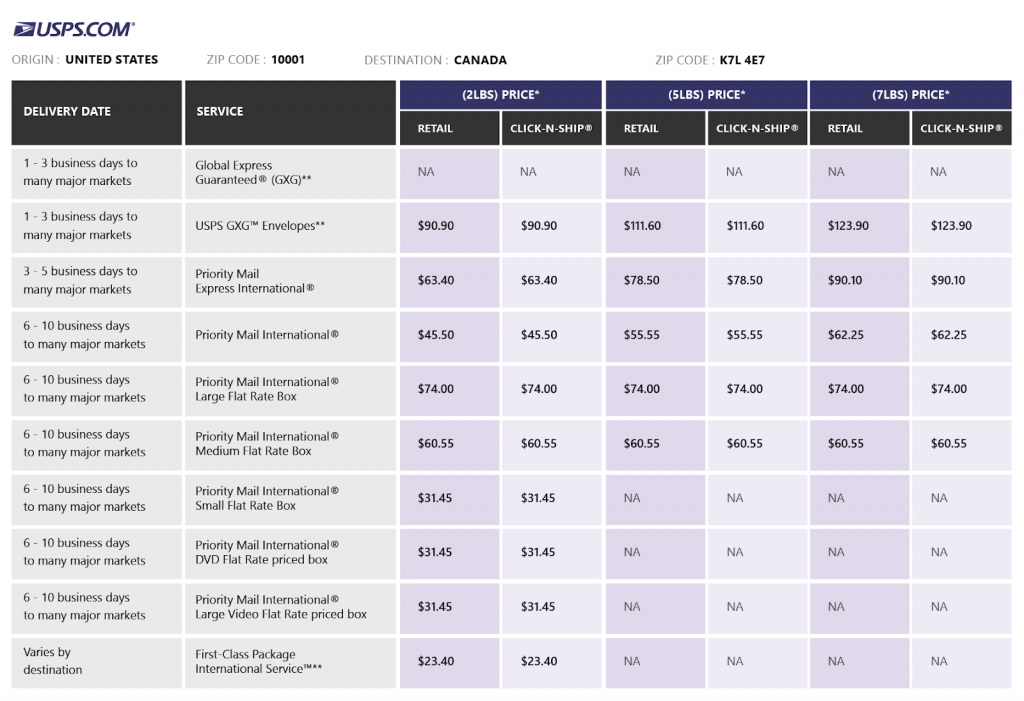 FedEx shipping from US to Canada. FedEx International Ground is what most businesses choose.

Among the above carriers, the best shipping service for eCommerce businesses would be USPS. Their rates are the cheapest. If you need your orders delivered in 2-3 days, go for UPS.
However, we recommend trying a different route. The cheapest and most reliable solution, we think, is a multicarrier shipping strategy. Use a national carrier to bring the shipment into Canada and follow up with a regional carrier to ship across provinces. A shipping estimate from ShippingChimp will give you a fair idea of how your costs are going to be within Canada. ShippingChimp also offers a branded tracking page which would further improve your brand identity. As we know, tracking is fundamental to eCommerce businesses and package tracking data can be leveraged in many ways.
When you are using multicarrier shipping, things can get confusing. This is where you'd need a shipping software that gives better visibility on tracking, easier management for multiple carriers, better control over deliveries and much more.
Now that you know about the carriers, let's jump to the taxes.
What to know about Canadian taxes and duties?
Before you ship your orders to Canada, know about USMCA.
USMCA
It is the United States-Mexico-Canada Agreement treaty that replaced NAFTA on July 1st, 2020. There is a minimum value of goods item below which no duties and/or taxes are assessed by Customs or a De minimis. The new Canada de minimis threshold is 150 CAD for duty and 40 CAD for taxes, only for shipments exported directly from the U.S. or MX (for CA only). Moreover, there is a part which states that some products might be passed duty-free if their production or manufacture is entirely in one country in the agreement
Customs
Basically, these are the fees that are charged when shipping products of a certain category to Canada. Health & beauty products, home appliances, and luggage will all have customs charges. Here's an example of the form on FedEx's website.
The Canadian Border Services Agency screens mail for tariff rating, trade facilitation, and checking for prohibited or controlled goods. Anything worth over $20 CAD will be subject to tax and duty and handling fees.
Taxes and duties may include –
Goods and Services Tax (GST)
Harmonized Tax (HST) – This combines both GST and provincial taxes in some Canadian provinces and Provincial Sales Tax (PST) – This is for provinces not covered by a harmonized tax.
Quebec Sales Tax (QST) – Used in Quebec province
Other fees –
Like handling fees and customs brokers' fees assessed by postal services or courier companies.
Who pays for these?
When the customer pays for it – Delivery Duty Unpaid. DDU shipments could be relatively cheaper for international shipping.
When you (the retailer) are paying for it – Delivery Duty Paid
Here's Rev telling you exactly how it is –
But don't cross that cross-border just yet, there are rules and you have to familiarise yourself with them.
Rules for shipping to Canada
Keep these in mind when making that final decision –
Get a Business Number. For paying business taxes in Canada you require a Canadian Business Number/tax ID number. This number needs to be registered with the Canada Revenue Agency (CRA). A business number is required for any company shipping goods worth over 30,000 Canadian dollars into Canada in four consecutive quarters.
You will need many documents. Some of the most important ones are – a bill of lading or BOL (for freight shipments), a Canadian Customs Invoice (only necessary when shipping items with values exceeding CAD 2,500), a Commercial Invoice (This is required when Shipping any package larger than a 16 oz. envelope. FedEx and UPS have this while USPS have the customs declarations on the label itself), Proof of Delivery (POD) and a  certificate of origin.
Do not ship items like Tobacco and lottery tickets. If you check the full list of prohibited items, you'd notice how a lot of items are also not allowed.
Printing labels for shipping from US to Canada
Make sure you have carefully printed the labels because there will be thorough checking. The documents required (BOL, a commercial invoice will be used to cross-check the item name, Product origin, Net weights and measurements displayed in metric units, The name of place of business and more). Check this to get an idea of how your labels should look like.
There is a way you can hire someone to do all this for you and that is the 3PL way.
Find a 3PL that will –
Make customs easier for you.
Negotiate the entry fee – FedEx and UPS can negotiate the entry fees for ground deliveries. Air deliveries do not have entry fees.
Obtain an import permit by working with a customs broker.
Help you get a business number
Can help you understand the Canadian market
Help you save on shipping cost from US to Canada
Shipping from US to Canada using ShippingChimp
A shipping partner like ShippingChimp makes it easier for you to ship orders at an affordable rate across the US and Canada. All in all, you can save up to 53% on shipping costs. Our AI Rate Analyzer compares 56+ data points to get you the best rates and has a mix of national and regional carriers for you to choose from. If you already have a multicarrier shipping strategy, we make it extremely easy to navigate deliveries by picking orders from all your different carriers by ourselves.
Overall, there awaits a rewarding opportunity on the other side of the border if you know the things and pick up the right shipping carrier. There are many confusing paths like guestimating shipping costs which you do not want to take. The right way would be to invest in good carriers and great shipping software. The US-Canadian trade route is full of opportunities. Embrace all the opportunities it has to offer.
If you liked this one, you'll find our piece on the cheapest shipping from Canada to US mighty informative.