Tracking is the heart and soul of an eCommerce brand owner's shipping strategy. That's what we say to every client who asks about the scope of growth through delivery tracking for modern eCommerce businesses.
A survey by Optimo Route revealed that around 87.4% of customers said that real-time order tracking made their buying experience more enjoyable. When most people focus on same-day and next-day deliveries, experienced people know that predictability trumps super fast delivery. Simply put, tracking makes the life of your customers easy and helps your business too. Package tracking data is a goldmine (ugh, cliche but true) of information when it comes to optimising your shipping strategy and taking your business to new levels. Now, most people in logistics would echo these words in a heartbeat. It is because they know that brand owners mostly ignore the importance of package tracking data. Let's understand this seemingly simple subject on a deeper level. Get your coffee ready.
The big shift
In the post-pandemic era, there is no need to read between the lines in logistics. The stats speak loud and clear that there has been a big shift. This demanded the entire last mile process to be more efficient, transparent and yes, predictable. After two years of unnecessary delays and several lost packages, the consumers now choose to opt for companies that not only have good products but an excellent tracking mechanism in place. But, is that enough to make you go get.set.track?
Why do we need to manage tracking to the best of our abilities?
In this digital age, it takes only a click to change the game. A proper tracking system not only lets your customers know exactly where their packages are but gives you an exact idea of how your business should be optimised.
It all started in 1979 when FedEx created the first system for parcel tracking. This enhanced their customer service. Today, every courier provides a parcel tracking solution. FedEx continues to inspire other carriers in this area. It recently announced a partnership with Fourkites in order to build a smart process. It will be called FourKites X and the new platform aims to reduce supply chain volatility and give better ETAs. But not just FedEx, companies like us take special care of the ETA part by providing tracking notifications. Imagine, being a Canada-based company with the primary area of expertise in Ontario, a solution like ShippingChimp not only gives you valuable package tracking data to work on, it gives you the ability to make informed decisions. No, don't hurry reading ahead. We urge you to spend a moment thinking about it.
Why it matters to your customer
Tracking data is accessed via a tracking number or a unique set of letters and numbers assigned to every new shipment by the courier. As we said at the beginning, it is a win-win for both your customers and your business. Here's why package tracking data matters to your customer:
Simpler fulfilment – If you are new to shipping, you'd notice how nothing is surface in logistics. Costs lead to more costs and that means a longer invoice. To simplify this over-complicated process, leveraging tracking information is a good way. Having all the information with you results in fewer unhappy customers and makes your job as an eCommerce brand owner, easier.
Improving predictions – It's no secret that delays affect the delivery date in a negative way. It's not just the risk that the product might get damaged or lost but when your customers have to ask 'Where is my order' again and again, soon they would want to stop asking or dealing with you altogether. Package tracking data helps in improving predictions. Period.
Costs – It is not just about the 'Where is my order calls' that you are dealing with, it's the associated costs that come tagging along with them. The process is expensive. With package tracking, you have a mechanism that not just reduces the complaints but protects you from unnecessary costs.
Encourages repurchases – A happy customer will stay with you. Having a proper package tracking system in place allows you to promise a strong delivery system which eventually leads to happy customers. Finding a broken tracking link will be disappointing your customers at the highest possible level. A report from MetaPack reveals that 96% of consumers will shop again with a retailer who provided them with a great delivery experience from the checkout page to receipt of the item. Remember, you are only as strong as your least happy customer.
Builds trust – Okay, imagine your carrier shows up at the door of your customer a few days early only to find that they are out of town. That doesn't make you look good at all. Predictability exceeds super-fast delivery and builds trust.
Set expectations – Clear tracking information sets reasonable expectations for your customers. Wrong expectations and difficult unattainable timelines can tarnish your company's image. It is better to set the right precedent with proper information.
Removing post-purchase palpitations – Post-purchase palpitations are real. Your customers would expect the tracking information as soon as they make a purchase and the more information you give them, the better.
This brings us to our next segment –
What should an eCommerce brand owner do when it comes to package tracking?
Here are some ways you can build a better experience around tracking.
Automation of delivery notifications – Your job as a founder is not only to introduce the world to innovative products and products that make lives better, it is to help your customers discover the true value of your product and this involves building an experience. One way you can do this is by automating delivery notifications.
Display delivery details – As soon as your customer makes a purchase, display things like address and date clearly when it comes to package tracking. Leave no room for error and make this process as effortless as possible.
Branded Tracking Page – A simple tracking page gets half the job done but a branded tracking page makes sure you leave no stones unturned. Having a branded tracking page instead of a carrier site improves engagement.
The Takeaway for your eCommerce brand
The eCommerce ecosystem is growing faster than ever. At the center of the shopping experience is the delivery expectations. With comprehensive package tracking data, you make smart decisions for your business. An option like ShippingChimp takes care of everything when it comes to tracking. An end-to-end shipping solution improves the post-purchase experience. As a newbie to this world, your first step should be to invest in making deliveries faster and better, and as an experienced player, your first step should be optimising package tracking data and treating it like the goldmine it is.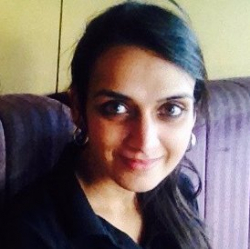 Latest posts by Revathi Karthik
(see all)