If you're running an eCommerce store in 2022, you cannot simply stick to a particular region. To scale your business and to amplify your outreach, you should explore new boundaries and markets. However, with an international eCommerce strategy comes the responsibility to execute international shipping and tracking.
In fact, Amazon suggests eCommerce stores include unique international package tracking numbers in the confirmation emails to avoid a lack of clarity. International package tracking should be part of any eCommerce store that's looking for global scaling.
Are you confused about international package tracking? This article will clear all your doubts. Let's get started.
Why does International Shipment Tracking Matter?
As an eCommerce store merchant, you may wonder, "why does global shipment tracking" even matters? To build trust and reliability. When you're sending a package from one part of the world to another, doesn't it make sense to keep the customers posted? Don't forget that the customers have paid their hard-earned money and very evidently they would like to know the status of their shipment package.
From a customer's perspective, the most crucial thing is ensuring that the product reaches the pre-informed delivery date. If customers can monitor the movement of their shipment package, it will only increase their satisfaction level and establish transparency. For any eCommerce store, customers' trust and transparency are the two most essential factors.
Also, remember that a worldwide package tracking facility is equally important for the manufacturers and online stores. It is a reliable source to collect a large volume of consumer data that they can use to create a personalized shopping experience.
Here's why international shipment tracking is a must:
It can provide the store owner and the customers with complete peace of mind. With real-time tracking, the customer will stay engaged and will purchase again from your store. The eCommerce store owner in turn will enjoy long-term customer engagement and increasing revenue.
eCommerce tracking will ensure an effective mode of communication between the customers and the eCommerce stores. This open communication is a must to create a proper shopping experience.
You may acquire a lot of customers but poor tracking will make them question your reliability. The result? High customer churn rate. On the contrary, keeping the customers in the loop and providing them with seamless international package tracking features would mean more trust and a long-term association.
Want to reduce all those excess expenses? Global order tracking is the solution. With this feature, eCommerce store owners will have a clear idea of their logistics process and what is to be done to expedite it. This further means a clear idea about the possible expenses involved. So what does this imply? No more last-minute expenses and excess costs.
How does Shipment Tracking Work?
Shipment tracking is all about monitoring a particular package in real-time while it moves from the source location to the destination. The common practices to ensure smooth shipment tracking are as follows:
Courier companies provide a tracking number to the eCommerce store
They pass on this number to their customers through the order confirmation email
Customers can use this tracking number to track their shipment packages till it is delivered
These are the three universal steps that majorities of eCommerce stores follow during their shipment tracking process.
How can you track a package?
The process of tracking a shipment package is pretty the same. Customers can follow the same steps to track their packages in real-time, whether it is an international package tracking or a domestic one. Here are the common steps to follow:
Log into the eCommerce store account
Insert the tracking number
Next, click on "Track"
Only these three easy steps and you're all set. This is the standard process to track a shipment package. Make sure that you communicate these steps to your new customers to establish maximum clarity.
International Shipment Tracking Services by Different Courier Companies
Now that you have a fundamental idea of what is international shipment tracking and its significance, let's move ahead to the top 3 courier companies. We are talking about USPS, UPS, and FedEx and how their international delivery tracking service differs. Here's an evaluation:
Global Express Guaranteed
Priority Mail Express International
Priority Mail Internationa
First-Class Mail International
UPS Worldwide Express Plus
UPS Worldwide Express
UPS Worldwide Saver
UPS Worldwide Expedited
UPS Standard
FedEx International Mail
FedEx International First
FedEx International Priority
FedEx International Next Flight
FedEx International Economy
FedEx International Ground
Simplify international parcel tracking with ShippingChimp
eCommerce stores out there, note that you don't always have to manage international shipment tracking internally. Why take all these extra burdens when you can get it done smoothly with a simple tool? We're talking about ShippingChimp. This tool can help you throughout the worldwide package tracking journey.
Here's how:
With ShippingChimp by your side, you don't need to worry about where the order is or has reached the customer, or if the customer is able to track their shipments. We have got you covered. We can help eCommerce stores to create branded live tracking page with complete visibility and timely notifications.
Do you receive WISMO queries a lot? That clearly means that there's a backlog in your current global order tracking process. ShippingChimp can provide your customers with the level of clarity they want to ensure that shoppers are getting regular updates on their parcels and the WISMO queries are declining.
Go for a strategic and data-driven shipping process. ShippingChimp will help you access a large volume of customer data. You can easily leverage these datasets to reduce excess shipping costs and optimize the last-mile delivery process.
To know more, start a free trial now.
Final Words
We hope to have some clarity on the dos and don'ts of international package tracking and its significance. Newbie stores, don't forget to focus on international package tracking from the very first day of your eCommerce journey. It will help you grow faster and ensure a high level of customer satisfaction.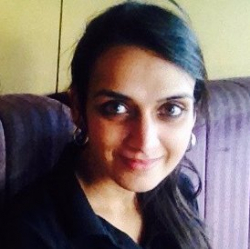 Latest posts by Revathi Karthik
(see all)