The current pandemic has disrupted the state of eCommerce. It has induced a massive surge in online orders pitted against clogged last-mile fulfillment network. Even major carriers such as FedEx, UPS, or USPS are struggling to deliver on time. So much so they have suspended guaranteed services. Leaving retailers even more clueless with no visibility into their shipments.
In this article, we discuss the most compelling reasons for eCommerce businesses to track USPS, UPS and FedEx shipments that include:
Ensure shipment visibility and accountability
Communicate order-delivery updates in real-time
Predict delivery exceptions such as delays
Proactively handle delivery exceptions
Unify data from disparate systems
In order to regain the trust of customers and keep them coming back, real-time tracking of FedEx, UPS, and USPS shipments is crucial. Here are the reasons:
Ensure shipment visibility and accountability
Your customers expect visibility. As a retailer, your principal concern should be to retain their loyalty and trust.
Hence, it's best to alleviate all their stress and concerns pertaining to deliveries. There is always uncertainty involved when customers place an order. If they can rest assured that about their package whereabouts at all times, they'll look at your service as transparent and reliable.
Communicate order-delivery updates in real-time
Did you know that majority of customers expect the ability to monitor and track orders through every step of the process? And in case that fails for whatever reasons, you'd need a solid back-up agenda to fall back on.
Armed with real-time updates and relevant details you can meet your customer expectations effortlessly by being transparent and keeping all lines of communication open. It also implies that you are innovative, current, and have your pulse to the latest technology. With this in mind, it will encourage your consumers to keep backing back to your online eCommerce business for more. Track your FedEx, UPS, USPS shipments in real-time here. Simply enter the tracking number to know the delivery status.
Further, customers also like to feel like they are in complete control of their purchases. Tracking packages provide a vital capacity in offering your shoppers tracking details to use themselves since they are trusting your business with sensitive personal information.
Predict delivery exceptions
Delivery exceptions happen when a package is stalled temporarily in transit for an unforeseen reason. According to the National Retail Foundation, 93% are more likely to shop at a certain retailer based on convenience. With an efficient shipment tracking system in place, you can easily predict certain delivery exceptions and delays. When your customer receives delivery alerts, they are convinced that you have complete control over last-mile shipments.
Package tracking allows you to have the upper hand. Monitoring the deliveries and accurately predicting any delays is also one of the key performance indicators for an eTailer to improve customer retention and ensure satisfaction.
ShippingChimp enables notifying customers of delivery delays even before they occur. This demonstrates that your brand truly cares for customers. In addition, the alerts set the right delivery expectation among the anxious customers.
Proactively handle delivery exceptions
When you can forecast issues about the deliveries you can also proactively and instantly work towards solving or addressing the issue. Delivery exceptions will result in delayed or worse undelivered packages and frustrated customers. While they are often unpreventable and always unintentional, they are still a point of frustration.
Hence it's always wise for eCommerce businesses to be prepared and deal with delivery exceptions as proactively and as effectively as possible. Even if you are not able to act, you can get in touch with your customers, apologize for the potential late shipment, and express your gratitude for their patience. Any opportunity to turn a potential suboptimal situation into a well rounded positive experience will definitely be remembered.
Unify data from disparate systems
Running an eCommerce business requires a central command system to make everything work together efficiently while integrating data from disparate sources. In the erratic and disjointed app ecosystems that power a lot of modern eCommerce operations, there are various limitations to working with data from disparate systems:
Multiple product data stores: Product information needs to be created in at least five different systems: the shopping cart, order management system, accounting system, analytics application, and warehouse management system.
Information duplication: Online retailers have to take the orders from the shopping carts, manually enter them into the accounting system, and then enter them again into the order management system. It's quite a task.
Disparate data stores: Data and insights tend to be isolated which inhibits data from easily moving into one app from another and creating actionable intelligence.
Unstructured shipping data: Most of the shipping data enters your internal-system in different formats from various sources. Processing and analyzing this data is tedious. Especially when a manual entry is involved. There are bound to be errors and gaps in the entries. ShippingChimp acts as a cloud-based repository of all your shipping data. Structured data will lend the ability to fine-tune your last-mile service.
These are the reasons why you should actively look at options for unifying data from disparate systems to keep your business running at its best. Leveraging the power of deep and self-learning algorithms you can handcraft an exceptional delivery experience to your customers.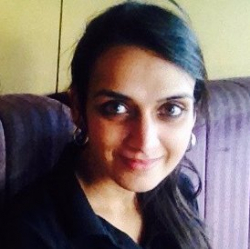 Latest posts by Revathi Karthik
(see all)