Canada is the second-largest trading partner for the US after China. More than two billion people bought services and goods online in 2020, with Canada occupying 10th place. Canada serves as a potential and affordable market to break into for e-commerce vendors. Due to the two countries sharing borders, it is even easy to carry out cross-border shipments without hassles.
Cross-border shipping can be confusing if you opt for it for the first time. That is why we have prepared this guide for you. We will discuss the different and most apt shipping carrier options for US Canada shipping, customs duties and taxes, factors responsible for slowing down shipments, and how to fill up custom forms.
Let's dive in!
Canada shipping provider options
There are multiple shipping providers in Canada that provide cross-border and international shipping. Let's have a look at some of the best in the industry.
USPS
USPS is a good option if you are shipping from the US to Canada. It is popular among shippers for its flat rate shipping policy. There are multiple locations available in the US for dropping off the shipments, so there is easy accessibility for all. You can simply drop off the packages in the mailboxes, and the carriers will take care of them.
USPS is an inexpensive option for shipping from the US to Canada. They offer priority mail express and global express guaranteed for time-sensitive shipments that guarantee delivery within 5 and 3 business days.
Even if it is a suitable option price-wise, there is a drawback if you are looking for speedy shipments. The Canadian shipments are transferred to Canada Post only after they arrive in Canada. This can take a few extra delivery days for customs clearance, including applying for a new tracking number supplied by Canada Post.
UPS
UPS is a great choice for Canadian shipments that must be delivered fast. They offer overnight shipping to Canada from the US. With UPS Worldwide Express Plus, UPS Worldwide Saver, you are eligible for next business day delivery.
Canadian shipments are directly tracked and picked up for delivery through UPS tracking system without transferring to Canada Post, eliminating any time-consuming activity. The shipments are delivered faster than USPS. But it can be expensive for you if you deliver more than 10 pounds.
FedEx
FedEx is well-known among the shippers for its excellent tracking system and speedy shipments delivery. They have a vast logistics network worldwide that contributes to offering rapid services. Similar to UPS, FedEx also delivers Canadian shipments overnight. For less urgent shipments, FedEx International Ground to Canada is a good choice.
Like its competitor UPS, FedEx can also be pricy if you deliver shipments that weigh over 10 pounds. Here's a list of top 10 eCommerce shipping companies in 2023.
3PL (Third Party Logistics)
Shipping from the US to Canada can be daunting if you have never done it before. That is why there are 3PLs available to make your shipping experience easier. 3PLs are popular among e-commerce vendors to manage their logistics and fulfillment operations. They offer services to store your inventory, order fulfillment while also giving significant discounts. 3PLs can also help you fill up custom forms and connect you with other international partners.
Taxes and Customs – Things you Must Know
Shipping from the US to Canada can be expensive as it comes under international shipping. In addition to paying for the carrier services, you have to also spend on custom duties, taxes, and tariffs.
You may be subjected to the following taxes and customs while shipping to Canada.
Goods and Service Tax (GST)
Harmonized tax (HT) is a combination of GST and some provincial taxes in Canada.
Provincial Sales Tax, for provinces that HT does not cover.
Quebec Sales Tax.
You can find the full list of applicable taxes here.
According to CBSA, there are certain exceptions to GST, which include;
Items valued at $20CAD or less, excluding intoxicating substances like cigars, cigarettes, tobacco, and goods that split into multiple shipments and publications where the supplier is registered under the Excise Tax Act.
Gifts sent from outside Canada with a value under CAD 60 have to be exclusively labeled as gifts.
To meet the exemption criteria under CBSA, sellers should confirm their shipments. Please note that mislabelling items (accidentally or intentionally) to meet the exemption criteria can result in penalties.
Apart from customs taxes and tariffs, you may have to prepare yourself for various fees that include surcharges while shipping to Canada. For example, Canada Post charges a handling fee of CAD 9.95, contributing to an unexpected rise in price.
3 Factors that contribute to delayed shipping to Canada
In spite of you trying your best to accelerate your shipping process to Canada, certain factors can slow down your shipments. Here are some common factors that can contribute to delayed shipping to Canada-
Canada Post handling
If you are shipping from US to Canada using USPS, you will experience an extended shipping time while handling your shipments to Canada Post. While you hand over your shipments to Canada Post, there will be extra time consumption in custom work. Moreover, Canada Post generates a new tracking number for all your shipments. This may take up to a few days, slowing down your shipments. However, there is no such delay if you use other carrier services like UPS or FedEx. Here's a more detailed read on shipping with Canada Post in 2023.
Custom handling
Custom duties and handling can significantly contribute to delayed shipping to Canada. Generally, it can take up to a week to clear custom duties. Sometimes the shipments are kept on hold for as long as a month. This can happen due to many reasons, mainly if there are any discrepancies on the documents. To avoid causing any dissatisfaction to your customers, you should issue a note stating that customs can delay delivery.
Environmental Conditions
Environmental factors like snow, sleet, and other extreme weather conditions can delay shipping to Canada. Canada is known for its harsh winters. In extreme snowfall, many roads are blocked posing a disadvantage to your shipments. Make sure that you promise the delivery date after considering various weather conditions.
Customs forms for shipping to Canada from the US
For shipping from the US to Canada, you need to fill up some forms for customs clearance, and we are here to talk about that.
If you are shipping to Canada using USPS, the customs declarations appear on the label, so you do not have to fill out additional forms.
Commercial invoices for international shipments are required if you are shipping to Canada using FedEx or UPS. However, you can also submit these electronically via EDI or ETD.
UPS offers EDI or Electronic Data Exchange through which you can directly transfer business documents without involving any paperwork. You can easily update package, billing, and tracking information.
With the help of FedEx Electronic Trade Documents, you can transmit your custom documents electronically, saving you from the time-consuming activities of manual signing, folding, stuffing, and attaching documents to each shipment individually.
Wrapping up
Canada is a highly profitable market to break into. With its territories bordering US, shipping from the US to Canada is fairly easy, with multiple shipping carriers offering priority-based shipping for speedy delivery.
If you are flexible with your shipment time and without urgency, USPS would be the most suitable and cost-effective option for you, but if you need to deliver at a faster rate, UPS and FedEx would be the best option for you, though at a higher price.
Even if you take all the necessary steps to speed up your shipments, please remember to communicate to your consumers that shipments can be delayed due to certain unavoidable circumstances. You never know what happens during custom clearance or how harsh the weather conditions will be. If you want to read more about this topic, here's our latest blog post on how to ship from US to Canada.
Good Luck!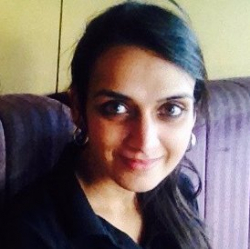 Latest posts by Revathi Karthik
(see all)