The onslaught of the Coronavirus outbreak completely upended our lives and disrupted business as usual. With worldwide lockdowns, we are now certain that this will essentially be one of the key defining events of 2020, its impact continuing well into the near future.
Now, as consumer behavior and preferences continue to be driven by circumstantial changes, is the time ripe for brands to reconsider priorities?
The visible change due to the COVID is a decline in the luxury shopping substantially, it has almost brought the non-essential item sector to a halt. Retailers, on the other hand, are often having unprecedented difficulties coping with the rapid change and responding to the highly volatile socio-economic situation. Presently, they must come to terms with new realities.
Most of the existing retail marketing strategies may soon become defunct. Faster than ever before, consumers are becoming aware and apprehensive of their splurging habits. Apart from being stressed by the deteriorating economic conditions, they are also fearful about their community's health and wellbeing. In turn, this is turning the tables in favor of eCommerce.
In this context, the following are some insightful statistics:
Research from Digital Commerce 360 reveals that almost 58% of online shoppers expect to conduct online purchases in the coming months.
A report from Kantar states that almost 60% of EU consumers will continue to purchase things online at the same scale and rate after the outbreak.
People have reduced their daily/weekly trips to grocery stores and supermarkets. Instead, they are just bulk buying or stockpiling. That too mostly house supplies and medical essentials.
Key Changes in Consumer Behavior
As such, the eCommerce sector had been growing for a while. Yet, recently, in 2019, in the US alone, almost 56% of overall retail growth was accounted for by a staggering $600 billion in online sales. Now, in the post-COVID times, the likes of online grocery stores are experiencing an even greater surge in demand.
Inevitably, the changes that this pandemic is bringing into consumer behavior will also have implications for how we conduct businesses. However, first, retailers need a proper understanding of the changes that are coming through in the wake of the biggest global health crisis in recent times.
Proactive Health-Minded Shopping
Evaluating their health, maximizing well-being, and minimizing the threat of diseases will become the top priorities for most customers in the new normal. Indulging in safety-oriented shopping practices, most shoppers would rather buy from their living rooms than go out.
Impact on sales of health products due to the pandemic.
Moreover, there's a rising demand for general healthcare products, especially those that help prevent contamination and infection—gloves, face masks, and so on. Alongside the health consciousness among consumers, these changes are also expected to stay even after the pandemic is over.
Shift to Omnichannel and Digital
Instead of one, businesses are simultaneously relying upon multiple channels to maximize conversions and profits. Indeed, the rate at which COVID-19 has pushed marketers online has remained unmatched in the past.
Strengthening the already rising focus on customer-centric strategies, COVID-19 is causing a digital revolution in customer relations. While customers are increasingly engaging across multiple touchpoints—Facebook, Instagram, e-Mail, SMS—the demand for cloud-based solutions like CCaaS (Contact Center as a Service) is rising. Furthermore, there's higher adoption for drive-throughs, curbside pickups/deliveries, and so on.
People are Shopping Consciously
Looming uncertainties and dwindling finances are compelling people to focus on essentials and basic needs. Attaching tremendous value to how and where they spend their money, consumers are becoming highly conscious in terms of purchase decisions. They are not shying away from availing discounts and offers from online shopping as they hunker down for a prolonged period of financial insecurity and uncertainty.
Increased Spending on Indoor Entertainment & Groceries
Spending more time at home, consumers are spending generously on entertainment avenues like OTT platforms, as well as stocking up on essential supplies and groceries. As public spaces of entertainment and rejuvenation remain out of bounds, indoor entertainment is often the only way out. Since this is effectively changing peoples' long-term habits, a part of these new ways may continue even after the pandemic.
Veering Towards Digital Payments
Presently, health is the topmost priority. Contactless payments and deliveries are crucial for the new normal, representing a cleaner, safer way of buying and selling. As Cash on Delivery (CoD) is being rendered obsolete due to safety concerns, companies must definitely offer digital payment options. Case in point: Paypal's stock price has skyrocketed by up to 40% due to the pandemic.
Retailers who resort to this—along with effective shipment and delivery services—are likely to experience and be overwhelmed by a surge in demand for contactless, last-mile package delivery.
Final Thoughts
Grappling with uncertainties, consumer behaviors and choices are becoming increasingly erratic, alongside newer habits and innovations. Riding on technological advancements and drastically-changing demographics, people are finding newer ways of coping with the new normal.
In this context, retailers who courageously pivot to accommodate the behavioral changes will deliver holistic customer experiences and emerge as post-pandemic market leaders. While the retail sector might experience the first downturn since the global recession, those who act on the current opportunity and take on the challenges head-on will stay afloat.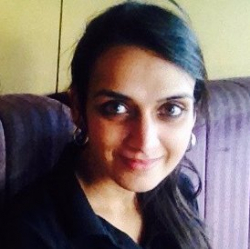 Latest posts by Revathi Karthik
(see all)