eCommerce brands are obsessed with customer journey:- from the moment a prospect lands on your website till checkout. In order to attract more shoppers and make them click the magical buy button, eCommerce businesses keep re-inventing their acquisition framework. However, after checkout, the communication comes to a complete standstill.
When buyer anxiety is at the peak, brands do very little to alleviate. Instead shoppers are left to the mercy of third party shipping carriers. In this article we deep dive into why it is crucial for eCommerce brands to look beyond the buy button.
Here are the topics covered:
Why must eCommerce brands look beyond the buy button
List of actionable strategies to improve post-purchase experience
Fielding "Where is my order?" calls
Reimagine post-purchase experience
Offer greater visibility into the returns process
"For most retailers not named Amazon, the opportunity to differentiate themselves comes down to customer experience"

Source
Why must eCommerce brands look beyond the buy button?
"Customer experience" has almost turned into a cliche in recent years. But shockingly the process of crafting an amazing customer experience has remained a mystery to most eCommerce businesses. And when it comes down to incorporating best practices, eCommerce businesses are clueless. Post-purchase experience is a huge differentiator for eCommerce businesses.
Actionable strategies for brands to improve the post-purchase experience
Here is a list of actionable strategies that eCommerce businesses readily adopt:
Fielding "Where is my order?" calls
According to research conducted by Metapack, 70% of online shoppers consider the ability to track their orders in real-time. Almost all online shopping sites publish the estimated date of delivery at the time of checkout. Every time, order delivery is delayed shoppers reach out to you and not your shipping partner. With the rise in order volume, the customer support team is flooded with 'Where is my order" calls. Every time a customer complains about an impending order it costs your business $5.19.
Not only that, when your customer support team is unable to come up with a satisfactory response, your customer will surely choose your competitor. An in-built real-time order tracking facility with your helpdesk can easily fix the problem. Moreover sharing timely delivery notifications with customers can deter them from contacting your customer support.
Reimagine post-purchase experience
It is crucial for retailers to own the branding and messaging of the last-mile delivery experience. They cannot afford to relinquish control to their shipping partners. There is a deluge of shipping data that can be leveraged to strategize an efficient last-mile delivery process.
Based on your customers' purchase history, you can recommend products or announce an upcoming sale on your branded order tracking page. This serves as an additional engagement with your customer. Moreover, with hyper-personalization, you can easily instill fierce brand loyalty and drive repeat purchases.
Tumi, a luxury luggage retailer transformed its customer support with the help of technology. They sped up their response time by incorporating an integrated approach. Also, they started responding to customer queries with more context by pulling up their order history.
Greater visibility into the returns process
Easier returns process. Return process with more choices. That's all your online shoppers need. Online shoppers are largely swayed by the flexibility of the returns process. Would they want a refund cheque or would they consider an exchange?
On the other hand, as retailers, you need to stay on top of what product is coming back to your warehouse. And ofcourse in the long run you need to figure out why certain products are returned more often. Invest in a self-serve portal for customers to file a return request and automatically generate a return label. Offer quick and easy returns.
When in doubt, go that extra mile. In addition to creating a detailed return process that outlines every step, Bonobos created a video. Here's Bonobos information on how to return their product. Learn how to create the perfect returns policy.
Final Thoughts
While the pandemic will most certainly end at some point, many of these changes are long term and will continue to affect the way business is conducted around the world. Go omnichannel or go home is the maxim for the new world. But first and foremost, don't forget to be agile and flexible. That's key when you're dealing with something as unprecedented and historic as a global pandemic.
This is an opportunity that every player in the industry, minor and major must seize and leverage to the best of their abilities. While pondering upon the above-mentioned practices, you must never stop being innovative and fighting relentlessly to safeguard all that you've built over the years.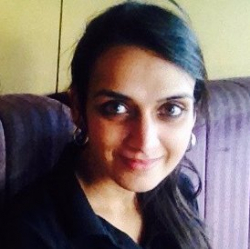 Latest posts by Revathi Karthik
(see all)