In the highly competitive eCommerce market, a brand's ability to provide customer experience (CX) makes a huge difference. Convenient product listing, seamless check-out, timely/personalized shipping updates, and on-time delivery are the major determining factors. Particularly, CX is crucial when it comes to shipping notifications.
Lets understand what are shipment notifications.
Shipment notifications are emails sent to shoppers to communicate the exact location of the order.
A study on customer experience shows that 70% of retailers think it is vital to enhance "bidirectional communication" or provide notification to customers about shipping, parcel tracking, and the estimated delivery date.
Real-time shipping notifications let customers know the latest status of their orders. It can also improve the customer satisfaction quotient. Providing shipping updates may just do the job of keeping customers happy.
In this article, we will discuss why it is critical to provide updated shipping notifications to customers and its benefits.
Make your shipping alerts proactive
During any potential shipping delay, taking a proactive approach is ideal instead of a reactive one. It means to notify your customers about potential shipping delays in advance. Do not wait after the delay occurs and the buyer contacts customer care over the phone or chat.
Think about how Amazon informs its customers when they order an item. The retail giant provides the latest updates on their packages. The updates tell customers where the package has been and when it is likely to arrive.
It is surely a best practice to notify proactively about any limitations, which could cause shipping delays, such as transport issues, processing errors, or anything else.
Adidas Specified about the Potential Shipping Delay on Check-Out Page (Source: nngroup.com)
Instead of notifying customers after they place an order, this proactive approach can work well.
Another way of giving shipping notifications is by adding a banner message at the top of the page. It can be effective as long as the banner is eye-catching. You can send relevant shipping notifications using emails and SMS for the current updates when available.
Although email is a widely used method for notification, not all customers check emails frequently enough to view shipping updates. Messaging and SMS channels are better for providing immediate updates, keeping things transparent, and reducing buyer's anxiety.
Offer 360 degree visibility into Shipments
Shipping notifications should grab the attention of customers visually by either sending a personalized email or SMS with a catchy subject line or placing a prominent message on your store's page.
It would be ideal to send both email and post a message on the store so that customers do not have any confusion. Particularly, during emergencies, your site should post a discoverable message about the potential shipping delays.
Also, similar to Amazon, you can show a visible status of the shipment through your website and app. Here is an example:
Amazon Shipment Visibility (Source: The Daily Dot)
If customers click "See all updates," they will view all the touchpoints of order during the shipping.
Besides, you can send an email apologizing for the delay similar to this (example):
Shipping delays may not be welcoming for customers, still, timely notification and the visibility of the order status will reassure them, and reflect positively upon your company.
You can ensure providing the latest shipping updates to your customers by leveraging technology and streamlining the process for better efficiency.
Alleviate buyer's anxiety
When customers order an item, they feel excited due to a potential sense of ownership of a product their desire. However, any shipping delay and lack of communication from the retailer may lead to buyer's anxiety, and for longer shipping delays, buyer's remorse.
When customers track the whereabouts of their order through the eCommerce store, it does not help in neutralizing the pre-purchase anxiety.
By providing more updates about the package, it increases the "endowment effect," a term coined by the Nobel laureate Richard Thaler. It is a cognitive bias towards something and an intense desire to own it.
In simple words, after placing an order, customers feel both discomfort and a high level of excitement. When the delivery person rings the doorbell, the euphoria reaches a higher level. However, if there are shipping/delivery delays, and customers are clueless about their parcel's whereabouts, the excitement will become subdued. The reason is the joy and excitement of owning an item are greater than the joy of just anticipating its arrival.
This is where timely shipping notification does its job.
The following Chewy autoship delay email is informing a customer about the potential out-of-stock situation and shipment delay, and requesting the customer to place the order sooner to avoid further delay.
Chewy's Potential Late Shipment Notification (Source: nngroup.com)
Similar to many eCommerce stores, you can also send automatic shipment notifications to keep customers in the loop in every scenario, such as depleted stock, shipping delay, or rescheduling the delivery to mitigate their anxiety.
Minimize Returns
Keeping your customers informed about the whereabouts of their orders with regular shipping updates helps to minimize the rate of returns after the product is shipped.
When you send on-time shipping notifications, many customers will understand the reasons for any delay, and wait. Some customers may still return the product, even after proper notification. However, the overall rate of return is likely to be lower.
The following actions will help to minimize the chances of returns:
Before shipping high-value or COD orders confirm with the customers: It is important to contact the customers who place high-value or COD orders to confirm if they will go ahead with the order. If a customer is not available or cancels a COD order, it results in substantial losses and inventory issues. Also, you can check your historical data while shipping high-value orders from an area that has a high rate of returns. Before shipping, confirm the order and mode of delivery with the customer via phone or email.
Timely shipment processing: Well, this is a no-brainer. Try to process shipments of all the orders as fast as possible. Coordinate with your shipping carrier to process orders at your end without any delay. If there is a shipping delay due to unavoidable circumstances, notify your customers right away.
Specify the estimated delivery date: The estimated date of delivery gives an idea to customers about the timeframe to receive the order. If a customer needs the order quicker, he/she will not place the order, and customer satisfaction will remain intact. Try to keep the process transparent so that customers can make wise buying decisions and help you reduce their return orders.
Build a memorable brand reputation
If you have an eCommerce business, the efficiency of your shipping process, including the notification system, can largely determine your brand reputation.
Regardless of whether you have partnered with the best shipping carrier in the world, if you do not follow the golden rules of shipping, customers will mark your brand down. A survey by Mycustomer on eCommerce delivery reveals the following:
As much as 96% of customers said that a positive shipping or delivery experience influences repeat sales.
Nearly 66% of respondents mentioned that they would go for one retailer over another due to better shipping.
Almost 51% of customers said they abandoned a sale at checkout due to the availability of few delivery options.
When such a huge emphasis is placed on brand reputation, it is more important than ever to gauge the situations that can affect or sabotage it.
With ShippingChimp's real-time order tracking solution, you can track shipments sent through FedEx, UPS, DHL & 35 other carriers. Check out the shipping carriers that we have integrated with.
Conclusion
The COVID-19 has taught a grave lesson to retail businesses across the world. Disruptions in the supply chain, product shortage, and shipping/delivery issues have made companies overhaul their inventory management and shipping. Particularly, streamlining shipping notifications can save retail businesses from losing customers, lower return rates, and save their brand reputation.
By carefully evaluating the buyer journey, and associating with reliable shipping partners, you can identify the key moments to communicate changes to customers and subsequently reiterate and refine the notification system for even better efficiency.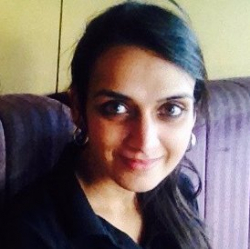 Latest posts by Revathi Karthik
(see all)