We all know that every online store should send shipping confirmation emails or order confirmation emails. But, have you ever wondered, why?
That's because, as a seller, it is your responsibility to acknowledge the placement of an order. You should not leave the customers with unnecessary queries and confusion.
Sending shipping confirmation eases customers' concerns. They can be reassured that the order has been received and it will be delivered to them shortly.
So, what's the best mode of communicating shipping confirmation to customers? Emails, of course!
We have listed 8 shipping confirmation email templates that we use to communicate order confirmation. So, shall we start, then?
How to write an order confirmation email? Things you should know about format and design
There is no hard-written rule for structuring your shipping confirmation emails. You have the freedom to explore your creative side and experiment with the emails as much as you prefer.
However, there are some pointers that you must include in these email confirmations for a purchase order. Also, the order confirmation email subject line has to be relatable for the customers.
To help you create a great first impression on customers, here are few must-know things about order confirmation emails.
1. Greet your customers
Express your gratitude in the order confirmation emails. Let your customers know that you appreciate them. A simple "Thank you for Choosing Us" can go a long way.
2. Make the email Informative
This is the part where you create an information-packed email. Customers breathe a sigh of relief when they receive your shipping confirmation or order confirmation emails. Here's what you must add in any order confirmation message or email:
Customer's shipping address
Order number and product details
Price, Payment Method used, and invoice number
Tracking code/ URL
Estimated delivery date
Customer Care contact details
3. Go As You Like
This is the last part of the order confirmation letter or email. You can go about writing this part as you like it. Let your creativity flow and make sure to align the content with your brand's positioning. You can use this part to relay simple information like:
Resonating CTA buttons
Referral programs
Invitation to social media channels
Upselling/cross-selling recommend products
Still, confused? How about we present some order confirmation email templates for you?
8 Shipping Confirmation Email Templates you can Use
Template 1: A Simple Order Receipt Email Template
Order confirmation letters can bring wide smiles to customers' faces. Order confirmation emails reassure that the action was successfully completed by a buyer.
A study shows that confirm order email samples have one of the highest open rates (as high as 70%) and an average CTR of 65%. This tells how much customers appreciate the transaction emails that acknowledge orders rather than promotional ones.
So, order confirmation letters must be carefully drafted.
Here's an order confirmation letter sample by Tens:
Wondering what's so special about this order confirmation email?
Firstly, we like how detailed the order confirmation message is. It includes the product details, price, invoice, address, and payment method.
The confirm order email sample opens with a quick greeting and communicates that the brand will send another shipping confirmation email as and when the package is shipped.
The last part of the order confirmation email is simple. It contains the customer support contact, social media handles, and CTAs like contact, shop, and about us.
Oh! Don't forget to notice the very straightforward subject line.
Template 2: Confirmation Email for Customer Payment
Though it seems the same, order confirmation and payment confirmation are two different things.
The order confirmation emails confirm that your order is received. However, some brands send a separate payment email to communicate about payment confirmation.
Here's a basic payment received confirmation email template by Simplecast.
We liked how concise and informative this payment confirmation email is. It contains summarized payment details and is not unnecessarily wordy.
Also, Simplecast used the last part of the email to provide one-liner information – contact number and email. That's certainly helpful.
Template 3: Express your gratitude
Thank you emails never fail to melt hearts. Hence, find a way to use your order confirmation message for expressing gratitude to customers. You can also offer rewards like discounts, coupons, free shipping on your next order, etc. to make them feel special.
Here's how et.com used an infographic as their order confirmation email to thank customers.
This sample letter for purchase order confirmation from jet.com totally works for us.
Firstly, we like how Jet.com thanked customers by offering them a reward on their next orders.
The brand did not fill up the email with order details. Instead, went on to thank customers for shopping with them. That's an indirect indication of order confirmation.
Plus, we like how strategically the brand has positioned itself in the thank you email, stating the benefits of shopping with Jet.com. That's smart!
Template 4: Acknowledging customers' orders via emails
Acknowledgment emails are slightly different from order confirmation emails. How?
They do not directly convey that your order is confirmed. These emails are a way of saying to your buyers "we have received your order and we'll make sure to carefully get it delivered to your doorstep ASAP".
Fitbit uses acknowledging emails instead of a regular order confirmation letter. See how they have drafted a catchy subject line – 'It's Official! Your Fitbit order has been placed'. Here's the order received email template that Fitbit uses.
We like how Fitbit breaks the stereotypes through its acknowledgement email.
The email is well-detailed with a summary of the order and shipping address
Plus, the brand mentions the delay in shipping to certain areas.
Template 5: Update your Customers about their Order Status
Keeping a constant connection with customers can help you build stronger relationships. So, keep communicating. Notify the status of their orders every time there's a change. Tell them about the receipt of the order, the delivery, and everything in between.
You can use order status email templates to let customers know about the ongoing movement of their orders. Such order status emails can be sent to provide reassurance about purchase orders also.
Postable never misses a chance to update its customers on their shipping status. Here's how they communicate customer mail status.
We like how Postable has used infographics within their order shipped email template. It tells updates customers about the shipping status and also provides an estimated delivery date.
The email template also clearly mentions the order number along with the customer support contact.
Template 6: Using Ordering Confirmation Email for Upsell & Cross-sell
Before we tell you this tactic, let us clear the air on upselling and cross-selling.
Upsell is when you attempt to increase customer value by encouraging them to purchase a higher-end product or add-on services. For example, Away Travel uses its upsell strategy quite subtly like asking a question – 'Want an even more flexible and roomy carry-on?'When you're upselling in an order confirmation email, you promote a more expensive product than what the customer has ordered.
Coming to cross-selling, where your focus will be to recommend customers a complementary product. For example, if you encourage your buyer, who has bought a new phone, to purchase a new phone case, it's cross-selling.
Using upselling and cross-selling, motivates customers to take action. Let's see how Dr. Carver does it.
Firstly, the email opens with the shipping date which conveys that the order is confirmed.
Secondly, the brand creates a sense of urgency for customers by asking – "Your next box ships on 11/30. Toss more in?". See how in the later part of the order confirmation message, it implements cross-sell & upsell strategies. The brand offers personalized recommendations and that's remarkable.
A well laid-out and efficient email, isn't it?
Template 7: Get the Buyer's Feedback
Your work doesn't end with selling a product to the buyer. If you want to want to build long-term relationships, you have to interact and ask for feedback.
But the question is how?
Well, simply ask for their feedback. Feedback will help you know the customer's satisfaction level and you can estimate their loyalty. Use a 'your order has been delivered' template like Taylor Stitch to know about the customers' shopping experience.
Taylor Stitch sends out a detailed delivery message that includes the order number, product details, shipping address, billing address, and the shipping method.
Plus, the brand uses perfect CTAs – track orders and initiate returns.
Finally, they've also linked their social media profiles to encourage the customers to submit feedback.
Such delivery emails communicate that you care about your customers and their experiences.
Template 8: Referral Programs can do Wonders
Referral programs can help you acquire more customers. It works like a ripple effect. As you take care of your existing customers and promote a referral program, they share your brand with people they know.
The result?
Strong growth in your customer base.
In this era of powerful social media platforms, referrals are gold! Any of your customers might have 15k followers on Instagram. Leverage such influencers and offer them a good referral program. A cash-earning opportunity or discounts might do the trick.
Tradesy has a cool way of sharing its referral link with customers via shipping confirmation email templates.
We love how Tradesy triggers customer base expansion and communication of shipping updates through one email.
The brand has utilized the first part of the email to let customers know that their order has been shipped along with the estimated delivery date.
Tradesy uses the end part of the email for sharing the referral link.
So, happy customer and happy brand. A perfect example of hitting two targets with one arrow, right?
5 Design tips to compose interactive shipping confirmation emails
Got ideas about writing your email confirmation for purchase orders? Now, let us offer you 5 quick tips on designing your shipping confirmation emails.
1. Offer Easy Tracking
Tracking should be the center of your focus. After all, it's an order shipped email template and tracking is all your customers care about. Shipping confirmation messages are all about providing your customers with the tracking link of the order. So, prioritize the tracking link part.
2. Focus More on Transactional Content than Upselling
Merging promotions, referrals, upselling, cross-selling with shipping confirmation messages is a strategic move. But, prioritizing transactional content is a necessity.
Don't lose the focus of the message while upselling or cross-selling. Your shipping confirmation email should primarily focus on communicating the order status. The promotions and appeals to customers can wait.
So, 75% to 80% of the email content should be about shipping details. Use the end part (if you want) for the marketing aspects. The positioning should be such that it seems secondary to the shipping details.
3. Add Contextual Visuals. It's a Must!
Images and illustrations are fun but add the ones that are relevant to your shipping confirmation email template. Avoid over-crowding and put forward graphics that relay information. You can also use illustrations like a map that shows wherefrom you'll be shipping the order.
4. Use a Single Column Design for Mobile Visibility
While you may love using a grid or multiple columns to insert product images in your email, it is not as effective as a single-column design. More than 70% of consumers view emails from their smartphones and single-column offers the best mobile visibility. It creates a clear hierarchy of the content that makes it easy for the customers to read.
5. Talk About Potential Delays in Shipping or Delivery
Honesty is the best policy and well, it applies perfectly when it comes to customers. Whether you're working at 50% capacity due to the pandemic or there's an increase in order volume, Be upfront about shipping delays.
Communicating beforehand works fine with customers. You can also highlight the information if required.
Final Words
Wondering what's the best way to communicate shipping confirmation with your customers? We have a solution for you. Visit ShippingChimp for:
Live tracking status
Real-time delivery notifications
Prompt return and refund services
Resolution of delivery disputes

So, what are you waiting for? Start your free trial to find out more!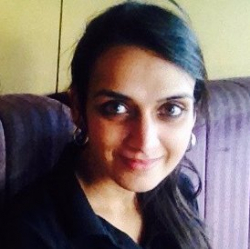 Latest posts by Revathi Karthik
(see all)